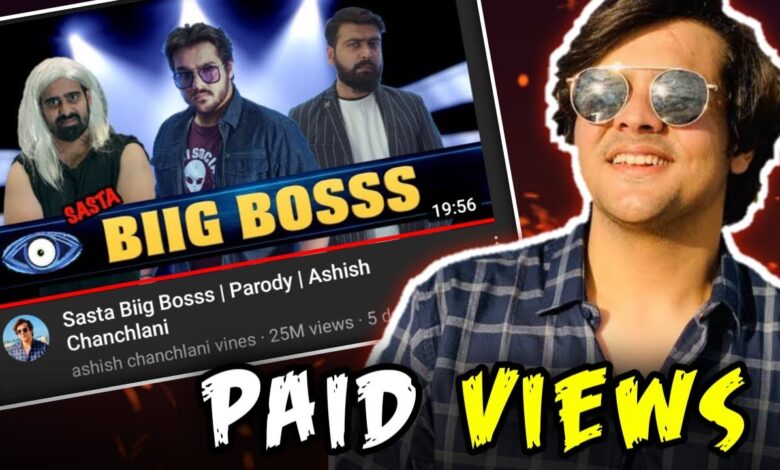 A screenshot is related to popular YouTuber Ashish Chachlani is doing the rounds. There are allegations that Rs 5,57,998.87 was given for the video's views. The screenshot allegedly claims that Ashish's video titled SastaBiig Boss has received more than 25 million views through paid views. On December 16, the video was put on YouTube.
The Youtuber and social media influencer were aghast at the fake news circulating and lashed out at the netizen that posted the rumor. It has been trending on Twitter as Ashish Chanchlani Paid Views' with a screenshot of insights and demographics of his video. However, Chanchlani has smashed the rumor and accused that someone has paid for this Twitter trend instead.
As a social media influencer, he has been very vocal and often shares his views on social issues. After this piece of 'news' started circulating he has taken to Twitter to clarify the matter and strongly taking a stand for himself. He has also released a short video in which he took a funny dig at the person who is involved in spreading this fake news about him. As soon as he uploaded the video on social media fans and followers extended support to their favorite content creator. He also received support from his YouTubecolleagues Bhuvan Bam, musician Raftaar, YashrajMukhate, and many others on Instagram.
Ashish Chanchlani Paid Views ट्रेंड किया तो जवाब देकर क्या बोले आशीष? | Youtube views
Video by The Lallantop
'SastaBiig Boss' was uploaded five days ago on 16th December 2020 and it has already gained the 25 million views mark in less than a week. The video was trending at the number 1 spot last week and has over 2.5 million likes on it. He shocked everyone when he announced his participation in Colors' Bigg Boss. His tweet went viral and fans and followers were excited to see him on the reality show. However, it turned into a rumor when Chanchlani released his version of Bigg Boss which is a parody of the colors reality show hosted by Salman Khan.
Ashish Chachlani is an Indian YouTuber who uploads comedy videos to his channel Ashish Chanchlani vines which boasts 22.9 million subscribers. He has an estimated net worth of 1.5$ million USD as of 2020.