Sports
Bayern Juniors: 3-3 draw against Barcelona. – Sports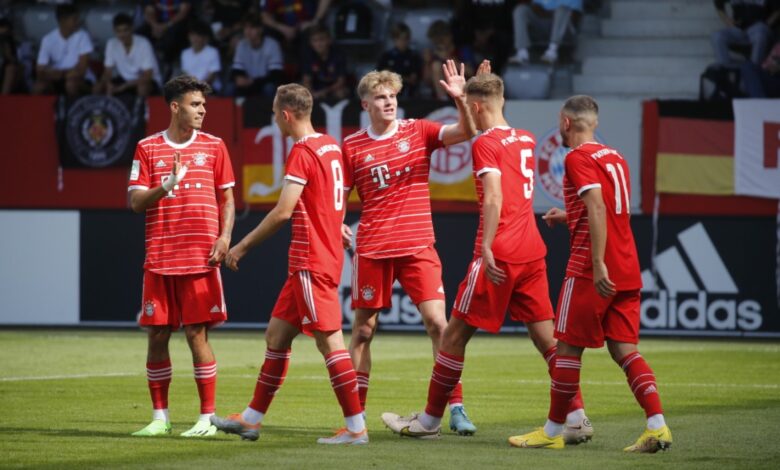 Martin Demichelis initially sat in the opposite stand, the Bayern U23 coach this time was only a spectator, although his charges also played on the lawn of the club's campus stadium. Shortly before kick-off, the former professional greeted his old pal, Javier Saviola, FC Barcelona Under-19 assistant coach, who was visiting on Tuesday afternoon. Demichelis and Saviola trained together at River Plate. And who knows, maybe Paul Vanner and Victor Barbera will meet again in this way in 25 years; Wanner will say: Remember when I beat you 1-0 in the Youth League? And Barbera will answer with a laugh: Yes, but do you remember that I scored three times in one game?
Many great people of that time were among the 1000 visitors who looked at the possible great people of the future. Head coach Julian Nagelsmann watched the game, as did sporting director Hasan Salihamidzic, of course, as well as Mario Gomez and several other former Bayern greats. They endured a very interesting 3-3 (2-2) performance-based draw in which the young Bavarians initially held everything under control after goals from Wanner (6th) and David Herold (25th), but then began to swim and also 2:3 behind. Lucas Copado then scored the final score (85 minutes), the son of former professional Francisco Copado could have scored the winning goal in injury time but only hit the side net.
In general, after two draws at the start, things are going a little better than last year. Now Bayern are taking the competition more seriously again. "I think it's generally important when we play in this great competition that we approach it in a way that we are competitive," U19 coach Danny Gulm said after a disappointing performance last year. Then there was the problem: "Sometimes we played with people who were three years younger. It's a lot in youth football."
This year, in the group with Inter Milan and Barcelona, ​​there is also a little about prestige.
"Last year, some were a bit overwhelmed," admits Jochen Sauer, head of the youth department. One of the reasons is that the best players in the U19 are usually used in the regional league, that is, in the U23, and last season there was clearly a promotion. As numerous junior league games were scheduled in parallel with regional league games, there was ultimately not enough quality to survive. Even though the official goal on campus is always to make the players better: this year in the group with Inter Milan and FC Barcelona it also has a bit to do with prestige.
"It's quite a challenge," Gulm says when asked how difficult it is to put together a team of people of the same age who rarely train together. This time there were seven under-23s in the starting line-up and only three of his regulars. The exception is young professional Paul Wanner, who at 16 years old does not play in either the U19s or the U23s. "Just practicing all day without playing minutes doesn't make a better player," says Sauer. You can also see that the midfielder is "not able to go full speed for another 90 minutes" after a long break – for players of his age, the Youth League is the best possible introduction to higher tasks.
On paper, a slight shift in emphasis towards the U19 did little. On top of that, the U19s did not have a particularly good start in the Bundesliga, among other things, Gulm-Elf lost the derby with Unterhaching 2-3, five points behind leaders Mainz after four games. And U23 is only in eighth place so far. Of course, it also has something to do with the fact that in the fourth league this year the team had almost no old routines as support, the only player over 23 this time is Timo Kern. "They need to take on more responsibility," says Sauer, but at the same time he is very confident that things will improve in the regional league "from game to game" – you also have the right to stay at the top. However, he does not use the word "ascension" these days.
Several players are considered promising talents and they also showed their skills against Barcelona. Asked if this could be a weaker year than the team that scored 82 points in the Regionalliga last season, Sauer was evasive. He believes that the teams will develop and improve fairly quickly. In the Youth League, after two draws before the next duel with Viktoria Plsen, everything seems possible. Especially since Bayern could theoretically still resort to Mathis Tel. The 17-year-old Bayern player is also registered in the Youth League, but is well on his way to becoming an integral part of the professional side.