Entertainment
Durga Puja: Intriguing Ayudha Puja Tradition of Navaratri
As the Durga Puja Festival is about to come to a close for this year, people of South India prepared for Ayudha Puja.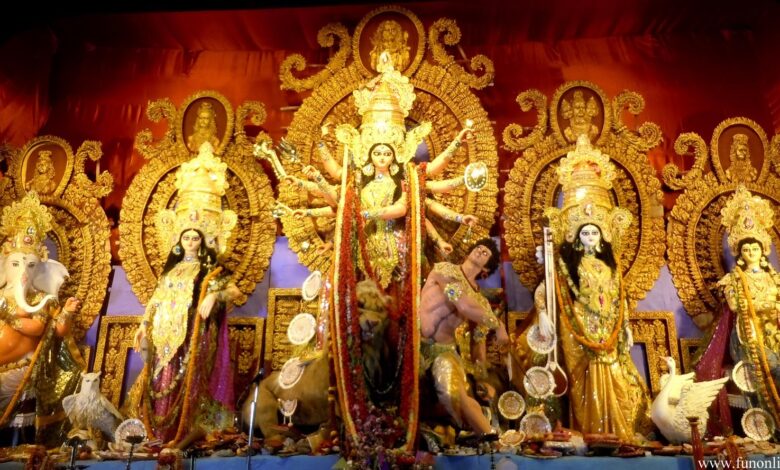 The tradition of Ayudha Puja, as part of the Durga Puja, involves worshipping books, tools, vehicles and so on; everything that accounts for one's livelihood earning.
Durga Puja
Durga Puja, celebrated across India, involves practicing various traditions in various parts of the country. In South India, the tradition is called Ayudha Puja. The word means worship of aayudhas or weapons. In its typical sense, it embarks the celebration of victory of Goddess Durga over Mahishasura and subsequent worship of weapons that were used for the fight.
Book Worship
Ayudha Puja is considered to be the primal part of South India's Durga Puja celebrations. On the 8th day of Durga Puja, which is called Durgashtami, devotees keep books for Puja on a Puja pedestal specially arranged for the purpose. In Malayalam, it is called Pooja Veppu (keeping implements for worship). It is done on the evening of the 8th day.  
While the tradition is that of keeping weapons for worship, the associated concept of livelihood and earning means that books, that are the sources of knowledge, could be taken as resources that aid in earning livelihood. Hence, the tradition is being followed of keeping books for Puja. Apart from homes, temples and community halls offer space for devotees to keep books for Puja.
Durga Puja: Mahanavami
The 9th day, or Mahanavami, is dedicated fully to the worship of books. Students are advised to stay away from learning for the only time of the year and are asked to worship books. In a jovial sense, this day becomes a boon for students, who are much more eager to keep books for Puja so that they are not forced to learn.
During the evening, machines, vehicles, tools, factory machineries, etc. are all cleaned. They are then applied with sandal paste and saffron, decorated with garlands and placed for worship.
Durga Puja: Ayudha Puja
On the 10th morning, the day being called Vijayadashmi, books are taken out of the pedestal. The ritual is called Pooja Eduppu (taking implements back from worship). Tools, machinery, vehicles, etc. that were kept for Puja are taken back and used for some time as part of the ceremony.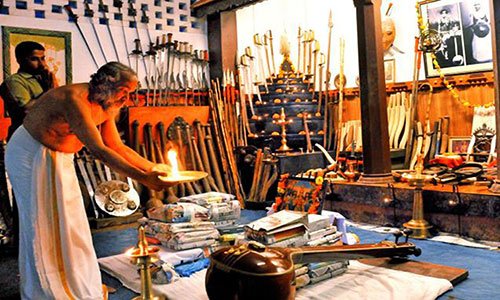 Saraswati Puja
Both on Mahanavami and Vijayadashami, Special Pujas are offered to Goddess Saraswati for enlightening humans with knowledge. Vijayadashami day is considered to be the most auspicious day for beginning the process of learning. Hence, children of 2-5 years are introduced to the process of learning by means of the practice called Vidyarambham.
Vidyarambham
The process of obtaining vidya or education begins with the learning of alphabets. Hence, during Vidyarambham, children are aided either by parents or masters who attained higher education, to start writing alphabets on a plate of rice. Each letter of the mother tongue is carved and is taught of the importance of education in life.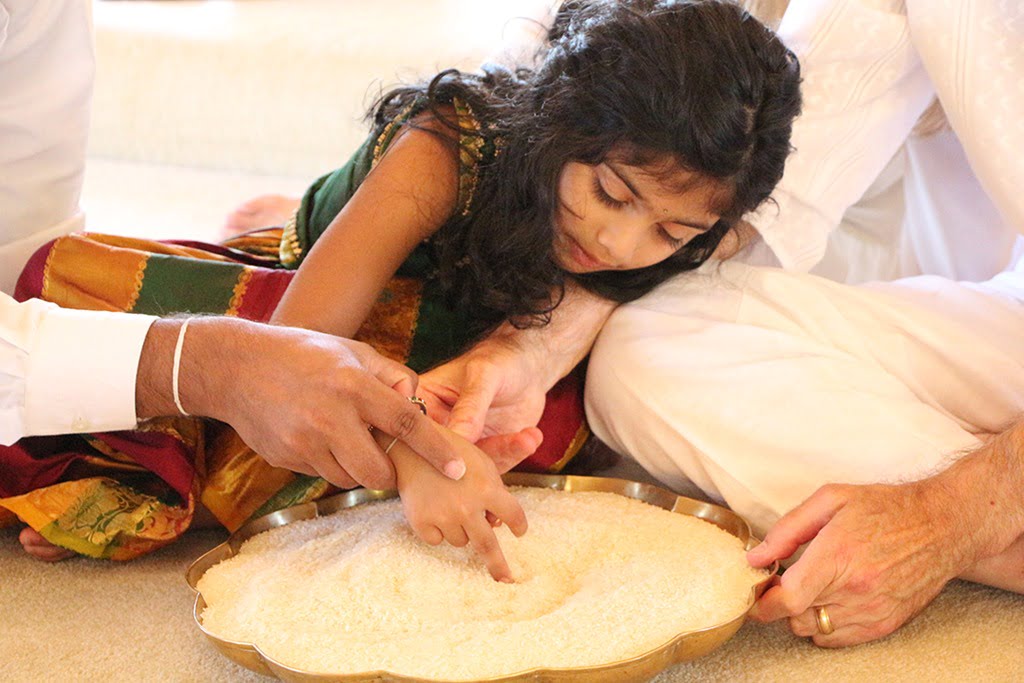 In places like Kollur Mookambika Temple, which is well known as the auspicious place to do Vidyarambham, thousands of devotees practice the ritual as part of their child's prosperity. Also, students and masters of performing arts, offer their devotion to knowledge by doing stage performances on the day at temples and community halls.
One Faith, Different Names
While the above mentioned rituals and practices are carried out throughout South India, they are known by different names in different States and Languages.
In Tamil Nadu, Ayudha Puja is slightly modified into Tamil language and is called Aayudha Pujai, as part of the Kolu Festival (see: BommaiKolu, All you need to know about the Navratri tradition).While Telangana, Andhra Pradesh and Kerala call it as Ayudha Puja itself, Maharashtra follows it as Shastra Puja. In Karnataka, it is widely called as Ayudha Puje.
The process of Vidyarambham, as it is called in Kerala, is called Mudhal Ezhuthu in Tamil Nadu. Thus, each sect, while being divided on the basis of language, united through means of common faith and practices. For further knowledge, do see: https://en.wikipedia.org/wiki/Ayudha_Puja as well as https://en.wikipedia.org/wiki/Vidy%C4%81ra%E1%B9%83bha%E1%B9%83.