Science
E-cigarette causes a lung disease called Evali –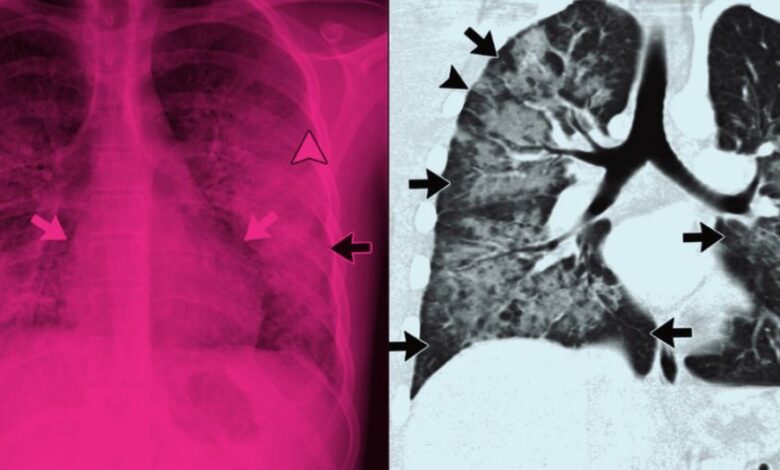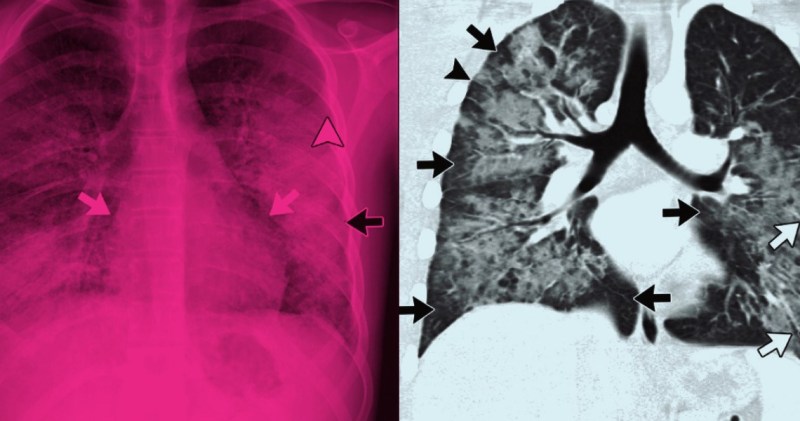 X-ray imaging and computed tomography of patients with lung lesions – Image: Radiological Society of North America
FAPESP magazine | Suzel Tunes
The first cases of acute lung injury, which will eventually be associated with the use of e-cigarettes, began to appear in the US in April 2019. This came as a surprise to doctors.
Young people in their 20s, some of whom had no prior lung problems, were admitted to US hospitals with complaints of shortness of breath, cough, and chest pain, often accompanied by abdominal pain, nausea, vomiting, diarrhea, fatigue, fever, and weight gain. weight. the loss. Among the various symptoms, there is one thing in common: they were all vape smokers.
Symptoms have developed over the previous weeks, and in some cases in just a few days. Some of these patients had to be transferred to intensive care units; in August of the same year there were the first deaths.
Then the U.S. Centers for Disease Control and Prevention (CDC) began tracking cases of this new disease, which was called Evali (lung injury associated with the use of electronic cigarettes or vaping). So far, only one major Ewaly outbreak has been confirmed.
According to the CDC, from the beginning of 2019 to February 18, 2020, 2,807 hospitalizations and 68 deaths were associated with the disease in 50 US states and territories. More than half of the deaths occurred in patients who were obese or with previous health problems.
In February 2020, the agency stopped collecting state data due to a decrease in cases and the emergence of the Covid-19 pandemic. Ewali's symptoms and lung damage are similar to those of Covid-19.
In the United Kingdom, the other major e-cigarette market, there were three deaths and 231 reports of adverse reactions related to the use of these devices between May 2016 and January 2021. The information is taken from a report published in the British newspaper The Observer in August this year.
In Brazil, the National Health Surveillance Agency (Anvisa) counts seven cases of Evali. For physicians, this figure certainly does not correspond to reality, since the disease in the country is not mandatory. The request of the Brazilian Society of Pulmonologists and Thysiologists (SBPT) for mandatory notification of Evali was not granted by the agency.
"Anvisa basically responded that the notification is not mandatory, given that Evali is a disease that affects users of a product whose marketing is prohibited," says SBPT Scientific Commission Tobacco Coordinator, pulmonologist Paulo Correa.
There is no specific test or exam to discover Ewali. Diagnosis is made by ruling out other lung conditions and reviewing the patient's history of e-cigarette use. The suspected patient was treated by pulmonologist Felipe Márquez from the Beneficência Portuguesa hospital in São Paulo. The incident was described in an article published in the Brazilian Journal of Pulmonology in the May/June 2021 issue.
According to Marquez, the patient was a 48-year-old woman with a persistent cough and fatigue. She was treated with antibiotics, but she did not get better. Serological tests and RT-PCR were performed to determine if the patient had contracted the Sars-CoV-2 virus. The results were negative. However, when she had a chest CT scan, the woman had a characteristic pattern of viral pneumonia caused by Covid-19.
"It had that opacity pattern that we call frosted glass," says Marquez.
According to the pulmonologist, the patient smoked for 21 years in the past, but she smoked e-cigarettes for the entire first half of 2020. "We treated the condition with an anti-inflammatory drug and asked her not to smoke e-cigarettes anymore; she started to improve in the first few days," he says. A month later, computed tomography showed an almost complete recovery from injuries.
The causes of acute conditions associated with vape use, such as this treaty in Brazil, are still being studied. But a scientific article published in the New England Journal of Medicine in February 2020 revealed an important clue: the presence of vitamin E acetate in the lung fluid of 48 patients out of a total sample of 51 people diagnosed with Ewaly. In the control group, consisting of 99 healthy people, including 18 e-cigarette smokers, the substance was not detected. The work was coordinated by CDC researchers.
Vitamin E acetate is a viscous substance used as an additive in e-cigarettes, especially those containing the cannabinoid THC, which is derived from plants in the genus Cannabis. Its presence can also be found in vitamin supplements and dermatological products.
"The hypothesis that vitamin E acetate causes disease still needs to be confirmed," says Marquez. "There are many other components of e-cigarettes that can be harmful if inhaled."
Another harmful substance found in e-liquid is diacetyl flavoring. It is also associated with an acute lung disease: bronchiolitis obliterans.
Bronchiolitis obliterans, also known as "popcorn lung", has been reported in workers at a company that made microwave popcorn. A study published in 2019 in the Journal of the Canadian Medical Association identified the disease in a 17-year-old vape smoker. Earlier, in 2015, a study published in the American journal Chest Infections had already diagnosed bronchiolitis obliterans in a 60-year-old e-cigarette user.