Sports
Frankfurt riots in Marseille: a sad day for European football sport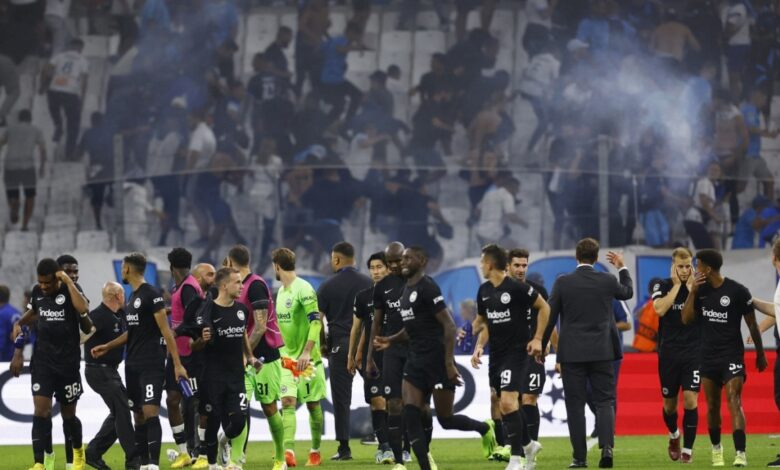 It was an impressive choreography that Eintracht Frankfurt fans came up with for their Champions League debut a week ago. Before the home game against Sporting Lisbon, a black-and-white staging stretched across the stands, including two banners in the northwest corner, ultras territory, which may already have hinted at disaster. On one package was written "Not much chatter", on the other "Frankfurt creates problems." This Hessian-English announcement, unfortunately, came true during the first trip to the Olympique Marseille (1:0).
The club's first ever premier class victory was overshadowed by events at the Velodrome stadium on Tuesday evening. Hostile followers, positioned too close together in an architectural masterpiece, engaged in a relentless incendiary battle. In constant succession, firecrackers went off, flares burned, rockets flew into the crowd, often enough to hoot from both camps, which only united their readiness for violence.
"We have never experienced a day like this in this form and didn't think it was possible in this form," board member Philippe Reschke said of the incidents: "Real joy may not arise because it is very strange, the level of aggressiveness and hatred hit us and, of course, met with a reaction. During the game, an Eintracht fan was seriously injured; Since his health was unclear for a long time, the guests in the first half refrained from applause.
Spiral of violence continues after final whistle
Frequent travelers from Frankfurt, who came to the port city in southern France with peaceful intentions, complained about an unprecedented form of hostility from the French side. This was evidenced by numerous videos on social networks the next day. Objects were also thrown or rockets were fired at buses that were used specifically to transport German guests. Reschke observed more violators from the hosts, "in a ratio of 15:1", he believes, but did not hide the fact that the spiral of violence continued after the final whistle, because a significant number of Eintracht fans perceived provocations and attacks as an invitation to cross the border. Two people repeatedly gave the Nazi salute in the direction of the Olympic curve. Eintracht have apologized for this embarrassing incident during the game.
All this should not go unnoticed. The UEFA European Football Union has already introduced a trial spectator exclusion for the Europa League winner following the storm in the semi-final against West Ham United the previous season. UEFA President Aleksander Čeferin, who was in Frankfurt at the time, reminded Eintracht President Peter Fischer at the Super Bowl in Helsinki a month ago that, despite all the sympathy for the rabid support, there will be a ghost game next time you miss.
Eintracht are facing empty rows for their home game against Tottenham Hotspur (October 4), even if Reschke is likely to face punishment for away play. But this may be wishful thinking. After the "state of emergency" in the Mediterranean, the legal adviser said: "We have to clean it up little by little."
Eintracht officials can no longer turn a blind eye to the fact that aggressive chaotic people are abusing the dialogue that the club has repeatedly emphasized to go too far with impunity. The long list includes excesses in Rome in December 2018, in Milan in March or in Guimarães in October 2019. On the one hand, most of the Frankfurt entourage contributes to atmospheric European Cup evenings, on the other hand, some regularly take part in excesses of violence.
In Marseille, even the main characters could not be satisfied with Jesper Lindström's winning goal (43rd) or the strong performance of already 38-year-old Makoto Hasebe. After that, even the catacombs shook from lightning strikes. "These scenes have nothing to do with the Champions League game," explained captain Sebastian Rode. "It's a shame that this happened," added goaltender Kevin Trapp. Coach Oliver Glasner said: "It's just not possible. A few chaotic people are abusing the football scene to act out violence and aggression. If you start shooting firecrackers back and forth with your neighbors, you might end up in jail at some point." On Tuesday, the local prefecture took 17 people into custody; a relatively small number, given the excesses on a sad day for European club football.