Entertainment
Paurashpur: Millind Soman breaks the stereotypes in the erotic web series.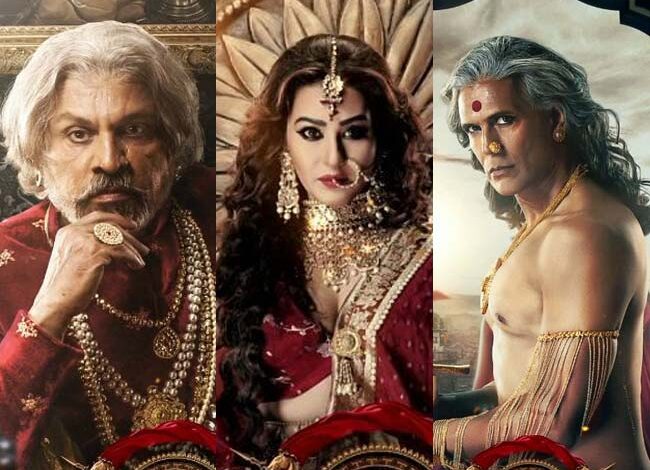 Paurashpur
Paurashpur Web series: Millind Soman breaks the stereotypes in the erotic web series. The latest Zee5 web series Paurashpur set high expectations when they released the trailers but unfortunately fails to deliver. Directed by Shachindra Vats the web series revolves around a not so subtle fictional ancient Indian kingdom named Paurashpur, where males rule supreme.
The women are treated as mere slaves to satisfy King Bhadra Pratap Singh's sexual urges. If the women cross a line, they are punished not even their own family spare them. Meeravati( Shilpa Shinde) is the King's first wife and Chief Queen makes sure that his needs are met, providing him with young queens. Milind Soman plays a mysterious eunuch whose presence causes the king discomfort.
Paurashpur web series
The series shows potential in showcasing the condition of women in the Dark Ages. But falls flat. The grand scale and the high production value sets and cinematography feels jarring when contrasted with the lackluster plot that leads us nowhere.
The talented cast and the epic music soundtrack is wasted on over the top performances and scenes lacking depth. Despite Annu Kapoor's performance as the king feeling exaggerated, he managed to influence feelings of hatred for his character.
Paurashpur web series story
It gives a strange feeling as every episode's runtime is only fifteen minutes often ending abruptly. The series also leaves behind gaping plot holes with a lot of questions left unanswered that we are left scratching our heads in order to wrap our head around the plot.
The web series has a scope as it looked to explore lust, ambition, and gender politics but fails to deliver. The erotic scenes instead of adding to the plot feel more like a distraction and a haphazard attempt to titillate the viewers to forgive the abysmal script.
Paurashpur | Official Trailer | Streaming Now on ZEE5
Paurashpur web series rating
It is a bold attempt at a period drama but the epic quality that the series promised is reduced to cringeworthy exaggeration. The show tries hard to sell the plot with its heaviness as actors glare at the camera, but makes the audience feels disconnected.
Milind Soman as the eunuch and Shilpa Shinde's new avatar is the only saving grace of this series. By the end of the show, you wish it was a movie instead. It seems it has left gaping plot holes as fillers for season 2. However, it is up to the viewers and whether they want to look forward to the second season.