News
Rajasthan News: Doctor couple shot multiple times by 2 men
Rajasthan News: Doctor couple shot multiple times by 2 men. 2 men murdered a doctor couple in broad daylight, video caught on traffic CCTV cameras.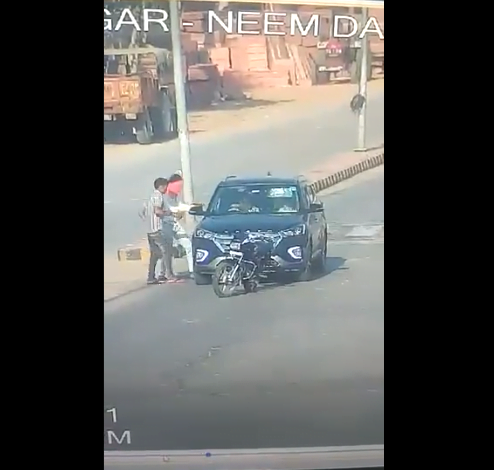 Rajasthan News
Rajasthan News: Doctor couple shot multiple times by 2 men. A horrific incident was captured on CCTV in Bharatpur, Rajasthan. Dr. Sudeep Gupta and his wife Dr. Seema Gupta were shot dead in broad daylight in Bharatpur, Rajasthan. The incident was luckily caught on the CCTV traffic camera.
The couple was arrested back in 2019 for allegedly murdering a 25-year-old woman and her 6-year-old son. But the couple was out on bail. It was believed that the woman was having an affair with the woman, and Dr. Seema Gupta was arrested for a double homicide. Later Dr. Sudeep Gupta was also arrested for committing conspiracy. But both of them were out on bail later on.
Doctor couple shot by 2 men
Senior Inspector, investigating the case confirmed that the shooting of the doctor couple was linked to the double homicide case. They are still searching for the goons who shot the couple dead in broad daylight. The couple was traveling somewhere from their hospital when 2 men started following them on a bike.
Doctor couple shot dead in Bharatpur district of Rajasthan by unidentified assailants. #crime #Doctor @PoliceRajasthan #Rajasthan @RajCMO @VasundharaBJP @aloketikku pic.twitter.com/NAHDYcnBd4

— ⭐️Sachin Saini⭐️ (@sachinsaini14) May 28, 2021
When the couple stopped at an intersection the men overtook them. One of them went to their car and as soon as Dr. Sudeep rolled down the window of the car the man took out a gun and shot him in his head. The wife started to move her arms around her husband but the man shot her too. And the couple was dead on spot.
The police were not able to identify the accused as he was wearing a pink colored scarf (gamcha) around his face and fled off the scene quickly, But the Bharatpur police are still investigating the case and hopefully will find the accused soon.