Movies
Review of Blind Willow, Sleeping Woman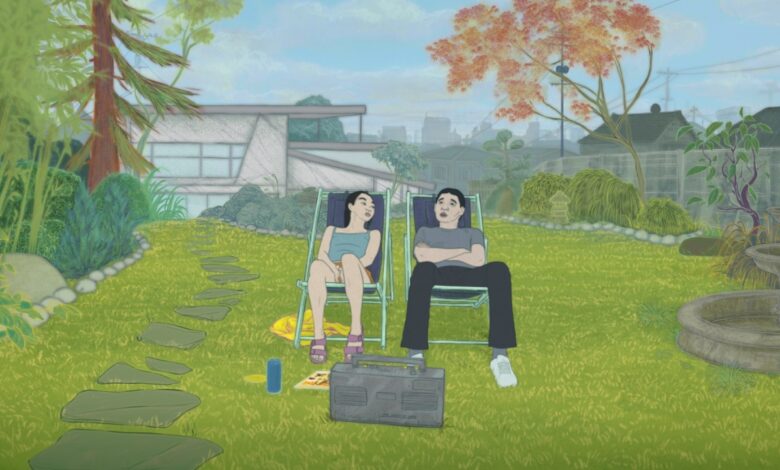 Director: Pierre Foldes | Script: Pierre Foldes | Cast (voices): Ryan Bommarite (Komura), Marcelo Arroyo (Katagiri), Shoshana Wilder (Kyoko), Pierre Földes (Frog), ea | Time to play: 100 minutes | Year: 2022
Herman Brood once painted a car for the lens of Stadsomroep Venlo. Quite rightly, the reporter asked if the bare butt Brood had just painted belonged to anyone in particular, to which Brood angrily replied that it was just a butt. The journalist did not have to investigate too much. That's what modern art can be: just play around and the audience invents the layers themselves. Blind Willow, Sleeping Woman It can also be guilty of this, because in addition to being interesting, it is very open to interpretation.
The film is based on short stories by Haruki Murakami. In one, Mr. Katagiri is visited by a large frog who asks for his help. The frog will soon have to fight a giant worm under Tokyo that is about to cause an earthquake. Another story follows Kyoko, who left her husband Komura, and talks about the one time she had a strange encounter with a hotel owner. And in another narrative, Komura finds her cat, goes with her cousin to the hospital, and meets a woman on a short vacation.
Blind Willow, Sleeping Woman It is not a cartoon for children. The plot is not for them, but the crude animation style will not please them either. Almost everything is drawn by hand (something that some people will undoubtedly find beautiful and detailed), but the quality is lower than that of other Japanese productions, or some American ones.
The idiosyncrasy deserves recognition. Stylistically, a special choice has been made: extras and irrelevant objects in the background are transparent. Folders in an office, people on the subway: you see them, but you can also see through them. In fact, at an airport, passers-by are just a human-shaped blob of color. You can philosophize about reason afterwards. At least it seems that there is a conscious thought behind it.
As if there wasn't enough to think about already. Pierre Földes does not take Murakami's complete stories, but only parts of them. He imagines someone filming Patrick Süskind's De Duif but only showing how the leading misanthrope leaves his house in fear of that pigeon in the stairwell. Then you miss the whole point of the story where he realizes in a hotel room that he really wouldn't want to live without people.
Földes takes from Murakami's work what he finds so beautiful in it, the conversations between the characters. That Komura's nephew who asks about his watch at a bus stop, that girl next door who tells him of her desire to open a corpse to see what's inside a human being, the woman in Komura's hotel room who he says he once had a The bell had to keep ringing during sex in the woods to keep the bears away.
On the other hand, Murakami's stories are not self-explanatory. They largely consist of these types of unusual situations. But he still needs the full story to draw his own conclusion from it, and that offers Blind Willow, Sleeping Woman No. It's artistic, it's an atmosphere. Only that doesn't always justify the animation. It would have been cheaper and less time consuming to point the camera at two actors.
Drawing it allowed Földes to make certain things on the plane transparent. That makes it more artistic and therefore 'intellectual'. Only in the story of Mr. Katagiri and the Big Frog is animation a must. He's also the most interesting character, oddly enough for being an incredibly boring human being; he is aware of this and tearfully says so. Mr. Katagiri, however, is the least mentioned, most of the time being addressed to Komura, who rambles listlessly.
Art made with the "I want people to get what they want out of it" mentality is lazy. Can't say for sure if that's the case here, but certain parts give that feeling. Even David Lynch once yelled "Oh, that's what I meant!" in the editing room, but at least he made up for it with a lot of creativity and humor. Blind Willow, Sleeping Woman it's not that creative, and even a talking frog doesn't make a comedy.
The basis of Murakami's stories provides a certain energy that continues to fascinate, but the film is far from brilliant. However, don't be surprised if numerous fellow critics hail the film as an intellectual masterpiece, then come up with their own why. He would rather hear Földes' explanation, but the response must be an exasperated "It's just a butt."