Business
Share market prices surges for Yes bank and SBI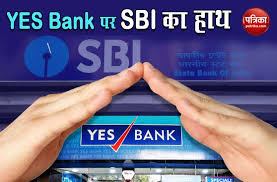 Yes bank and SBI forward leap for share prices
Yes bank and SBI forward leap for share prices. Share market prices surges for Yes bank and SBI Share market prices continues to fluctuate tremendously on a daily basis. We see major ups and downs, leading to shocking loss or wealthy profits. While, this week has started with a leap forward for both Yes Bank and SBI (State Bank of India).
We see Yes Bank start of their week with a 3.25% gain, but the current scenario for the bank has been on the down lows as they open their shares at Rs. 15.65. the fluctuations for this bank in this week go from the high of Rs. 15.85 to touching its lowest at Rs. 15.50.
These fluctuation for Yes Banks which when compared to that of last weeks closing share price of Rs. 15.35 seem to be a hike and for the better. Noticing the drop of 76% share price faced by Yes Bank in the last one year the news of the 21% increase in the last one month seems like ray of light for the bank. However, in the second quarter of last year Yes bank had incurred a profit of Rs.129.37 crore but in the corresponding quarter the bank posted a loss of Rs.600.08.
ICICI Securities provide us with the information of a high probability for yes bank to convert from Mid Cap to Large Cap category in Amfi's January list. Besides, Yes Bank holds 88th rank in the Indian stock market.
Share market prices surges for Yes bank and SBI
Comparatively, SBI has been thriving much well as the week began with a rise of as much as 3% today where it reached to a gain of about 10% in three days. The Share Price of the State Bank of India is about Rs. 269.60, which when compared to Yes bank seems to have a greater hold in the market.
Interesting for SBI, the shares increased a whopping 4.8% on Thursday. While the pandemic struck there was a slower-than-expected raise in India's economic growth, SBI outshone Yes Bank with its massive '339.85' 52 weeks high but the also facing a '149.45' 52 weeks low.
Nevertheless, SBI will be upping its retail loans and it awaits a much higher earning as the economy seems to revive faster than expected. The Chairman Dinesh Khara commented that the banks were expected worse so a strengthened management was of the essence making the expected results much improved than in the initial stages of the pandemic.