Technology
Spider-Man Remastered on PC – what does it look like in maximum detail? How does it work with RT and DLSS enabled? Let's check it out!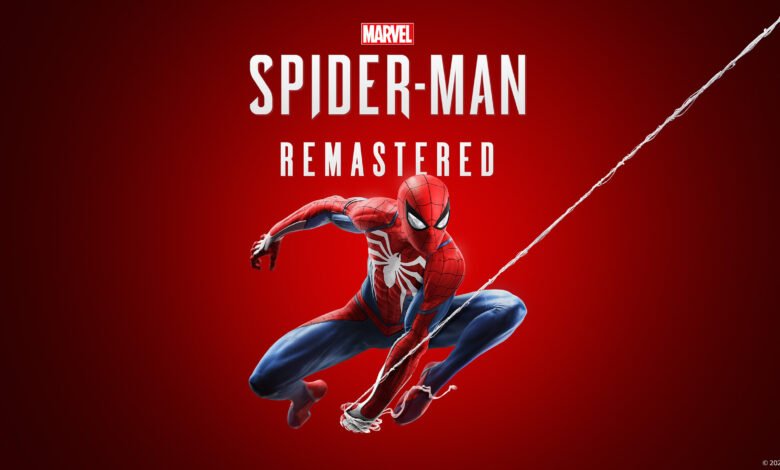 When Insomniac Games' Spider-Man arrived on PlayStation 4 in 2018, many people rubbed their eyes in surprise. The game turned out brilliant, collected a lot of praise, awards and well-deserved titles of one of the best superhero works in the history of gaming. No wonder PC owners were jumping for joy when they heard that Spider-Man Remastered was coming to Steam and the Epic Games Store. I, in turn, decided to check how this title works on my computer in various configurations.
Material created in collaboration with NVIDIA.
Spider-Man Remastered is currently one of the most beautiful PC games out there. If you want to read a detailed Wojtek review – please click here. Let me add as an introduction that compared to the PlayStation 5 release we will see a lot of differences in audiovisual settings in favor of computers. The developers added support for ultra-wide monitors, significantly tweaked ray tracing, took care of better shadows and lighting, and raised the quality of textures to an absurd level. We also have unlocked frame rates and support for technologies like NVIDIA DLSS.I carefully checked his work. What exactly does this technique offer? Please check out one of my previous articles.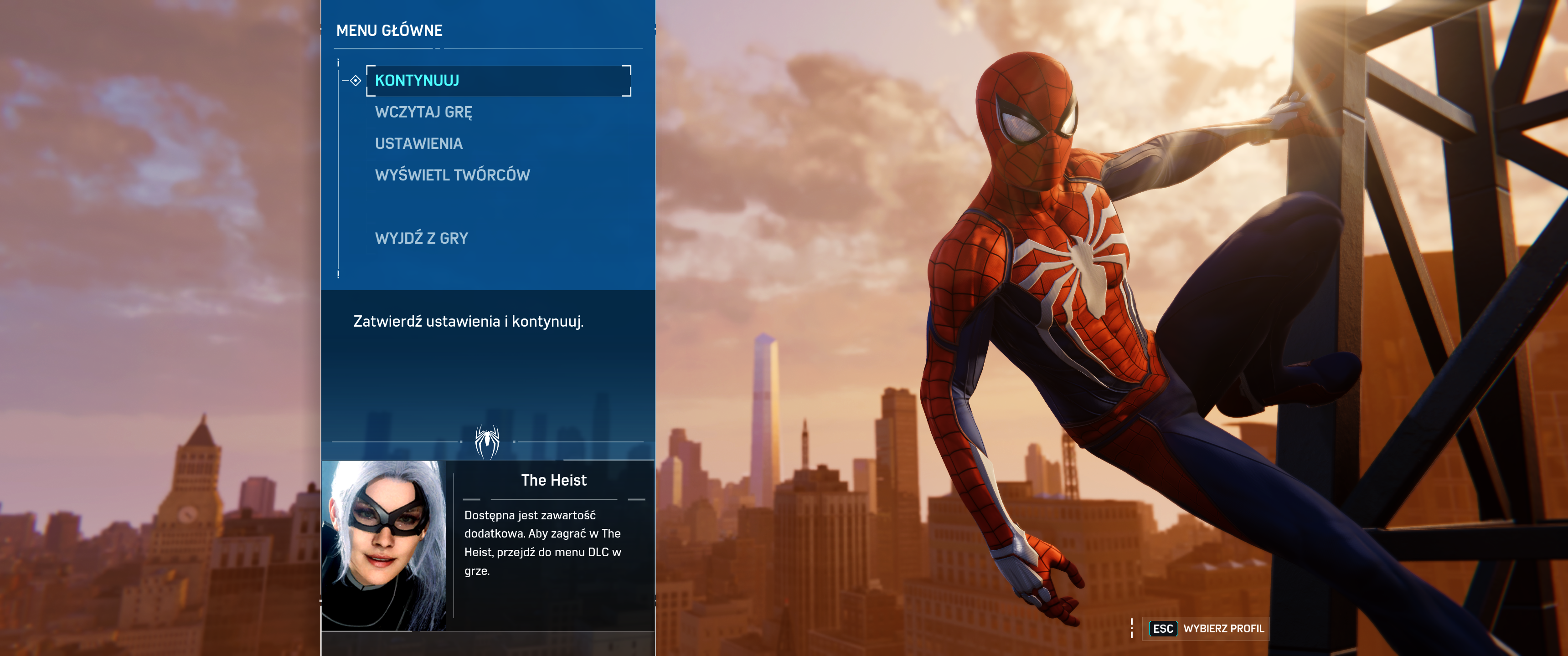 Spider-Man Remastered on PC with RT enabled has very high requirements
In the editorial, I use a gaming computer, consisting of an Intel Core i5-12600K overclocked to 5.1 GHz, 16 GB of DDR4 3600 MHz RAM with CL16 delays, an MSI MAG Z690 Tomahawk motherboard, a Huawei MateView GT 34″ monitor with a resolution 3440x1440p (21:9) and NVIDIA GeForce RTX 3070 Ti graphics card in a beautiful performance Palit GameRock with eye-catching diamond finish and vibrant RGB lighting. You can check out its detailed photos and performance results here. I have to install the latest drivers with the number 516.94 dedicated to the latest Spiderman. I am using Windows 10 with the latest updates. During the tests, I used the frame counter built into the GeForce Experience tool, which is quite sufficient for the purposes of this article.
Not only did I test Spider-Man's overall performance at the highest graphics quality settings, but I also compared the look and feel of this game with and without ray tracing turned on. Additionally, I tested the work of NVIDIA DLSS in different versions. I must admit that without the support of this technique, it would be impossible to comfortably play at maximum settings on such a computer, because the frame rate often dropped below 25.. Especially inside buildings where there were a lot of reflections and light sources. Spider-Man has very high requirements when we want to enable ray tracing, but he fully compensates for this in terms of looks and quality of graphics, although there are still some bugs here and there that will probably be fixed in the next release. updates. To get started, take a look at the photos below, which I took at maximum graphics settings in ultra-wide resolution, which is 3440x1440p. Spider-Man Remastered in the above configuration, in such conditions with RT and DLSS enabled (in quality mode) outdoors, runs in the range from 32 to even 80 frames per second. What are the reasons for such huge differences?
Only from the implementation of ray tracing. If we land Peter on the street and in the middle of the night we run among the cars, each of which reflects the environment, and in addition we also have windows that do the same, and fire hydrants or puddles, then the number of frames drops to the level of 30-32 . However, it is enough to swing on the web rope to stabilize the frame rate in the region of 70-80 frames, depending on the number of buildings and details. And if we jump to the top of the new World Trade Center and look towards the water, the counter will go over 110 frames. Although such scenarios have no justification in the game itself. When the creators provided the requirements recommended for playing in 4K with RT turned on, they indicated at least an RTX 3080 and this was fully justified. 4K resolution in my configuration at maximum settings could only pass if I enabled DLSS in performance mode or even in maximum performance mode. Below you will find a graph showing the number of frames in the same location with different modes – I chose the interior of the HOLIDAY building, because that's where I had the biggest drops and a lot of reflections.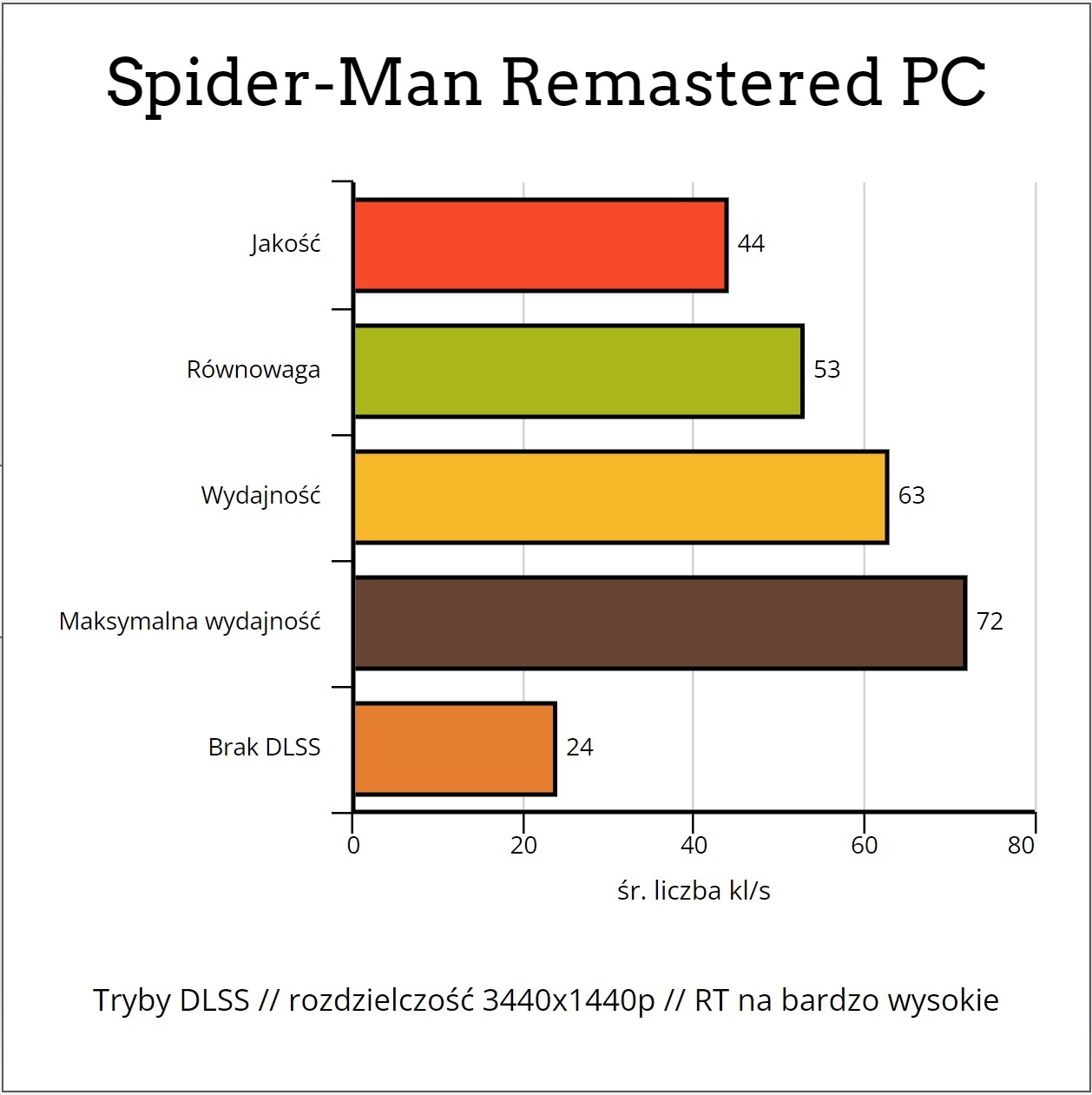 Below you will also find comparison photos of individual DLSS modes, which I have specially labeled so that it is easy to distinguish them from each other. Differences are imperceptible at the included mode of quality. Even with "balance" selected, the image remains very crisp and clear. You can also play in performance mode without problems, and I noticed a clear drop in sharpness only in maximum performance mode. This did not greatly affect the overall perception of the visual, but added almost 30 more frames to the quality mode. Playing without DLSS makes no sense at all, because then the frame rate dropped to 24. So DLSS in quality mode adds an average of 18 to 22 frames, which is a very big jump, with no visible difference in the image quality itself. The comfort of the game itself is definitely higher.
Of course, we are talking about the game in ultra-wide resolution and quite high, because 3440x1440p. When setting my computer to 2560x1440p or even the classic 1920x1080p, we can expect a significant jump in frame rates. Out of curiosity, I tested this by changing the aspect ratio and selecting FHD. In the same place, the average number of frames was already 42 without DLSS enabled. However, I believe that this technique should only be used at higher resolutions, such as 1440p or just 4K, but even after switching the quality mode to 1080p, I scored more than 60 frames (on average), although the image sharpness decreased slightly. I also have to admit that the enjoyment of the ultra-panoramic monitor in Spider-Man is brilliant, and a screen like this is perfect for the title. I also play this game regularly on PS5 and I was clearly missing the extended perspective on the sides. Therefore, there is another topic that needs to be considered. What does Spider-Man Remastered look like on PC with or without RT? Photos below.
Spider-Man Remastered on PC is definitely worth using DLSS services
I am very happy that so many games from Sony's own studios are coming to PC. They are not only beautiful, but also very polished and well optimized. The computer at his disposal allows him to play in an average of 44 squares indoors (and almost 60 outdoors at a height). It may not be the most powerful machine on the market, but the i5-12600K and RTX 3070 Ti tandem allows you to choose the maximum graphics settings and comfortable gameplay with DLSS enabled in quality mode. When we want to get even more frames, it is worth thinking about switching to equilibrium mode, which in the city itself allowed me to generate even 76 frames per second on average.. Needless to say, without RT turned on, the frame rate grows to cosmic proportions and on my configuration exceeded 120 frames per second in the city. Therefore, ray tracing is extremely tedious, but it gives excellent results, and if only our computer allows it, then it is definitely worth using this option. See you in New York!