Entertainment
The King travels in Great Britain: Northern Ireland welcomes Charles III.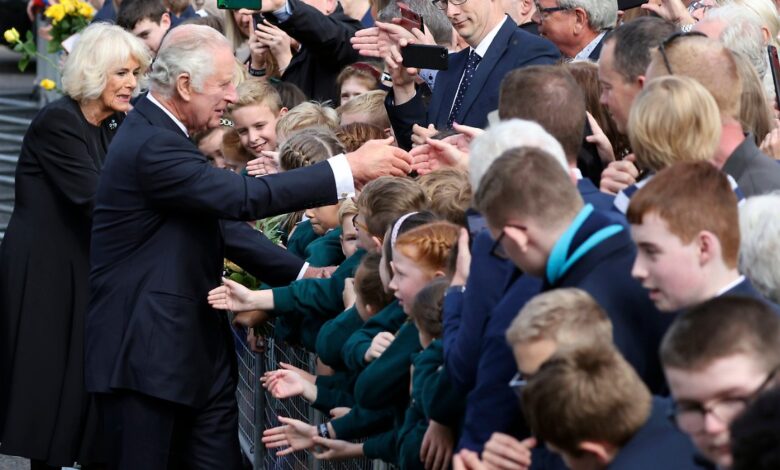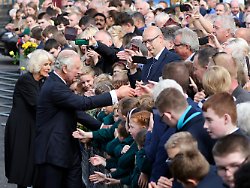 The King tours the UK



Northern Ireland welcomes Charles III.

13.09.2022, 17:08
His mother had not died a week ago if not for King Charles III. Weekdays have already begun. After a procession and wake in Scotland, he is now making a visit to Northern Ireland. The welcome is quite warm.
With greetings and gun salutes Charles III. received during his first visit as King to Northern Ireland. The new monarch and his wife, Royal Consort Camilla, did more than just shake hands in front of the Hillsborough residence. The couple also looked at the hundreds of bouquets laid out outside the palace in honor of the late Queen Elizabeth II. Schoolchildren waved British flags.
The King wanted to meet the leaders of all parties and representatives of all religious groups in Hillsborough. Next on the program was his participation in the Anglican service in Belfast. This is Charles' 40th visit to Northern Ireland, but the first as king.
I am also planning a trip to Wales.
The visit to the former civil war province comes amid great political tension. For the first time in the history of the province, the Irish nationalist Sinn Féin won in the last regional elections. However, the regional government has been paralyzed for several months due to conflicts with the pro-British DUP.
According to the 1998 peace agreement, the government in Belfast is to be led jointly by Catholic Nationalists and Protestant Unionists. The Nationalists hope that Northern Ireland will be reunited with the Republic of Ireland after the Queen's death. This was strongly opposed by pro-British Unionists loyal to the Queen.
Queen Elizabeth II died on Thursday at her Scottish country estate of Balmoral at the age of 96. Two days later, their son Charles was officially proclaimed the new king. The 73-year-old then traveled from England to Scotland to lead his mother's casket through the capital on Monday, followed by a wake. After his onward journey to Northern Ireland, a detour is also planned for Wales, the fourth part of the United Kingdom.