Entertainment
With his brothers and sisters: King Charles III. on duty at the coffin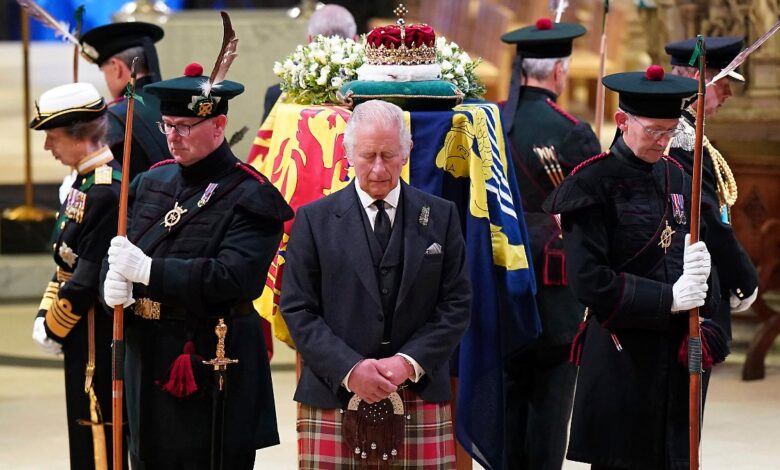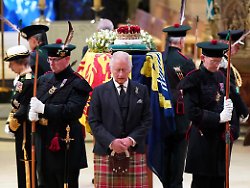 with your brothers and sisters



King Charles III on duty at the coffin

13.09.2022 09:53
After the death of Queen Elizabeth II, the new king is Charles III. Mother's coffin procession in Edinburgh. Three of his siblings are also part of the funeral procession. Afterwards, they hold a wake at St. Giles' Cathedral.
King Charles III, along with his siblings, Princess Anne, Prince Andrew and Prince Edward, held a wake at the casket of his late mother, Queen Elizabeth II, at St Giles' Cathedral in Scotland. Four stood at one of the four sides of the coffin, with their backs to it, with their heads bowed, during an approximately 10-minute ceremony known as the "Vigil of the Princes."
Others, who wished to say goodbye to the queen during a visit to the cathedral, witnessed the wake and walked past the coffin, decorated with a Scottish royal crown and white flowers.
Previously, thousands of them lined the street as the Queen's coffin was carried in procession from the front yard of Holyrood Palace in a carriage to St Giles' Cathedral in Edinburgh. Charles III and his brothers and sisters accompanied the carriage and followed it to the church. After that, a memorial service was held in the cathedral.
Another wake in London
The evening vigil has become a tradition in the British royal family since the death of King George V in 1936, when Princess Anne became the first royal woman to attend after Monday's ceremony. In the evening, the 72-year-old woman will accompany her mother's coffin along with the Royal Air Force from Scotland to England.
In London, the late queen must lie in bed for several days. On Wednesday, Charles will also lead a funeral procession from Buckingham Palace to Parliament there. The coffin will then be placed on a scaffold, known as a hearse, at Westminster Hall from 5:00 pm local time. Hundreds of thousands of mourners are expected to attend the wake. On Monday, the Conservative MP even spoke of two million people.
Until the day of the funeral, the population has the opportunity to pay the Queen a last visit and say goodbye. The state funeral, which Federal President Frank-Walter Steinmeier wants to travel from Germany, is scheduled for Monday 19 September. The British get extra holidays for this. Until then, national mourning is in effect, official events and parliamentary operations are suspended.