Movies
Ajay Devgn's Upcoming Movie 'Maidaan': Check Out the New Release Date, Latest Poster and Other Details
The actor shared a new poster of the film and also announced the new release date on Twitter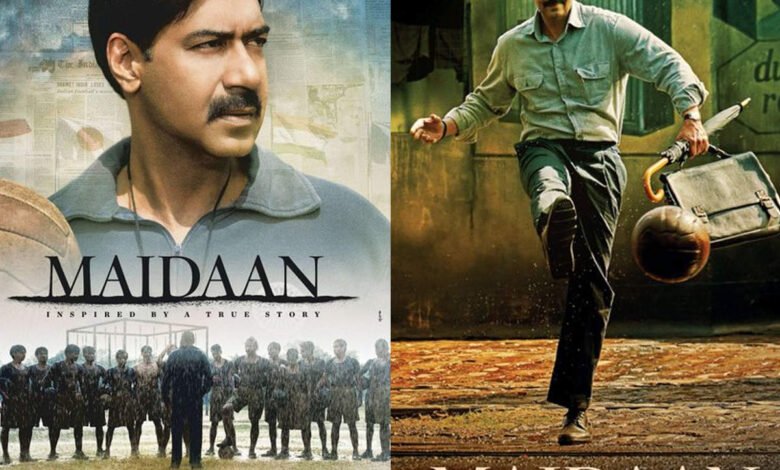 Ajay Devgn is fully packed with back-to-back movie schedules.
Ajay Devgn's Maidaan: New Release Date
Renowned Bollywood actor Ajay Devgn's upcoming film Maidaan has got a new release date. The actor shared a new poster of the film on Saturday (12 December 2020), along with the release date. The film will hit screens on 15 October 2021, as part of Dussehra next year. It will come in Hindi, Tamil, Malayalam and Telugu.
Maidaan: Cast and Crew
Amit Ravindernath Sharma of Bahai Ho fame, is the director of the film. The cast include Priyamani, Keerthy Suresh, Gajraj Rao and Rudranil Ghosh. It is produced by the collaboration of Zee Studios, Boney Kapoor, Akash Chawla, and Arunava Joy Sengupta.
Ajay Devgn's Tweet: New Poster
On Twitter, Ajay Devgn shared the new release date along with a new poster of the film. He wrote:
Maidaan now releases worldwide in theatres on Dussehra 2021. Shoot commences January 2021.
Tweet: https://twitter.com/ajaydevgn/status/1337655699258499072.
Postponed Release Dates
Initially, Maidaan was supposed to be released on 27 November 2020. However, its makers changed the release date to 11 December 2020 at first and then to 13 August 2021. Now, the film has been finalised for release on 15 October 2021.
Real life story behind Maidaan
Maidaan is inspired by Syed Abdul Rahim, former Indian national football team coach and manager. He is regarded as the architect of Indian football, who put Indian football on the global map.
Mr. Rahim coached Indian team from 1950 to 1963. The football team's era under his training is referred to as the "golden age". He died of cancer in 1963.
Maidaan Shooting
65% of the film's shoot has been completed across Lucknow, Kolkata and Mumbai. The final schedule had to be called off due to the Covid-19 pandemic. As per the actor's tweet, the shoot is expected to restart from January 2021. According to latest sources, it is expected to wrap up by April 2021.
Ajay Devgn's Other Upcoming Films
On Friday (11 December 2020), Ajay Devgn started shooting for the film Mayday. The film will be shot in a start-to-finish schedule, which also stars Amitabh Bachchan and Rakul Preet Singh. It is expected to be released on 29 April 2022. With the photo of the clapboard, Ajay Devgn wrote on Twitter:
Happy to officially begin Mayday in a start-to-finish shooting schedule. Seek blessings from the Almighty and my parents. Nothing is complete without the support of all my fans, family and well-wishers. Releases on 29th April 2022.
Tweet: https://twitter.com/ajaydevgn/status/1337265791117348865.