TV Shows
Prime Video series review 'The Consultant'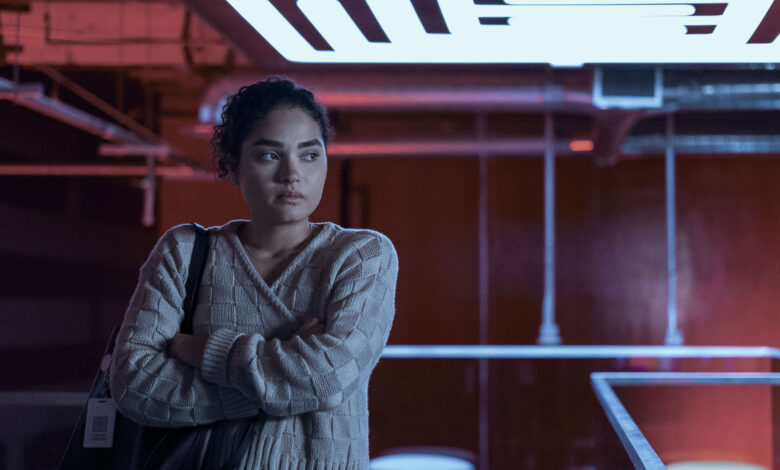 The ugly culture of the American office under a magnifying glass.
Director:
Daniel Attias, Charlotte Brandström, Alexis Ostrander and others
Cast:
Christoph Waltz (Regus Patoff), Brittany O'Grady (Elaine), Nat Wolff (Craig), Aimee Carrero (Patti), Brian Yoon (Sang), ea |
Number of episodes:
8 |
Time to play:
29-34 minutes |
Year:
2023
There is currently no shortage of book adaptations on streaming services. Also on Prime Video, where now with The consultant the film adaptation of the book of the same name by Bentley Little has been added. But instead of the series being so masterful that it inspires you to read the book, it makes you wonder how the hell that book can be a riveting read instead of a few hundred pages of 'what did that weirdo do now?'
The owner of a game development company is murdered and that same night his temporary replacement is already at the door: Regus Patoff, a strange man who has papers proving that he is in charge for the next term. Two employees try to find out who this guy is, and soon discover that there is no simple answer. But the new boss has a strong influence in the workplace, mainly negative.
If you want a weird bad boy, you hire Christoph Waltz. He was already a nasty Nazi in Inglorious Bastards and James Bond's twisted nemesis in recent 007 movies. Comic book maven Mr. Glass put on Unbreakable Explain that you recognize an antagonist by physical characteristics that deviate from the norm. The actor Waltz, therefore, has a special jaw and an exotic accent, with which he is made to play the villain. He does it perfectly here too.
The rest of the cast opts for more obvious ways of playing the characters. It's not bad, but it's not special either. It would have been nice, because Patoff's presence on the work floor causes quite a stir among the employees. For example, the main character, Elaine, becomes under Patoff's influence an overly assertive and manipulative colleague. The impact of her metamorphosis would have been greater if her interpreter Brittany O'Grady (known since the first season of the white lotus) had not brought him so gently.
The general development of the plot is not moving very fast either. Through Lost The creators have learned that they can fill episodes with the different ways something or someone is mysterious, giving viewers a sense of getting closer to the truth and therefore progressing. That is not so and The consultant You don't get any answers either.
However, not serving everything to a stupid viewer can be called an advantage. That is, clues are given with which it can be concluded who exactly Patoff is. Also, the story is not so much about this character, but he is simply a catalyst for the issue: American work culture. Dutch employees live in luxury compared to the US, where the rules are a bit stricter, the hierarchy is more present, and many colleagues are willing to step over others to get promoted faster.
Patoff's presence reveals the true nature of some of the co-workers, who are willing to humiliate themselves to avoid being fired. Just tapping into this theme is somewhat tarnished by the plot surrounding Patoff. It's a puzzle that two employees want to solve and until that gains some momentum, the episodes mostly consist of showing the different ways that Patoff is a weird guy.
The mystery and the presence of Christoph Waltz make The consultant an entertaining series, but no more than that. Several points should have been much sharper, but perhaps the creators were afraid of losing their jobs if they went too far.
★★★☆☆
The consultant can be seen in first video.