TV Shows
Prime Video Series Review 'The Marvelous Mrs. Maisel Season 5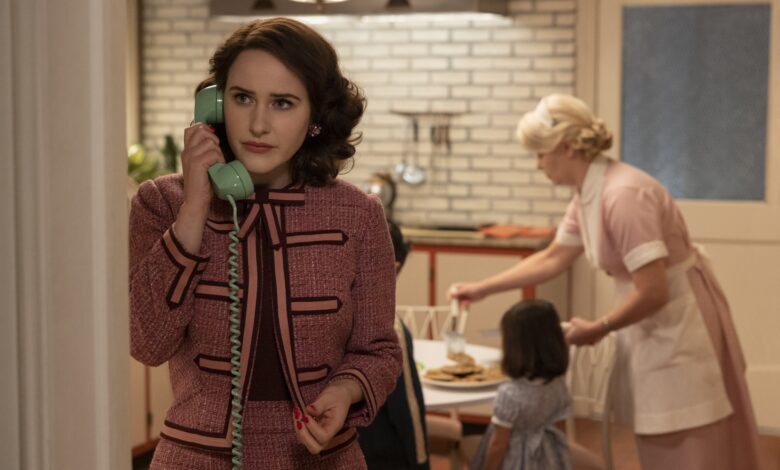 Always leave them wanting more. This series has succeeded in that.
Director:
Amy Sherman-Palladino, Daisy von Sherler Mayer, Daniel Palladino |
Cast:
Rachel Brosnahan (Miriam Maisel), Alex Borstein (Susie Myerson), Tony Shalhoub (Abe Weissman), Jane Lynch (Sophie Lennon), Luke Kirby (Lenny Bruce), ea |
Episodes:
9 |
Time to play:
49-75 minutes |
Year:
2023
When a series about a character is in its planned final season, the question is: how will it end with him or her? We'll have to wait until the last episode to get an answer to that. unless The wonderful Mrs. Maisel It is, because that series already gives the answer in the opening scene: Midge has broken through and is now a very rich and world-famous star. Then the tension suddenly lies in the question of what exactly that breakthrough will be.
Season four ended with Miriam ending up in front of a billboard for The Gordon Ford Show during a snowstorm, season five begins with mild amnesia due to hypothermia. But soon after, Gordon Ford, a talk show host, accidentally visits the club where Miriam performs. He offers her a job as a writer for her show, where it's a strict rule that employees are never invited. Miriam sees it more as a challenge.
Each episode will take a look at the future, but the first one already shares the truth. Not only is Miriam famous, but not everyone is Mrs. Maisel finds so "wonderful." Her own daughter Esther is an adult and is in therapy to talk about her hatred of her mother. For a moment, one wonders how anyone could not like such a charming and talented woman. And then her flaws come to the surface.
Of course, your children will have their problems. It's been just four seasons in which Miriam usually leaves her children with the others, she pays little attention to them when she's around her and she even makes fun of them in front of them. Not only that, Miriam has always been a spoiled rich brat. She was not lazy and quickly became the most skilled worker in any workplace, but not exactly an angel. Creator and writer Amy Sherman-Palladino is honest about her and very familiar with her own characters.
A striking example of this can be seen when Miriam's agent and best friend Susie is roasted at the place where that tradition once began: the Friars Club. What an achievement, knowing your character so well that you can effectively toast him. Miriam is also absent because the two appear to have had a falling out, which the episode goes into detail about.
Particularly in the second season. The wonderful Mrs. Maisel regularly reminiscent of the earlier Sherman-Palladino series Gilmore Girls, with soft and long conversations about unimportant details in the topics. The pace at which the characters speak has been maintained, but in this last season everything is so focused on this series that nothing reminds Lorelai and Rory. Perfectly convincing interiors and exteriors help, too.
Yeah The wonderful Mrs. Maisel he's been very strong in something since day one, so it's believable that the story takes place in the late fifties and then early sixties. Where mad Men created by letting everything happen mostly indoors, the characters catch up The wonderful Mrs. Maisel regularly outdoors, where the world has been transformed in detail to that of sixty years ago, even in long shots.
Sure, some part needs to be completed with the help of the computer, but that's not visible. In the series finale, Miriam's parents walk down a long Manhattan street where many taxis and other cars are stuck in traffic. Hundreds of yards packed with old models and actors in beaten clothes: that must have come at a heavy price, no matter how it was created.
Camera work and staging are excellent as always. This time there is less time to calmly portray the performances of the artists, but there are many moments when everything happens on a big set, with numerous extras, and everything is portrayed so smoothly that the viewer is simply involved. Here too, the eye for detail is of the highest order.
You still don't lose sight of the original core of the series, which is easy enough given the time it takes place: this time Miriam, as a woman, has to fight more than the men to get the attention she deserves more than the rest. Even at that pivotal moment in the last episode.
The absolute closure, the last sequence of the final episode, gives a moving image that ends with the smile that this series has caused so many times. Nothing is explained (that has already happened in the previous episodes), so that the viewer completes everything by himself. The series could have lasted for more seasons, but this is where the story would always end. Many elements were executed impressively well from the start and this latest season proves that the creators have never lowered the bar.
★★★★★
The wonderful Mrs. Maisel can be seen in first video.