Movies
Recensie All the beauty and the bloodshed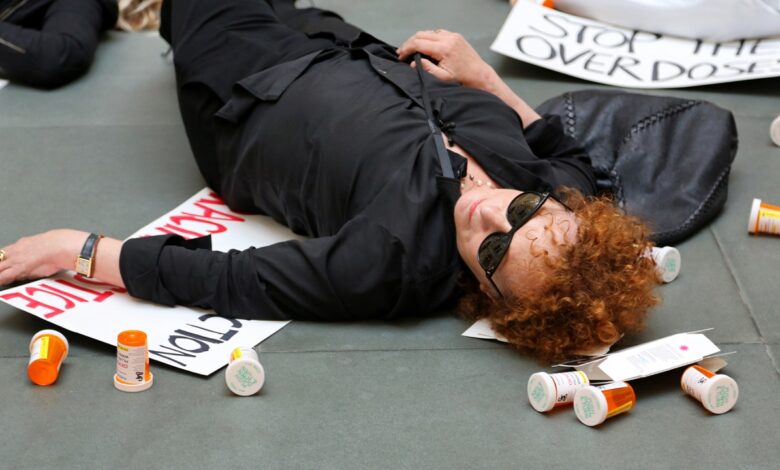 Director: Laura Poitras | Cast: Nan Goldin, David Armstrong, Marina Berio, Noemi Bonazzi, Harry Cullen, Alfonse D'amato, Jesse Helms, Megan Kapler, Patrick Radden Keefe, Ed Koch, John Mearsheimer, Annatina Miescher, Cookie Mueller, ea | Time to play: 122 minutes | Year: 2022
Photo artist Nan Goldin takes on the billionaire Sackler family. This dynasty built an empire in painkiller manufacturing, allegedly knowingly enslaving millions of Americans to so-called opioids. Doctors have prescribed pain relievers, such as OxyContin, in large quantities and in hundreds of thousands of cases with fatal consequences. But what is particularly striking is that the name Sackler adorns all kinds of museum buildings.
The Sacklers innocently wash their hands of donating large sums to museums around the world: the Guggenheim, the Louvre, the Tate Modern, etc. The documentary All the beauty and the bloodshed follows Nan Goldin's action group PAIN, which stands for 'Prescription Addiction Intervention Now', as she performs artistic actions in numerous museum buildings. The story begins at The Met, where her associates dump empty medication containers into an ancient marble pond. The goal: That Sackler name has to go.
When Edward Snowden shared top-secret information with the world in June 2013 in a hotel room about how secret agencies listen(?) to their own citizens, Laura Poitras was physically present. Camera in hand, the filmmaker captured an important part of world history. With the movie he made about it, citizenfourdeservedly won the Oscar for best documentary in 2015. Rarely do you see something so vital happening before your very eyes.
The story of All the beauty and the bloodshed may have fewer geopolitical implications, Poitras once again manages to record a series of historical events. And that's not even the strong point of this documentary. Because it intertwines the narrative of the protests and trials with the personal story of the woman behind it, Nan Goldin. She herself has been addicted to these painkillers for years. She started out seemingly innocently with a prescription and quickly turned into a deep, life-spanning addiction.
But this fight is also, to speak to the Americans, certainly not his first roundup. Goldin grew up with an older sister who was accused of mental health issues and sent from a nursing home to foster care. She herself led a hard life in the New York art world in the 1970s and 1980s, becoming one of the great champions of public awareness during the AIDS epidemic. Nan Goldin is a fighter. She is now completely ingrained in her personality and also has an excellent artist's eye. There is no better leader for this fight.
expected of All the beauty and the bloodshed not a journalistic production, in which both sides are heard. The Sacklers can't weigh in, and that's clearly not the mission of filmmaker Poitras either. Goldin is our captivating leading lady, and we get to see both the beautiful side of her and the ugly side of her. But in the end, you can only admire this photographer who is trying to at least make a place for himself in a very rich family.
All the beauty and the bloodshed Although the form feels like a pretty standard documentary, looks can be deceiving. Poitras turns out to be a puzzle, managing to create a sharp and completely individual image out of the many pieces of Goldin's life. Each story is carefully constructed. Goldin's personal accounts of his circle of artist friends are deeply moving, and every battle PAIN wins is a shot of euphoria. citizenfour He screamed like a movie: "I'm important!". All the beauty and the bloodshed whispers