Pop Buzz
Diljit Dosanjh and Kangana Ranaut are having a massive argument over Twitter: Farmers Protest!
Kangana calls Diljit Dosanjh as "Karan Johar ke Paltu"
Diljit Dosanjh and Kangana Ranaut
Diljit Dosanjh and Kangana Ranautare having a massive argument officially on Twitter. The argument started after Kangana's tweet on Farmers Protest. Kangana called the farmers protesting as anti-nationalists and the Punjabi Industry was not able to hold back. Diljit Dosanjh replied to Kangana on her tweets and their argument got intense. The situation got heated up and Kangana said very cheap words to Diljit Dosanjh.
Kangana Ranaut Twitter
Kangana Ranaut tweets on Twitter and calls the farmers anti-nationalists. She even called an old lady who was protesting as "bikau". And said that such ladies can be bought in 100 rupees.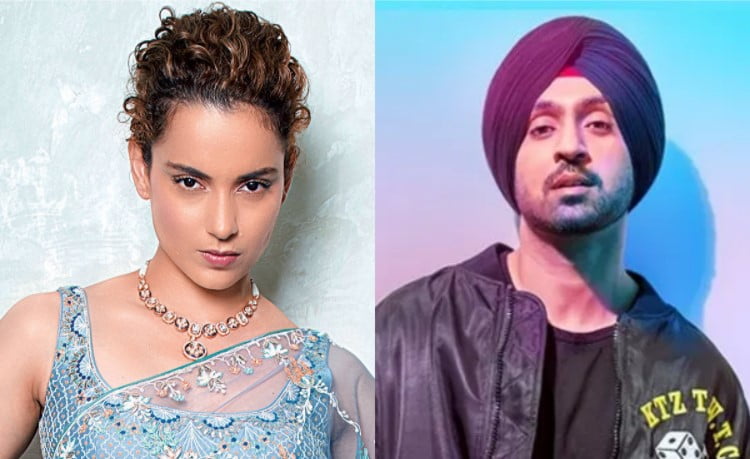 Diljit Dosanjh tweets
Diljit Dosanjh Twitter. Diljit Dosanjh tweeted many posts in the support of farmers who are protesting for their rights.
Sadian Maava RABB VARGIAN ??

Jehda Sadi Maa Nu Bura Bole Oh Sadey Lai Koi STAR STOOR NI.. @KanganaTeam Jawab Zarur devi Sadi BEBE DA .. BHAJJ NA HUN..

Vaise Mainu Lagda Aj Lai Baut aa Engine Tera..

Jadon Dobara Khurk Hoi.. Das di..

PUNJABI TYAAR HEE REHNDE AA pic.twitter.com/8P4aher5MD

— DILJIT DOSANJH (@diljitdosanjh) December 3, 2020
Toh Bhai Aaj Ka Last Tweet @KanganaTeam Yeh Paltu Mashoor Hai Chatne Mai Aur Mudey Ko Divert Karne Mai..

Mudda Kisaani Da aa Te Asi Sare Kisaan'an De naal an. PEACEFUL TAREEKE Naal??

PUNJAB dian Maava Ton Maafi Mang Li Je KARMA THEEK KARNA AN TAN#FarmerProtest

— DILJIT DOSANJH (@diljitdosanjh) December 3, 2020
@KanganaTeam – Jo Politics Karni an Karo.. Jo Poonch Hilauni An Hilavo.. Sanu Koi Matlab Ni Tere ton

SADIAN MAAVA BHENA NU
BURA BHALAA KEHAN TON PHELAN TAMEEZ SIKH

SARBAT Da BHALA V Mangde Aa??

Te Bhaaji Modni V Aundi Saanu

Aap hee hashtag Chalai jandi aa Bhukhi Fame di

— DILJIT DOSANJH (@diljitdosanjh) December 3, 2020
@KanganaTeam Muhh Sambhal Te maafi mang Sadi Maata Kolon..

Vaise Umeed tere ton Koi Ni.. Kion Ke Tainu Bhokna Aunda Gal Karni Tere Vass Di Gal Ni..

Galti Da ehsaas tan Baut door di Gal aa.. pic.twitter.com/ilB79afwwZ

— DILJIT DOSANJH (@diljitdosanjh) December 3, 2020
@KanganaTeam Peaceful Protest Chal Riha .. Kisaan De Hakk Ch Sara Desh Khada.. Tu Vakhri Turi Ferdi an..

Changa tan ki bolna Tu Maa Bhena Nu Faltu Boldi an

Jadon Dekho Khoon Kharabe Ton Thale Ni Utar Di Tu..

KARMA YAAD RAKHI … JO TU KAR RAHI AN SAB ETHEY HEE BUGTANA PENA..

— DILJIT DOSANJH (@diljitdosanjh) December 3, 2020
Koi Gal Ban Rahi aa Teri…

Sanu Pata Tu Politics Join Karni an.. Par Ser Pair tan Hove Kisey Gal Da Yaar..

Gal Sirf Kisaan Di Ho Rahi aa .. Te Ju Tu Bhaunki an Sadian Maava Lai Oh Ho Rahi aa.. Bhajj Na Hun

Te Jehdi Film di gal Tu jod rahi an onu National award Mileya aa.. https://t.co/yX3eFfQV3s

— DILJIT DOSANJH (@diljitdosanjh) December 3, 2020
Hahaha ?

Ley kar Lao Gal Lagda Tareya Da … ?

kahdh Ja Khadh Ja Bhabuu Taare Dikhan La Da Ge.. Tu Tareya Di Gal Karda ? https://t.co/tdDeh2nMAa

— DILJIT DOSANJH (@diljitdosanjh) December 3, 2020
Mai Kalla Hee Baut An Tere Wargeya Lai..

Jadon Marzi aa Ke Hikk Te Vajji..

Turda Ban Avey Engine na kara li.. https://t.co/BSaZXc3fWC

— DILJIT DOSANJH (@diljitdosanjh) December 3, 2020
@KanganaTeam Banda kaee vaari Anna ho janda taakat Te ghumand ch..

Har vaari Tusi sahi hovo..eH zaruri ni Hunda..

Shaid tainu Be Akli Nu Akal Punjab waleya ne Hee deni c..

Gal te aa.. Jehdi Tu kahee Sadian Maavan Nu.. Video tag Kara ?

— DILJIT DOSANJH (@diljitdosanjh) December 3, 2020
Mera ya tumhara sahi hona zaroori nahin hai, desh ka sahi hona zaroori hai, tum log farmers ko bhatka rahe ho, pareshaan hoon main inn protests se aaye din in riots se iss khoon kharabe se, aur tum sab bhaagidaar ho ismein… remember that … https://t.co/shhe4lyM43

— Kangana Ranaut (@KanganaTeam) December 3, 2020
Aa JAA Aa JAA…

Oye Bad Dimag Batmeez…

Gal HO RAHI JIS MAA NU TU 100 rs. Dihadi wai Keh ke foto paee c..

Os Bebe Da JAVAB Sun Leya c Yaan Dobara Bheja..

Avi gal na ghumaa Hun.. GAL KAR NI BHAJJI DA ..

Jod tod Bollywood ch chalda hona Tera.. Punjabi'an Naal Ni Chalna https://t.co/EmfatISrrk

— DILJIT DOSANJH (@diljitdosanjh) December 3, 2020
Oye dumbo baat wahi hai jab kisi ki citizenship gayi he nahin toh Saheen Baag dadi ne kiske kehne pe protests kiye? Jab MSP hataya he nahin toh phir wahi dadi kiske bhejne pe Farmers protests mein hissa le rahi hai? Kaun usko peeche se prompt karta hai when she speaks ? https://t.co/GZE2dyqVK3

— Kangana Ranaut (@KanganaTeam) December 3, 2020
@KanganaTeam – Ek Aurat Ho Ke Dusri Aurat Nu 100rs Dehadi wali Kehna Kini Ku seyana Gal aa ?

Oh V Bazurag Maa Nu..

Es Gal Te aa …. Edar Odar Na bhajj..

Avi Havaa Ch Teer maari jani an..

Har vaar Tusi sahi hovo eh zaruri ni Hunda

— DILJIT DOSANJH (@diljitdosanjh) December 3, 2020
Gal Kehdi Ho Rahi aa Eh Ja Kidar Nu Rahi aa ..?

Dimagh theek aa Tera?

Gallan Na Ghumaa.. Sidha Jawab de.. Jo bhonki an Tu sadian maava Lai..

Aa Ke Gal Kari Sadian Maavan Naal Jina Nu Tu 100 Rs Di Dasdi c .. Sari HEROINE Giri Kadh Den gian.. https://t.co/K6V1SjuAi6

— DILJIT DOSANJH (@diljitdosanjh) December 3, 2020
Aa JAA Aa JAA… @KanganaTeam

Dheley Di Akal Ni Tainu.. Sadian Maava Nu Tu 100rs Wali Das dian..

Bollywood Di Dhamki Te Draava Kisey Hor nu Daee JAA Ke..

Asi VATT Kadhan Nu Hee Jamey an

Tu Boldi Rahi an Bollywood waleya Nu..Tera Muh Pey Geya Har ek Nu Maada Bolan Da..

— DILJIT DOSANJH (@diljitdosanjh) December 3, 2020
Bolan Di Tameez Ni Tainu.. Kisey di Maa Bhen Nu..

Aurat Ho Ke Dujeyq Nu Tu 100 100 Rs. Wali das di an..

SADE PUNJAB DIAN MAAVA SADEY LAI RAB NE..

Eh tan Bhoonda De Khakhar nu Shedh Leya Tu..

PUNJABI GOOGLE KAR LI..? https://t.co/KSHb45Xpak

— DILJIT DOSANJH (@diljitdosanjh) December 3, 2020
Tuneh Jitne Logon Ke Saath Film Ki Tu Un Sab Ki Paaltu Hai…?
Fer To List Lambi Ho Jaegi Maalko Ki..?

Eh Bollywood Wale Ni PUNJAB Wale aa .. Hikk Te Vajj Sadey

Jhooth bol kar logo ko badhkana aur emotions se khailna woh toh aap achey se janti ho..? https://t.co/QIzUDoStWs

— DILJIT DOSANJH (@diljitdosanjh) December 3, 2020