TV Shows
FIFA World Cup is coming to an end, here are the best football cartoons and anime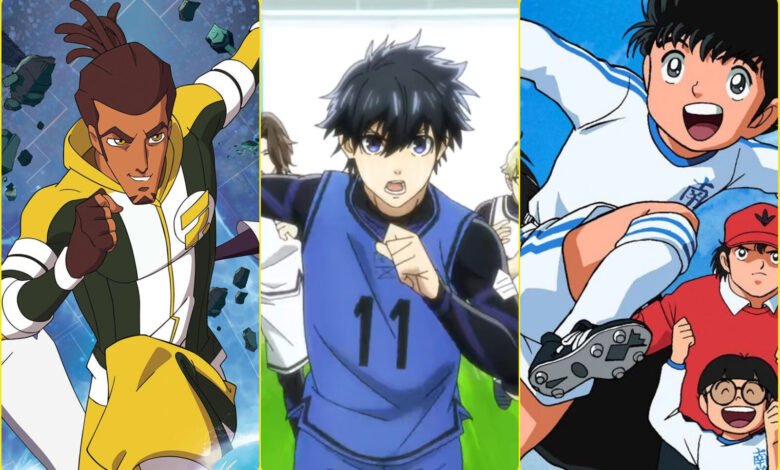 The FIFA World Cup has always been a great celebration for football fans all over the world. Let's not kid ourselves – you can complain that they tire the players physically, they are an additional burden, and this year they also interrupt our club season … But in the end we sit in front of the TV, admire the emotions of the commentators and absorb the excellent atmosphere of the environment.
although I personally live football all year round, then of course I don't miss all this delight and with great joy I plunge into the atmosphere when everyone lives only in this one sport (except for the matches of the Polish national team, where suddenly everyone becomes a great football connoisseur). It's also the perfect time for football to take over many other areas of pop culture that we encounter on a daily basis.
However, today I would like to deal with only two components (although they can be considered as one). I present to your attention the ten best animated series dedicated to this sports discipline. Sometimes in a realistic version, and sometimes in a completely unrealistic version.. However, football, goals and tough competition always come first. Without further ado, here are my picks – at random.
Supa Strikers
Let's start with the cartoon produced in South Africa, whose popularity has increased dramatically in the second decade of this century – in our country, primarily due to its broadcast on Disney XD. In fact, we can still watch the vicissitudes of the title team at the aforementioned station to this day and, despite some schemes and simplifications, it is still a pleasant and relaxing show for everyone who loves football in every episode.
Giant Kill
A very interesting anime of 2010, which ended with 26 episodes, during which we could observe an attempt to save the existence of a certain Tokyo club, which is on the verge of dissolution. When the situation became difficult, the team hired a coach who had honed his managerial skills in England in his time. Can he save a critical situation? That's what the series is about!
Inazuma Eleven
This title is intended mainly for the youngest audience – there is no point in cheating here. And this is a cross between real football and a set of amazing action straight out of funny commercials that refer to kung fu from high mountain monasteries. However, what is important, here you can have fun regardless of age. If you approach the topic from the right distance, it becomes interesting.
The Knight in the Area
A very unusual anime in which we meet two brothers associated with football – Suguru and Kakeru. The former is one of the biggest hopes of Japanese football, while the latter has already hung up his boots. Everything changes when Suguru dies in an accident and his brother's heart is transplanted – his love for the game is revived, and he decides to achieve the biggest and unfulfilled dream of his tragically deceased brother.
Days
Relatively fresh anime that is much quieter than it should be. Debuting in 2016, the series won the hearts of the small group of people it reached. And I admit that I am one of those lucky ones. If you want to join them, be sure to do so. This is a really solid story about how to break patterns, overcome difficulties and fight, first of all, with yourself. It's worth it!
Captain Tsubasa
Classics, classics and more classics – both the first "Captain Tsubasa" and all subsequent seasons that tell the story of the protagonist. Although today they feel somewhat archaic, and actions stretched over several episodes can annoy a new viewer, it is worth getting to know him – this anime has become a gateway to the world of football for children brought up in the last decades of the last century.
Captain Tsubasa (2018)
However, if you really suffer that much from the age of the original Captain Tsubasa, then get to the 2018 update. Definitely more concise, graphically tuned and properly redesigned for today's audience. Dozens of episodes of the story about a very talented football player will inspire you to go to Orliki – even despite the snow outside the window.
Football stories
The great animated series of the end of the last century brings us closer to the history of football – it shows how the rules that govern the sport today were formed. And all this in a very accessible form. What else do you need?! If the right opportunity presents itself, it is simply worth catching up on – even if you know perfectly well how football has evolved over the decades.
Blue Castle
The last production, which is actually still in the process of broadcasting episodes of the first season. I watch it regularly (ten episodes so far) and encourage you to do the same. Quite an unusual approach to football and a completely unprecedented way to show how Japan intends to win the World Cup (obviously not yet at the World Cup in Qatar…).
Galactic Football
Finally, a cartoon that has a special place in my home – of course, in the nostalgic drawer. All three seasons, during the broadcast period on Jetfix, I consumed with my whole being. I still remember the Dream Kids matches with the Shadows, the second season finale or the NetherBall. Moreover, if I had dug around, I would probably have found an album of stickers with Chipicao croissants … A piece of history, and if I have the opportunity to check it out, I will be happy to arrange another viewing for myself. I always have a great time here.