Movies
Recensie Bono & The Edge: a kind of homecoming, with Dave Letterman [Disney+]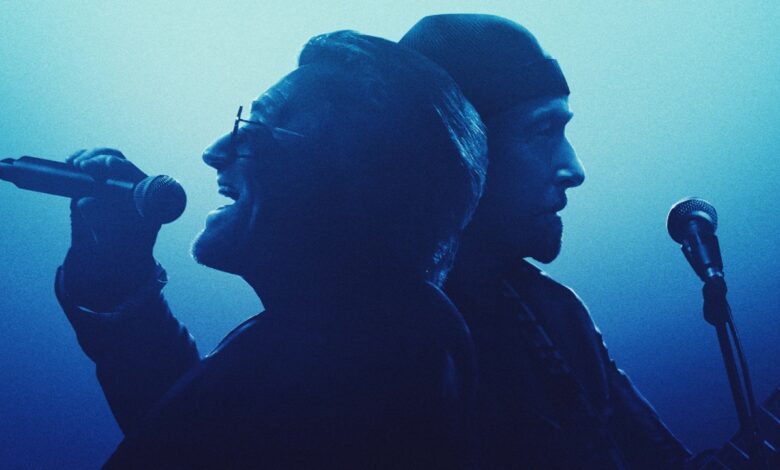 Director: neville morgan | Cast: Bono, The Edge, Glen Hansard, David Letterman ea | Time to play: 84 minutes | Year: 2023
TV presenter Dave Letterman is visiting Dublin to learn about the Irish influence on the popular band U2 and vice versa. This angle puts the history of U2 in a new historical light. The sublime implementation of this good idea makes Bono & The Edge: A Kind of Homecoming, with Dave Letterman a fantastic documentary.
The documentary is divided into three parts, which alternate with each other. Interviews about the band with, among others, the two members of the band themselves, a friend of U2 and some journalists, are interspersed with performances by Bono and The Edge in a unique concert in Dublin where they perform their most famous songs again. . (something modified or not). ) and finally short scenes in which Letterman visits famous places in Dublin and talks to "ordinary" Irishmen.
The interviews about the band itself are very interesting, because their well-known songs are put into context and thus take on much more meaning. The songs are then performed in their entirety by Bono and The Edge, allowing enough time to fit what was just said into the song. The performances also provide a moment of calm amid the deluge of information, so this documentary never overwhelms.
As well as interviews and performances, we also follow Letterman in his first encounters with Ireland. Letterman manages to both play everyone and gain something of value from those interactions. He doesn't take himself too seriously and often gets on the block in favor of the people he talks to. His self-mockery is a wonderful relief in this day and age.
The different parts of the documentary have a unique atmosphere. Interviews were often conducted in a library with warm colors and a lively atmosphere. While the performances are done under spotlights, so Bono and The Edge get all the attention on stage and the background disappears, so to speak. The atmosphere of Letterman's exploration is automatically different because he is often outdoors. This stark contrast between the three parts always makes it clear where one scene takes place and where the next one is heading.
Despite that strong contrast in atmosphere, the three parts form a coherent whole thanks to the sublime editing. This is achieved, among other things, by so-called L-cuts. An L-cut is a commonly used editing technique, in which the sound of the previous scene can still be heard, while a new one is already being shown. scene. In this documentary, the use of L-cuts is almost a work of art in itself. For example, the last hit of one of the performances is perfectly timed with a wave crashing against the rocks in the next scene.
Bono & The Edge: A Kind of Homecoming, with Dave Letterman can be seen in Disney+.