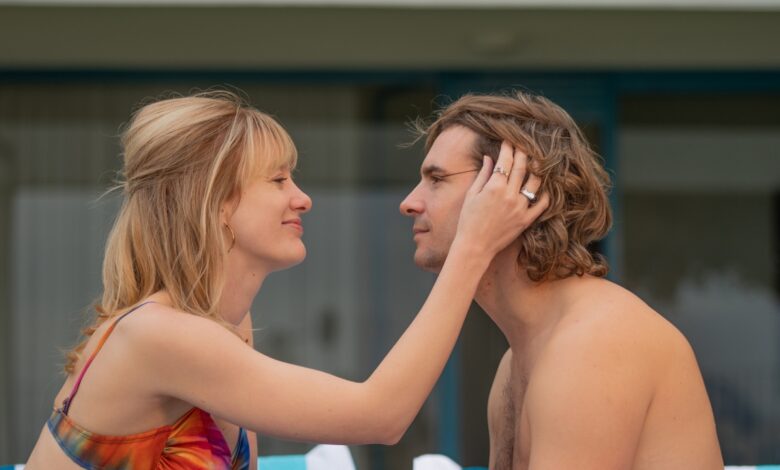 Director: Ben Verbong | Script: Isa Hoes, Ben Verbong | Cast: Egbert Jan Weeber (Sebastiaan), Noortje Herlaar (Esther), Matthijs van de Sande Backhuysen (Maurits), Robert Bleij (Herman), Vincent Croiset (Alex) and others | Time to play: 118 minutes | Year: 2023
After Antonie Kamerling took her own life in 2010, her widow Isa Hoes processed her grief in the book Toen Ik Je Zag. Now that book has been filmed under the same title, although 'filmed' should be interpreted broadly. Before the drama begins, the announcement appears that the book served as the basis for the film. Rather than specifically state that this drama is inspired by the true story behind Antonie Kamerling's suicide, director Ben Verbong prefers to make it something different.
Pieces of the source material have been used to make something unique. So don't think that this is a purely one-to-one version of the book. In any case, that could be the reason for the strange casting choice. Kamerling was blond. Egbert-Jan Weeber, who plays him, is definitely not blonde. Noortje Herlaar, who took over the role of Isa Hoes, is blonde. Only Hoes is brunette.
That doesn't really matter at all, because Weeber and Herlaar are not Kamerling and Hoes. They play Sebastian and Esther. Two actors who become famous thanks to a popular soap opera and meet behind the scenes. As was the case with Kamerling and Hoes. Sebastiaan and Esther also have a son and a daughter (as you already know) and even live in the same house as the two soap operas. But aren't they Kamerling and Hoes yet…?
This forced middle path, in which fact and fiction mix awkwardly, initially results in a messy film. Details that do not add up, situations that are situated in another context… is an approach that When I saw you it could have been suffocated beforehand. Especially if you already know a lot about Kamerling, it's hard to get right into the movie.
But, if you look at this drama as a portrait of a manic-depressive man, the pieces fit together. So Weeber is perfect as the hyperactive Sebastian. Without understanding why, he finds himself in a constant whirlwind of emotions and is torn between two extremes. Once he thinks that he's indestructible and that he's on top of his own strength, he then lies on the bed a heap of misery, boringly wondering what's wrong with him.
That explosive and unpredictable energy sets the pace for the film and provides the best moments. As an audience, you can't help but watch helplessly as Sebastiaan drifts further and further from reality, slowly withdrawing into the bubble of him, in which he is at the mercy of the demons that lead him to his tragic fate.
Verbong should have called the animal by name or made a movie about two separate characters that neither Kamerling nor Hoes had anything to do with. Due to the contrived art direction, the result is not bad. And that's too bad, because this really is a great movie. Ultimately, and this is with all due respect, it works. When I saw you Ultimately, it's best if you focus on manic depression.
By the way, both Weeber and Herlaar deserve a Golden Calf for their vivid playing. Forget who they should 'really' represent and their performance is tough.