Pop Buzz
Aditya Narayan and Shweta Aggarwal's dreamy wedding pictures and videos are out! From the couple's cute moments to Udit Narayan's dance moves, catch up with us.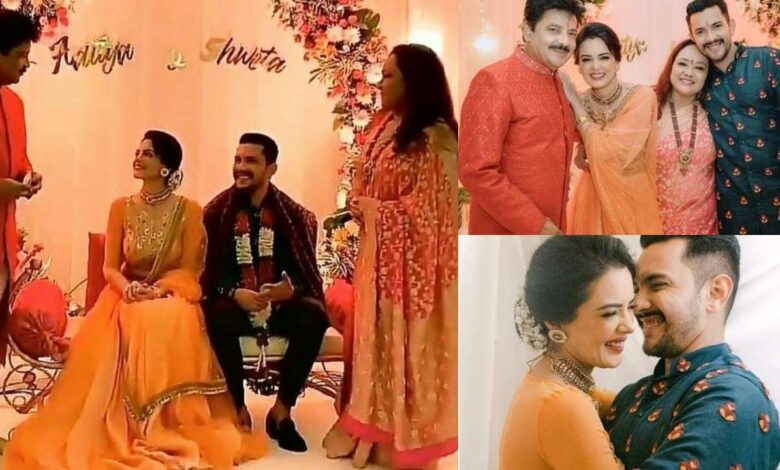 Aditya Narayan
Aditya Narayan has finally got hitched with Shweta Aggarwal. Aditya Narayan who is a singer and actor by profession married Shweta Aggarwal on December 01, 2020. Shweta Aggarwal is an actress and both of them met each other at the sets of a Hindi movie Shaapit. Aditya Narayan also revealed in an interview that he fell for Shweta the moment he saw her.
And this love at the first sight bloomed further and now the cute couple has finally made it to their marriage. Aditya Narayan also mentioned that it was not easy to woo her as she wanted to focus on her career.
View this post on Instagram
And that they have gone through many phases of life and ups and downs together in the past 10 years of their relationship. In fact, according to Aditya Narayan marriage is just a formality now as they already share such a special bond.
Aditya Narayan and Shweta Aggarwal Wedding Pictures
The couple got hitched on December 01, 2020, in a private ceremony. Due to the COVID 19 guidelines, the marriage was small and simple with only about 50 people present in the ceremony.
View this post on Instagram
Aditya Narayan's father, Udit Narayan was seen dancing in the baarat and showing off his moves just like any other typical Indian father. As the wedding ceremony was small and simple, the ceremony happened in a temple.
Among the guest list were Prime Minister Narendra Modi, Amitabh Bacchan, Deepika Padukone, Madhuri Dixit, and many other popular Bollywood celebrities. The guest list was revealed by Udit Narayan a few weeks ago, but he was not sure if everyone would be able to make it up due to the current COVID 19 situation.
View this post on Instagram
Aditya Narayan's tilak ceremony and mehandi pictures went viral a few days ago and fans were waiting for the actor's dreamy marriage. The couple who was dating for so long has now finally started a new journey of their lives and they look too adorable in their wedding pictures.