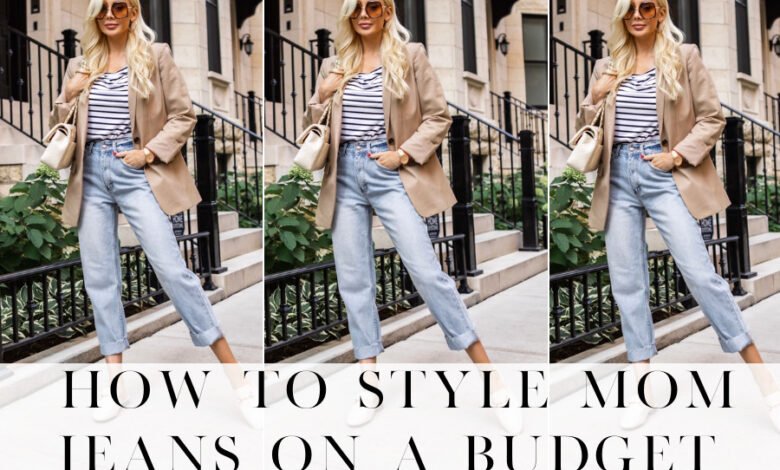 Girlfriend jeans, mom jeans, and everything high waisted-jeans never go out of style, women worldwide are incorporating and styling them.
Read on to learn the simplest and most comfortable ways to wear these essential wardrobe pants on a budget.
This article will show you how to style mom jeans on a budget.
This time, we're tackling the task of styling mom jeans, and we couldn't be more excited to show you only the EASIEST of ways to style casual-cool mom jeans on a budget.
One of our favorite things about mom jeans outfits is that 1. you don't have to be a mom to wear them (duh!) 2. many stores sell high-quality mom jeans at a reasonable price.
Zara, Target, H&M, Macy's, American Eagle, Walmart, and TJ Maxx all have a pair of mom jeans for less than $100.
Because jeans can be worn for a long time, stick to a $30-$100 budget for any style of jeans, especially mom jeans.
At trendybapu, we're pretty sure you won't need to spend a dime more than $100 on a nice pair of jeans.
It's time to dress those bad boys after you've found a pair of mom jeans that fit well and have a reasonable price tag. Now, it's pretty acceptable if you have no idea how to dress in pants. If the jeans are the usual jean denim color: blue, mixing and matching parts might be difficult.
Mom jeans are now available in various colors, including white, cream, brown, and more! This makes dressing up mom jeans a breeze!
(With a bit of assistance, of course)
Let's start with how to get mom jeans to look in 7 simple methods without breaking any pink piggy banks.
High Waisted Mom Jeans Aesthetic
1.  Mom Jeans shorts
Depending on where you reside, the summer months might be pretty hot.
This makes it more challenging to choose an outfit, especially one that includes a heavier fabric like denim.
Did you know there's a type of mom jeans that's a pair of shorts?!
Yes!!
Mom shorts are a hot new fashion for the spring and summer months, and they're perfect for wearing at the beach with a swimming suit, attractive flip flops, low-cut shoes, and crop tops!
Also, if you prefer a more conservative look and aren't one for daisy dukes, mom jean shorts are perfect for you!
A mom's jean short is slightly longer than a regular pair of jean shorts.
Making them more universal to wear if you don't want to show too much skin or don't like the look of short-shorts.
What's trending → Try out this mom jean short outfit with a pair of comfortable slides for a fresh, summer look!
2. Mom jeans with a bodysuit
A bodysuit is an excellent way to show off those high-waisted mom jeans. Because you'll be wearing a high-waist outfit, you'll want to be able to tuck in or seamlessly merge your top with the high-waisted mom jeans.
That's exactly what a flexible, universal bodysuit accomplishes!
Also, since a bodysuit is more likely to be body-hugging, the contrast of looser-fit mom jeans with a more sleek and tight top/bodysuit will look fabulous.
Woila! Pair with a tiny, neutral-colored belt.
You have go-to mom jeans and bodysuit ensemble for errands, school, or even going out during the week.
Dressy Mom Jeans Outfits
3. Lightwash moms jeans
Light wash mom jeans should be in your wardrobe as a go-to option for dressing up.
Even if you're attending a more formal occasion, you'd be surprised at how well a simple pair of light-wash mom jeans can be dressed up.
Light wash jeans, for example, maybe paired with a sumptuous yet economical pair of designer-inspired shoes!
This is one method to stand out while still seeming as though you pulled your outfit together on the spur of the moment.
Another way to add elegance to otherwise casual clothing is to pair it with some gorgeous and sparkly statement earrings.
You won't have to commit to a whole outfit to get a whimsical vibe this way. Statement earrings in gold, geometric, or futuristic styles are a great way to spruce up a mom jeans ensemble.
4. Mom Jeans with heels and heeled boots
Since heels seem to be the theme for a formal mom jeans ensemble, here are a few additional suggestions for your next night out.
A classic pair of white heeled pointed-toe heels to wear with mom jeans is a particular favorite of mine. Significantly cropped or folded-at-the-bottom mom jeans!
You can see how mom jeans (or boyfriend jeans) can appear unexpectedly stylish when matched with the right shoes and accessories in the photos below.
My torn denim jeans were combined with nude pointed heels, a thick knit cream sweater, and a fluffy winter hat.
You can go from a pair of ordinary mom jeans to a beautifully curated and creatively designed look in no time!
Booties should be on your radar for a mom jeans ensemble if it's beginning to get a bit chilly out!
5. Mom Jeans with blouses
A lightweight blouse in a silky or sheen style will always look great with mom jeans. This woman's top is perfect for a summer look with mom jeans.
With your favorite pair of mom jeans, try a casual half-tucked look or a tied-up button-down blouse trend.
Lulus has a trendy button-down denim shirt that will last in your wardrobe and dress up a look for a day event or an evening out!
You could even tie this denim shirt in a cute knot for a more cropped look.
If you're a parent, big sister, or adolescent reading this, you know how much pressure there is to appear or dress a specific way.
I am a firm believer of dressing your age in the most stylish and age-appropriate manner while being true to your style.
6. Outfits with mom jeans + Converse sneakers
Converse shoes are making a significant return now, thanks to Avril Lavigne's 'Sk8ter Boy' days.
Converse shoes are worn by Millenials, mothers, students, 9-5'ers, teachers, and your closest buddy.
Especially for those younger fashionistas in middle or high school, the Converse and mom jeans style is a highly acceptable and attractive wardrobe option.
Converse women's shoes come in various colors, including red, black, and white.
When paired with a sloppy pair of mom jeans, the top Converse shoes look very cool. Put on a couple of sleek aviator sunglasses or a pair of traditional round metal frame sunglasses for the perfect girl next door appearance.
Fun Style Tip: Converse look great with mom jeans for a 4th of July events like a parade or a local family and friends BBQ!
Crewneck sweaters look great with Converse or any other sneaker.
Our pre-teen and aspiring teen-style queens are all about oversized crewnecks right now.
Check out this adorable (and highly Instagram-worthy) Abercrombie boyfriend crewneck sweater to pair with any mom jeans.

This Abercrombie crewneck is available in various colors and fonts/graphics.
Try incorporating one of the blouses mentioned above to add a touch of sophistication to this look!
7. Outfits with mom jeans + Nike Air Force Ones
Air Force 1s are 'the thing' to be seen these days, just like Converse with mom jeans!
(Especially if you're a teen or pre-teen!)
Anyone can, however, add Air Force 1s to their wardrobe for a sporty, edgy look.
Youth worldwide are wearing Air Force Ones or Air Force 1's cheaper style dupe sneakers with almost every outfit.
If you don't already own Air Force 1s, look for a similar pair of white sneakers with a flat bottom.
Air Force 1s, on the other hand, look fantastic with mom jeans!
Cuffing the bottoms of a pair of mom jeans and wearing sneakers to complete the look is my personal favorite!
Accessorize Moms Jeans With a Trending Bucket Hat If you want to complete your new Air Force 1 mom jeans outfit aesthetic, add a trending bucket hat!
Bucket hats are photogenic, adorable, and highly functional for people of all ages!
Take a look at this bucket hat on Amazon, with over 3,000 reviews!
What a darling addition to your new mom jeans!
On the other hand, wearing any sneaker is a convenient way to make mom jeans more universal and easier to wear throughout the day.
A pair of platform sneakers like Superga's are another super stylish pair of white essential white sneakers similar to Air Force 1's!
If you're on the smaller side and want to add some height to your shoes, check out the Superga 2790 platform sneakers, which are currently very popular!