Movies
Dzika Noc (2022) – Movie Review
Santa and his trusty war hammer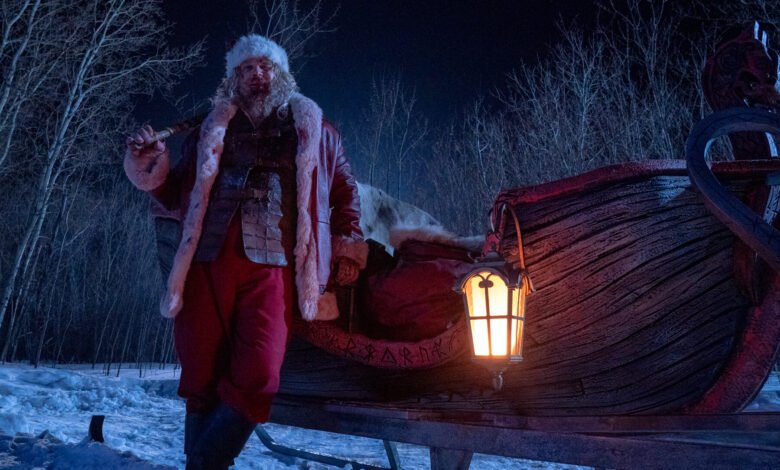 A filthy rich family is taken hostage by bandits who want to get to the vault hidden under the mansion. The situation looks hopeless, but the bandits do not know that Santa Claus is eating homemade cookies and milk in one of the rooms. Yes, real. And he will certainly be happy to help a little girl who believes in him very much.
With films about Santa Claus, there is always the same problem – adults simply cannot not know about him. If they didn't buy anything for their children, and the gifts are still under the tree, then someone put them there. Add to this the cookies eaten at night, and there can be only two conclusions – either they got the cutest robber in the world, or Santa exists. Meanwhile, in the cinema, it is always a big shock for them. But it's just a little thing to deal with, that's all. Today's video has a lot more behind its ears!
Dzika Noc (2022) – Movie Review
It's one of those films that makes you alternate between complete embarrassment and unbridled joy while watching. At least a few times I've wondered what I really am [email protected] I watch it at least once aloud. The project director, Tommy Wirkola, has previously given us works like Zombie SS or Hansel and Gretel: Witch Hunters, which should more or less illustrate the kind of artistic flair we're exposed to. "Dzika Noc" is ruthlessly brutal. Sometimes on the basis of "why not", but there are also truly inspired murder scenes. The whole episode with little girl Trudy (Leah Brady), who watched Home Alone the day before the film and was inspired by the Chris Columbus film, decides to set up some traps for thugs, is very funny. I'm relatively convinced that the creators of the videos are us from the Corridor Crew YouTube channel. The guys once made a video about what if "Kevin" was more hardcore, and now we're watching pretty much the same thing here. A funny scene, but the last victim of Mr. Mikolaj definitely occupies the palm – I won't say which one, but at that moment I literally burst out laughing. And right behind me is Mikolaj, also happily surprised by what he has done.
Scenes of violence never look blatantly artificial. The blood is always pleasantly thick, the clogged faces gracefully contorted. It is red and with an egg. The effects themselves do their job, but, unfortunately, the same cannot be said about the preparation of scenes from the kinetic and logical side. First, the armed bodyguard waits for the gunman to approach him before starting to shoot. The bad guys then do the same when they're looking for the man responsible for taking down a few of their buddies. Nobody hears screams and distinct sounds of a fight, and tearing off the head (including hair) and hands from the sticky substance, apparently, is easier than legs. These aren't too big of a problem, especially in a ridiculously chic-focused production, but I'd be lying if I said they weren't conspicuous.
Dzika Noc (2022) – David Harbor is the perfect Santa
I don't know who made Santa Claus have a warlike background and look like David Harbor, but he should get a medal. Dave is big, massive and a little intimidating, but at the same time he has a pleasant voice and warm eyes that make me easily swallow him as a sweet mister, a moment of reflection and joy and a hardcore brawler who misses his hammer.
At the heart of the film – although perhaps "an excuse to justify all this violence" is more appropriate in this case – is the relationship between Mikołaj and little Trudy. There can be blood everywhere, but when a little girl asks Santa to reconcile her parents or worries about him because he's her friend, she can squeeze you a little inside. Sam Harbor in the scenes with her turns into a big beloved teddy bear – of course, covered in blood, but still! In fact, only the two of them truly feel the magic of Christmas. The rest of the characters are big and small caricatures. Beverly D'Angelo is a cold and calculating CEO who only cares about profits. Definitely the most colorful of all the secondary characters. Her children and grandson would have been good enough for some minor Polish comedy that would have amused no one but the creators. Evils, on the other hand, are simply colorless and are remembered as "the boss is played by John Leguizamo". At least they don't get upset when Santa grabs the hammer!
"Dzika Noc" is a film that has every chance of becoming a cult film. An insane mix of Die Hard, Home Alone and Bad Santa starring the amazing David Harbour. A rather goofy, slightly goofy film, but at the same time, constant action and disgusting humor make time in the cinema chair fly by at an accelerated rate. I recommend watching in the company – there will be no end to laughter.