Movies
Pinocchio (2022) – Movie Review [Netflix]. What does it mean to truly live?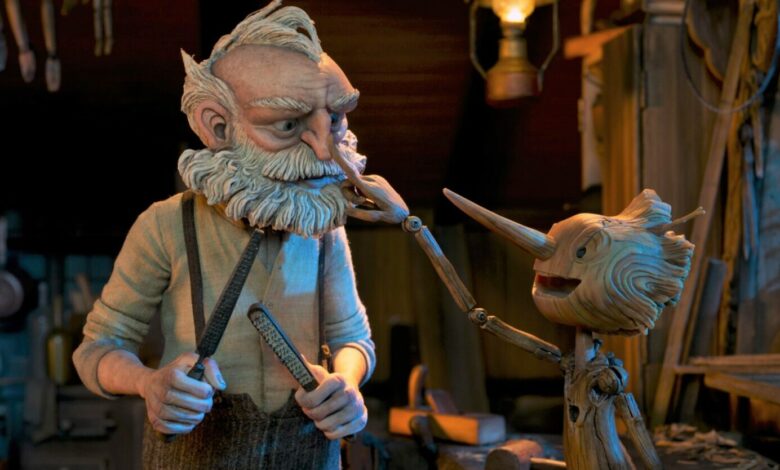 The story of Pinocchio, a wooden puppet carved by Geppetto, who wanted to have a son with all his might, is already known to everyone – and largely thanks to the cult Disney cartoon, which the audience fell in love with only years after its premiere. The Mickey Mouse Incorporated has once again reached out to the classic, effectively shattering its legend with a live-action version – a series of changes to modernize the story, a disturbing performance from Tom Hanks and a few unfunny gags brought a man to a conclusion yet again. that it is not worth destroying beautiful moments for the sake of unsuccessful live versions. So when Netflix announced that Guillermo del Toro, an admittedly very talented director and creator, was working on another movie based heavily on the fairy tales of Carl Collodi, I wasn't entirely at ease. After watching "Pinocchio" from Netflix, I can say one thing: this cartoon is not to be missed. I invite you to review.
Guillermo del Toro needs no introduction. The creator, responsible with great courage for productions such as The Shape of Water, Pan's Labyrinth or Mutant, made his way into the film industry, marking his projects with many characteristic elements that were significantly influenced by his past. experiences and sensitivity. He is a film director who is not afraid to flaunt the biggest monsters, draw attention to the senselessness of war, give 5 minutes to ordinary heroes – once a Mexican said that he constantly makes the same film. And in the case of Pinocchio, made with the support of Netflix, everything is very similar – del Toro is not afraid to write his own fairy tale that will touch the viewer from the first to the last minute.
Guillermo del Toro: Pinocchio (2022) Movie Review [Netflix]. For the glory of Italy
Geppetto is the happy father of an extremely interesting world, smart and ready to help Carlo. Fatherhood is a hard piece of bread that requires a lot of patience and care, but brings a lot of joy to a man – the boy seems to be a ray of sunshine that brightens up every carpenter's day. Therefore, when in 1916, during the bombing, bringing destruction to the surrounding village, the beloved child of Geppetto dies, he cannot get up. Exhausted by sadness and insoluble grief for the loss, he falls into alcoholism. Years pass, Italy begins to be ruled by fascists who want to control every element of the lives of citizens. Meanwhile, a wooden doll is being created, which absorbs everyday life with its whole being.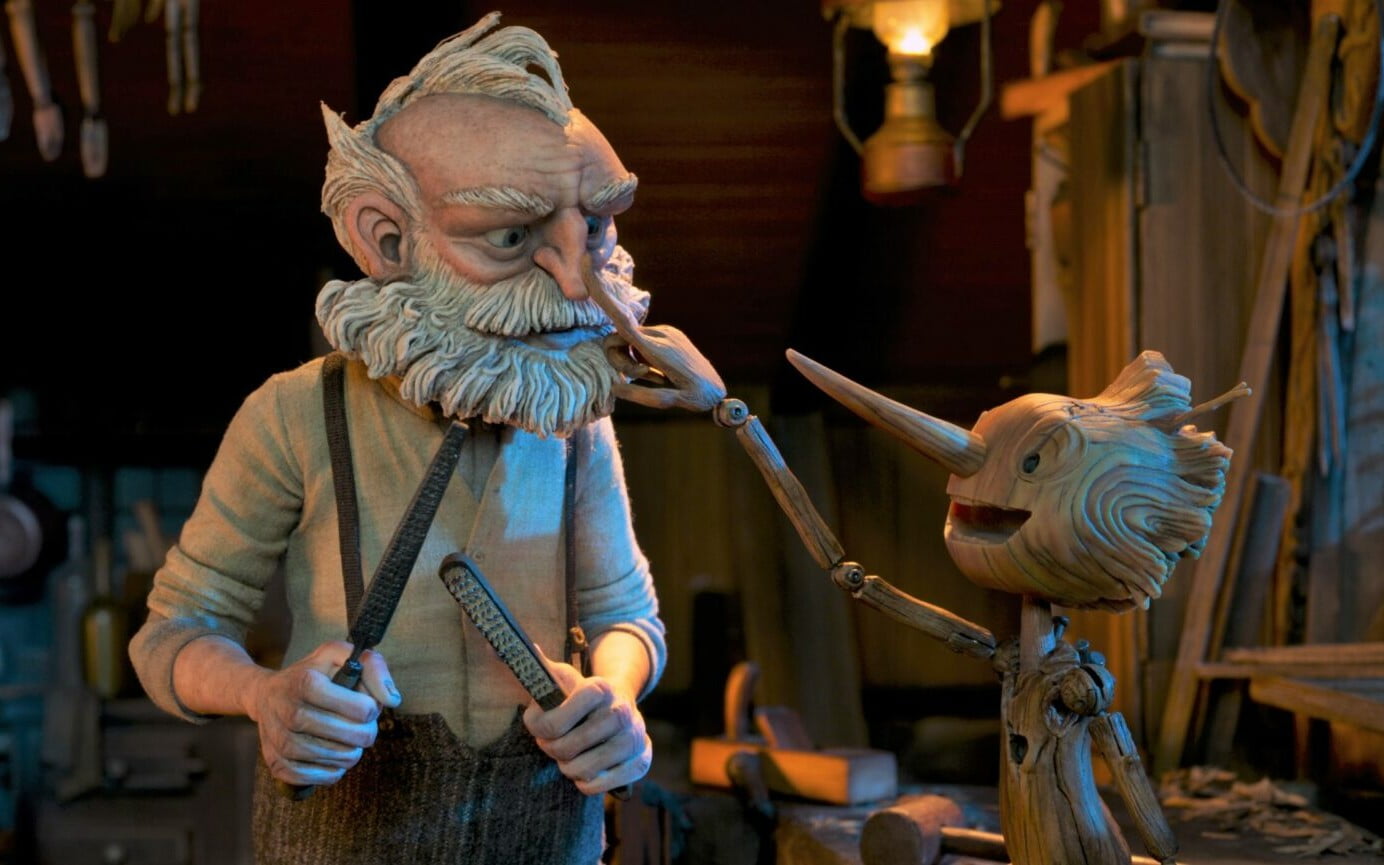 Already after the first 10 minutes of the peer-reviewed "Guillermo del Toro: Pinocchio" we understand that this will not be the animation that we are used to. The authors make a 180-degree turn and put in the center not an enchanted wooden puppet, but a carpenter suffering from sadness, longing and love, which gives the production a new dynamic. During a drunken fever, a pine substitute for his son is created, whose otherness is first seen as a threat and then as a profit opportunity in many dimensions. However, we are not talking about Pinocchio becoming a man, this is not mentioned for a moment. His life, or rather the impossibility of ending his existence, is initially perceived as a privilege – making it easier to earn money or create an ideal soldier. The protagonist also uses immortality, but over time it becomes clear that in all this paradox, death is one of the important elements of a real, full life. The possibility of returning from the afterlife, thanks to which existence is not unique and inimitable, becomes the main feature of the wooden doll. The process of becoming a real boy and the decision to achieve this real life will hatch along with the devotion and love that Pinocchio wants to show his father.
Guillermo del Toro: Pinocchio (2022) Movie Review [Netflix]. People fear what they don't know
Under the guise of a fairy tale intended mainly for children, the directors, because the Netflix novelty was supervised not only by the Mexican, but also by Mark Gustafson, present a complex, thought-provoking tale of mourning, death and life, immortality that becomes a burden rather than a privilege, a totalitarian state, a longing for acceptance and love – not only lost, childish love, but parental love. And, in my opinion, they are almost perfect at it. In political and religious contexts, this animation uses many symbols, including Christian ones, contrasting them with the situation of a wooden doll and its keeper, the meaning of real existence, mixing the material world with the spiritual one.
Keeping in mind the strong message of obedience in Collodi's novel, "Guillermo del Toro: Pinocchio" starts from the assumptions of the Italian total state and sets the plot of the animation to a specific historical period. While watching, we are not following the actions of a wooden doll in a school or on an island of donkeys, but we find ourselves in a fascist camp, which must raise real citizens and killing machines from innocent boys who want to be accepted. Obedience above all – and only for the glory of Italy and Benito Mussolini. That is why the world is shown almost within a line adapted to the regime – here even a traveling puppet theater praises the dictator. In addition, del Toro is again engaged in religion. In Pinocchio, the scriptwriters are not afraid of criticism from the clergy, who, just to stay afloat, nod and follow the Nazis step by step, sensing a chance for survival and prosperity in friendly contacts.
Guillermo del Toro: Pinocchio (2022) Movie Review [Netflix]. Serious production with a message
The peer-reviewed Guillermo del Toro: Pinocchio is technically mesmerizing, and its style harmonizes perfectly with a script devoid of fairy tales but full of morality and dark threads. Much of this credit goes to Gustafson, who has drawn on his experience on previous projects while not being afraid to aim for a style closer to Tim Burton's Corpse Bride than a Disney stable production—the stop-motion animation is extremely polished. saturated with the smallest details, with characteristic contrast and colors. Many of del Toro's films have a certain color scheme that the creator adheres to very firmly – the same is the case with Pinocchio, in which warm colors (brown, red) come to the fore in the real world, and dark blues and blues dominates the world ruled by Blue Dryness and Death. This is another argument in favor of the fact that stop-motion animation fit the whole project very well and gave it additional artistic expression.
It would seem that the author in the reviewed "Pinocchio" achieved the impossible – for years he planned the concept of the story, which was supposed to be an addition to "Fava's Labyrinth" and "Devil's Backbone", with great charm and deliberate transformation. according to a well-known story, she wove a new, multi-colored fabric from a somewhat worn thread, thanks to which it will last for many, many years. His tale of the pine boy is so different from the productions we are used to, and at the same time very similar to the original, it seems to be made to order. There are many messages here, it is up to us which ones we use.