Movies
Little Richard Review: I Am Everything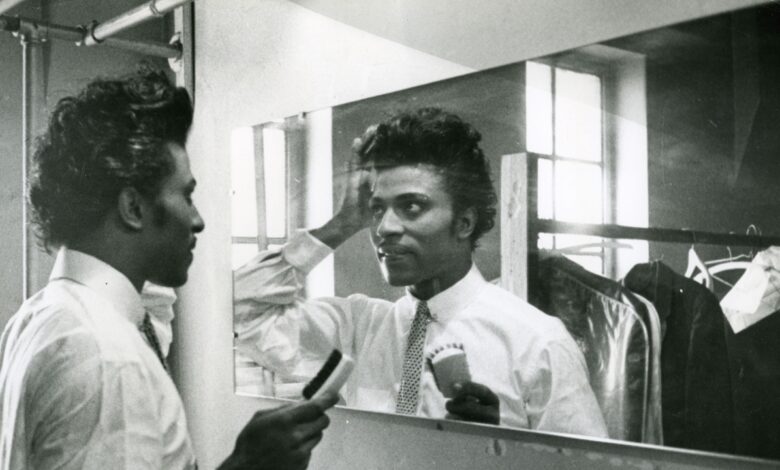 Director: Lisa Cortes | Time to play: 100 minutes | Year: 2023
Little Richard was the true king of rock and roll. He the founder of the genre that conquered the world in the fifties, along with Chuck Berry, Bo Diddley and Fats Domino, among others. With his flamboyant style and exuberant performances, he was unique and the role model for generations of artists, from Paul McCartney to Michael Jackson. the new documentary Little Richard: I am everything it shows him not only as a major musician and artist, but also as a queer icon.
Filmmaker Lisa Cortés tells the extraordinary and dramatic life story of Little Richard, using old interviews with himself, archival footage, and new interviews with people in his life and musicians he influenced. Some anecdotes are narrated by modern young musicians in the places where it once happened.
These three scenes are the weakest in the documentary. Not because this blurs the line between fiction and documentary, but because these youngsters aren't half the artists Little Richard was, and can't live up to their wild and explosive performances. It seems like an attempt to show that his music is still impressive today, but the archival footage of his own performances conveys it much better. The energy is still splashing through that.
Richard Wayne Penniman was born in 1932 in Macon, Georgia. In the racially segregated southern United States. As a child he already stood out in the church with his singing. But he was also at home because as a teenager he was very interested in his mother's makeup and clothes, until his father kicked him out of the house.
In the early 1950s he took the name Little Richard and was inspired by two other openly gay black singers for his appearance as an artist. According to his own words, it was precisely because of his makeup and hairstyle that he could act for white teenagers, because that way he would not be seen as a sexual threat to white girls. From the beginning, Lisa Cortés emphasizes her open homosexuality (or rather bisexuality), an important aspect of her extravagant style that is often ignored in rock history.
The other two threads that run through the documentary are, of course, Little Richard's music, including his musical influence on later generations, and his religion. Both are equally captivating. His first steps in the music industry provide him with entertaining anecdotes, such as the sex song Tutti Frutti (originally about anal sex) becoming his first big hit by cleaning up the lyrics. That anecdote also immediately exposes a painful aspect of his music career: Others, including white artists but also his own record label, made far more from his music than he did.
You will continue to feel throughout your life that you are not receiving the recognition and financial compensation you deserve. At the end of the fifties the next big turn in his life came: a religious conversion. He renounces rock and roll as the devil's music, records gospel music, studies theology, and marries a fellow student who has never heard his music.
However, he later returns to the genre more flamboyant and energetic than ever to compete with the new generations of musicians who have come to imitate Little Richard's original style of playing (including the Beatles, the Rolling Stones, James Brown, and later Michael Jackson and Prince). His respect and love for Little Richard and his music is evident in this documentary, which finally gives him the recognition he has always sought.
At the same time, the documentary highlights his iconic status in the queer community, but it also has some caveats. In fact, in interviews after his religious conversion, he spoke of his former life as an outspoken homosexual as something he left behind to be reconciled to the Lord. Little Richard: I am everything it is a suave and fascinating portrait of the man and the musician in all their facets.
Interested in writing reviews about movies and series? We are looking for
editors
.