Movies
Movie "White Noise": Intellectual Dialogues and Crazy Ridiculousness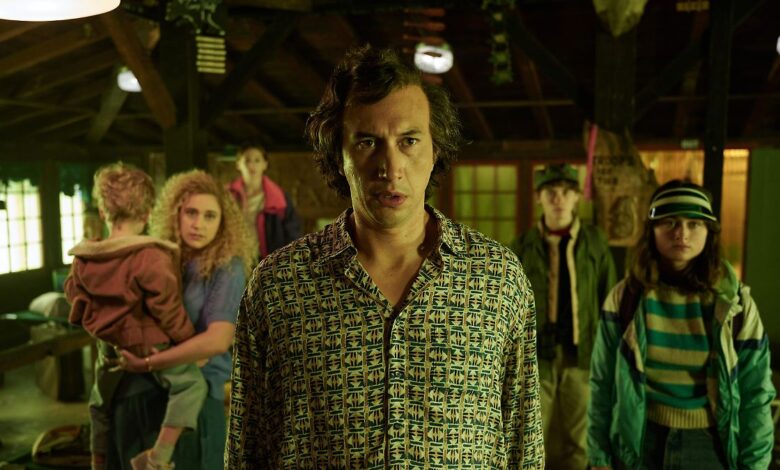 With White Noise, Netflix brings Noah Baumbach's satirical drama to cinema. Adam Driver imitates a Hitlerite expert with an irrational fear of death who, in the mid-1980s, must set out with his family of six on an absurd escape from a real threat.
It's been three years since Noah Baumbach and Adam Driver worked together on Netflix. At the same time, the famous, and then the award-winning drama "Marriage Story" about a failed married couple was released. Now this fruitful combination goes to the next round. To do this, Baumbach took material from Don DeLillo in 1985, which had previously been considered unsuitable for film adaptation.
With a belly and thick hair, Adam Driver plays Jack Gladney, a Midwestern university professor known worldwide as an expert on Hitler in the mid-1980s. And this despite the fact that he himself almost never pronounces a sentence in German, no matter how hard he tries with the help of a teacher. However, students and colleagues glorify Gladney as a rock star when he delivers his theater lectures. His colleague Murray Siskind (Don Cheadle) wishes without envy that his Elvis readings will one day be as successful as Jack's readings on the Fuhrer.
What to expect in "White Noise"?
Jack lives a busy if chaotic personal life with his fourth wife, Babette (Greta Gerwig) and their blended family of four. The couple loves this life so much that they don't want it to end. So, while still in good health, Jack and Babette are driven by an irrational fear of death.
Babette begins to feel alien and alien pills called "Dilar", which even the family doctor does not know about. When a freight train derailed and exploded in the vicinity of Gladney's home after colliding with a tanker truck, a dark cloud of poison spread over the area. Death is really coming.
Between Lynch, Lee and Cohen
After initially dismissing the threat, Jack is finally forced to evacuate his family. From now on, the six go through many overworked and ridiculous situations in the reigning chaos. Among other things, the family wagon lands with a big jump into the river. Despite all the desperation, Father Jack manages to pull the cart out of the proverbial mud and maneuver it back out into the street – right into the traffic jam of other residents escaping the cloud – driving it.
What sounds like Chevy Chase-style screwball comedy at the moment is just a small snippet of what White Noise has to offer. Rather, it is a film between Lynch, Lee and Cohen. A satire based on intellectual dialogue in which even children continue to correct each other's facts and have adult conversations while setting the table. The conclusions are partly bitter, partly amusing in all their absurdity. Permanent television works today in the same way as the Internet, and at the same time, media consumption is criticized. Although the novel is almost 40 years old, many things seem frighteningly modern. The fact that Lars Eidinger of all people ends up playing the madman with German roots is all you want. If it doesn't annoy you, you will be entertained for 136 minutes.
White Noise will hit German cinemas from December 8th and will be available on Netflix from December 30th.