Movies
Super Mario Bros. Movie Review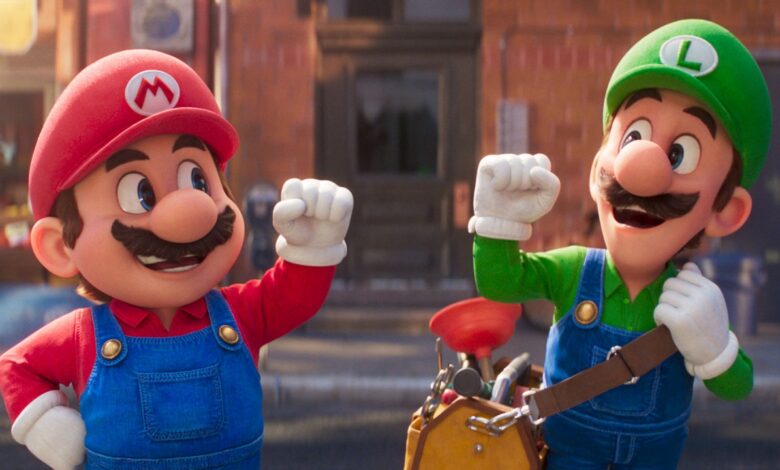 Director: Aaron Horvath to Michael Jelenic | Script: Matthew Fogel | Cast (voices): Chris Pratt (Mario), Charlie Day (Luigi), Anya Taylor-Joy (Princes Peach), Jack Black (Bowser), Seth Rogen (Donkey Kong), Kevin Michael Richardson (Kamek), Keegan-Michael Key (Toad), ea | Time to play: 92 minutes | Year: 2023
Thirty years ago, a real industrial accident happened when Hollywood came up with the bright idea of ​​making a feature film of the popular Super Mario games. The failure starring Bob Hoskins, John Leguizamo and Dennis Hopper left the Japanese game producer Nintendo with enormous trauma. Even more than was the case, they remained very careful with their games. Now, Nintendo has still chosen to entrust the animation studio Illumination to the world's most famous plumber.
For fans of the games (there are now twenty-three, not counting the many spin-offs, bundles, and remakes), it's going to be quite the recognition party. The mustachioed plumber may be small in stature, but he is still holding his own after many decades. Filmmakers Aaron Horvath and Michael Jelenic were assisted by the Japanese team led by Mario's spiritual father, Shigeru Miyamoto. There are too many fun facts about the Italian plumber to count here; many of them are subtly or not reflected in this hit film adaptation of the game. Koji Kondo's well-known theme songs are also a feast for the ears.
Writer Matthew Fogel insisted on creating an origin story for Mario and Luigi. This is how we first got to see the family of the plumber brothers. The voice of Mario's father is also voiced by Charles Martinet, who has been the voice of Mario in the games since 1995. Brothers Mario and Luigi are shy about odd jobs and have put together an eye-catching promotional video. The joy is therefore great when they are assigned a first job, which obviously they ruin enormously.
The New York borough of Brooklyn also has to deal with overflowing sewers. Because Mario and Luigi could use a bit of success, they decide to act as saviors from this wet crisis. Once underground, the brothers are sucked into a green sewer pipe. Luigi ends up in the dark world of the aggressive turtle Bowser and Mario ends up in the Mushroom Kingdom of Princess Peach. There is no other option for Mario to team up with Peach and track down Luigi. Bowser, meanwhile, is hot on their heels and wants to annex Peach's kingdom.
Once Mario has entered the mushroom kingdom, the writers go to great lengths to make it match well-known platformers, complete with power-ups. To get to Peach's palace, he has to do all kinds of tricks. And to prove his skills, the mustachioed plumber must complete an immense course. These are clever tricks, returning multiple times in this film adaptation of the game, to quickly get viewers into the familiar world of the game. In a preview we already saw how Mario and Luigi make their way through the city in search of their first job. Filming them from the side, we get the impression of a game level.
The most far-reaching change, aside from Mario's normal American accent, is the role of Peach herself. Although he appears in a frilly pink dress, she is not the perpetually distraught monarch desperately screaming "Mario!" she cries so that her dead body can be saved. This Peach is a go-getter and isn't afraid to go on an adventure. Initially, Mario moves on a bit meekly, but gradually gains confidence and courage to stick to the most important moral of this animated movie.
The world of Super Mario is already quite sprawling and diverse, but the creators have cleverly managed to involve other franchises like Mario Kart and the Donkey Kong series in the adventure. One wonders if the writers are not firing the gunpowder of a possible but inevitable sequel. Also, the casting of Jack Black in the role of the villain Bowser is a stroke of genius. The vengeful reptile may be ruthless, but he also shows the sensitive side of him when he tries to woo Peach. Black was completely relaxed in the role of him and he does it with verve.
Game adaptations remain a difficult task, perhaps because different media are sometimes too diverse. With a game, you are at the controls yourself and then it takes some getting used to when everything happens right before your eyes. For example, plans to film The Legend of Zelda, 'that other well-known Nintendo series', have already been shelved several times. With its colorful characters and cartoonish environments, Super Mario Bros. is well suited for big-screen translation. Wait until the end credits where there are two more short scenes. In any case, this tastes like much more!