Movies
Bill Russell Review: Legend [Netflix]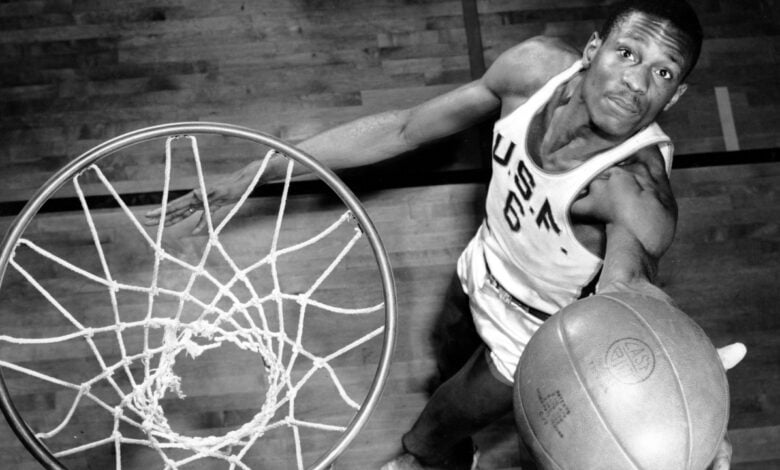 Director: Sam Pollard| Time to play: 200 minutes | Year: 2023
Every good sports documentary has those scenes where genius, competition and coincidence culminate in a sporting moment more beautiful than fiction can imagine. Bill Russell: Legend, about the pioneering African-American basketball player with 11 NBA titles, has about three such dunks. It is a pity that the documentary, with its three and a half hours, does not have the twenty-four second rule and, at times, it can easily be accused of wasting time.
In the mid-1950s, Bill Russell breaks the unwritten quota for black players ('Two players are still allowed on a team because they share the same room anyway'), in a sport that used to be played mostly by 'caucasians landlocked'. He is too good to pass and with his height and jumping technique he takes the game to the horizontal dimension. He is also active in the civil rights movement and, despite his continued success, becomes disillusioned with the triviality of simply running after a basketball.
In addition to being an athlete, Bill Russell was also a poet, full of reflection and insight. The quotes from his biographies are the best and most revealing passages from Bill Russell: Legend. What does the documentary really bring to that? Beautiful photos, basketball footage and of course the usual talking heads. Some of them, especially younger NBA stars like Chris Paul and Stephen Curry, seem to be saying what director Sam Pollard wanted to hear.
But the biggest flaw is the chronological structure, because the documentary juggles too many themes. We continue to learn something about Bill Russell as a character, something about Bill Russell as a public figure, and something about Bill Russell as a star athlete. If this was split into four more thematic parts, the long finale wouldn't have required four goodbyes. The focus is mainly on his sporting achievements and everything beyond that is not well connected. Basketball, especially the rivalry between Russell and Wilt Chamberlain, sells itself. The rest get quite a bit of time, but never true expressiveness.
This is noticeable, for example, in the rude handling of racism and the civil rights movement. Those involved are willing not to dismiss this important aspect with a single footnote, but at the same time they do not ask the deeper questions that require reflection or analysis. It's racism in the form of burning crosses and not being able to eat in restaurants, it doesn't come close. Yes, there were countless hateful people, but what kind of personal views did all those teammates have, who now still have years to live?
For such an issue it would have been better to ask for the help of historians or activists; other documentaries do. The creators give it time and attention, but it doesn't turn out very well. One is clearly more comfortable swooning over famous moments in basketball history ("Havliceck steals the ball") and the complex relationship between athlete and fan. Those are the times when Bill Russell: Legend works better.
In its current form, this documentary is primarily an invitation to the book second wind by Bill Russell. Take, for example, this quote, which the documentary wisely borrows: "If you could bottle all the emotions in a basketball game, you'd have enough hate to fight a war and enough joy to prevent one." Pictures may be lacking in such a book, but it has turned out that Bill Russell can also speak very well in his words.
Bill Russell: Legend can be seen in Netflix.