TV Shows
"Farmer Looking for a Wife" – finale: Attention, danger of explosion!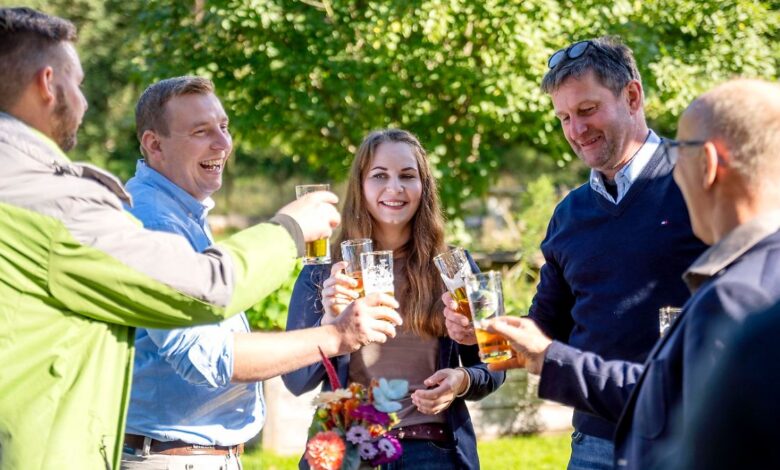 "Farmer Looking for a Wife" – Finale



Attention, risk of explosion!
Kai Butterweck
11/15/2022, 22:20
The big finale of "BauersuchtFrau" brings everyone together again: those who are still in each other's arms after the show, and those in whom the spark simply did not want to burn out. A volcano called Helena is also a guest – much to the chagrin of organic farmer Theo.
Eleven episodes full of love, drama and emotions! Inka Bause cannot believe that the colorful happiness of the forests and meadows between North Friesland and the Allgäu is already over. But there is one event ahead of all the participants: a grand finale! Somewhere in the countryside, everything is ready: liters of fresh beer, a hearty snack buffet and an expectant hostess who also takes the first couple aside to analyze the season. Inka Bause immediately goes full throttle and confronts amateur farmer Eric and his lady-in-waiting Julia with still fond memories. "Why didn't you two succeed?" Inka asks.
The Thuringian farmer does not have to think long: "I was kind of overwhelmed by the overall situation," admits Erik. A certain amount of excessive demands would be acceptable for Julia. "At some point, he addressed me three times by the name of his ex-girlfriend," says the blonde. Not only Inka makes big eyes. So starting a new relationship is, of course, a bit tricky.
Expired Pledge of Allegiance
Apart from Eric and Julia, other couples have bad news in their luggage too. So two hotheads Ian Hendrick and Simmental breeder Michael K., who were still up for trial at the start, had to register their love plans, as did Michael in Season 2 and his HR clerk Mandy. For the latter, despite the show's alleged pledge of allegiance ("I'd go to the ends of the earth with you"), everyday life proved to be an insurmountable obstacle: "Michael suddenly had to work for six weeks straight. that, unfortunately, nothing came," says Mandy sullenly.
The cattle breeder from Lower Saxony has nothing to say in his defense. Sometimes things don't go as planned. With this knowledge, Helena must also learn to live. Farmer Theo, who is now in a relationship with farmmate Andrea, had to go hand in hand with the 62-year-old woman through the venue for the grand finale. Theo rejected Helena shortly after their first meeting. The energetic candidate still has not digested this emotional blow.
You treated me the way…
In a large group, Helena launches a verbal counterattack. You didn't really recognize me. You treated me like…!" the redheaded candidate rumbled. It quickly became clear that Theo, who otherwise would not have got into his mouth, did not get off as easily as in the barn. festival this time While all the listeners were a little embarrassed Turning the page, Helena continues to shoot with all the pipes Only in a six-eyed conversation with Inca, a farmer from North Rhine-Westphalia finds his way to the right track. excited by the seatmate's previous incessant fire, Theo finally gets down to business in Theo's manner: "You explode too fast for me," the farmer says. Well, there really is something to it, although to understand the bad mood in Elena's house.
The ways of love are incomprehensible. No one knows this better than Inky Bause. Now in the frame are also several farmers and their comrades. In the end, however, all negative thoughts remain outside the door. After all, when beer is pouring, plates of snacks are being carried around, and the format boss invites you to a big extra-time party, everyone should be in a good mood. And now almost all those present are dancing to the sounds of Bauze's hit "Lebensmelodie" on the tables. We love to dance with you. And now everyone: "There is a song in every place, and I know for sure that I will never forget you. You are the melody of my life … tralitral!"