Movies
#MeToo drama "She said": how two women hit Harvey Weinstein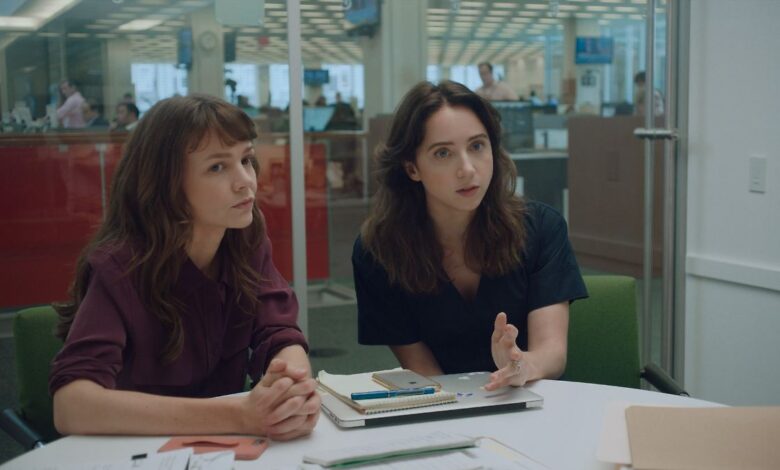 "She Said" by Maria Schroeder tells the origin story of the article that ended Harvey Weinstein's career in 2017. Carey Mulligan and Zoe Kazan brilliantly played journalists. But above all, the emotional messages of the respective women are shocking and touching.
Another lawsuit against Harvey Weinstein is about to end in Los Angeles, in which the former Hollywood mogul could earn additional years behind bars. In 2020, a 70-year-old man was sentenced to 23 years in prison for rape and other sexual assault. So the drama "She Said," directed by Maria Schroeder, tells the story of those journalists who brought down the once influential film producer five years ago with their journalistic investigation.
It was October 5, 2017, when The New York Times published a text by Jody Kantor and Megan Twoey that had been researched for months and revealed what had been whispered behind closed doors in Hollywood for decades. Harvey Weinstein molested, sexually harassed, stalked and even raped numerous women throughout his working life. But how can this be made into a film that takes into account the feelings of the victims, reflects their horror, and at the same time refrains from explicitly showing sexual violence?
Women's film about women
Screenwriter Rebecca Lenkiewicz, director Maria Schroeder and the cast of lead actresses Carey Mulligan and Zoe Kazan succeeded in this. "She Said" follows Kantor and Tui as they do their best to finally break the silence. So the film is also a story about the importance of well-researched journalism.
Megan Twoey (Carey Mulligan) and Jody Kantor (Zoe Kazan) work for The New York Times Investigation. When they learn that Weinstein is said to have sexually harassed and coerced famous actress Rose McGowan years ago, they launch an investigation. It soon becomes clear that McGowan wasn't the only one who had to experience this sort of thing with the producer. In addition to other more or less well-known colleagues, among the victims were the workers of the Miramax film studio, of which he was the head. However, none of them had spoken publicly about it before, because Weinstein was protected by a system of bribery, intimidation, threats, and cover-ups.
It is through persistent research and sensitive conversations between two journalists that more and more women are breaking their silence, giving the #MeToo debate an extra boost. And it is the courage of the traumatized victims that is the focus of She Said. One of them, Ashley Judd, even plays himself. The fact that the NYT's executive department still backs Tui and Kantor unconditionally, even as Weinstein and his lawyers unleash all the guns to prevent the article from being published, brings the matter to a close. to end. Man down.
Emotionality through words and looks
The filmmakers managed to make the suffering and suffering of the victims palpable without portraying the violence itself. This is reflected only in the faces of those who talk about their experiences, and those who listen to them. Flashbacks are also used, but the women are seen either shortly before or shortly after the crime, never during it.
Even if months of tedious research work is described here in 129 minutes of the film, the frustration that Tui and Kantor experience over and over again is all too easy to understand when one of the women decides not to publish her statements for the article after all. . For many of them, the years of fear are simply too deep.
The judge is said to have advised the jury in Los Angeles not even to watch the trailer for She Said so as not to influence her decision. And for everyone else, we advise you to definitely watch a film that entertains and influences in equal measure and is so important in order to finally change something in traditional structures.
She Said released in theaters on December 8th.