Movies
Recensie Dogs and Italians are not allowed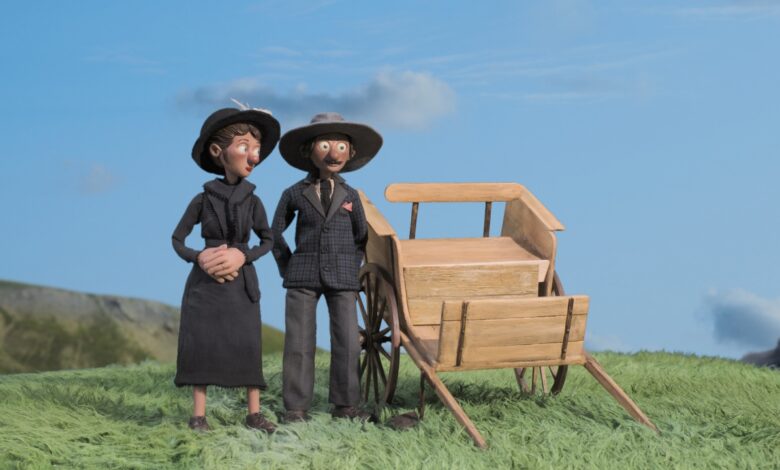 Director: Alain Ugueto | Script: Alexis Galmot, Anne Paschetta, Alain Ughetto Cast (voices): Ariane Ascaride (Cesira), Alain Ughetto (verteller), Stefano Paganini (Luigi), Diego Giuliani (Antonio), Christophe Gatto (Giuseppe), Laurent Pasquier (Vincent), Bruno Fontaine (Nino) ea| Time to play: 70 minutes | Year: 2023
If one type of film expresses the craft of cinematography well, it is stop motion animation. Especially when the animator's hands also enter the picture. Alain Ughetto made such a film. With the tragicomic animated film Dogs and Italians are not allowed beautifully portrays what has always remained silent in many Italian immigrant families.
The son of Italian immigrants, Ughetto investigated how his ancestors suffered from poverty, war and xenophobia. Her grandmother Cesira followed her lover Luigi Ughetto and ended up in a precarious situation. Land was scarce and very little food could be grown. Very bad luck if the weather does not accompany.
Every winter, Luigi and his brothers traveled to France and Switzerland to do hard and dangerous jobs to earn money to support the family. The family that was getting bigger and bigger. A family that had to wait every spring for Dad to come home. In one piece or even in the flesh.
In an original animation style that uses dolls and everyday objects (broccoli trees!), Ughetto depicts the tragic family story, in which there is also plenty of room for humor. what he does Dogs and Italians are not allowed not just sad. In fact, the film is rather a humorous ode to a family that, despite the miserable situation in which they lived, always tried to get the best out of it.
Despite poverty and food shortages, people can blow flour into each other's faces with a smile. A racist message on the door of a cafe takes on a witty and therefore funny touch. You know the Ughetto family as a family that cannot be reduced.
Ughetto made this film because he didn't know his family's history. Like so many children of Italian immigrants who moved to France, they don't know his family history. In that sense Dogs and Italians are not allowed not only an animated film based on a personal story, but also an important document that records the history of many.
In the film, Ughetto, using his own voiceover, has a conversation with his grandmother. That's not the only way he tries to get in touch with his family's history. The animator's hand appears regularly on the screen and places characters or other objects on the set. This results in a fun interaction between the creative process and the story depicted, but also an inventive interaction with the characters, his relatives, whom he doesn't quite know.
Thanks to the animation, Ughetto can be transported to the time when his family lived and imagine their miserable circumstances. Dogs and Italians are not allowed is another fantastic example that animation is not a genre and is not of exclusive interest to children. Animation can fill in gaps in the story in a clever way or, as in this film, represent a whole story.
Interested in writing reviews about movies and series? We are looking for
editors
.