Movies
Recensie Mission: Impossible – Dead Reckoning Part One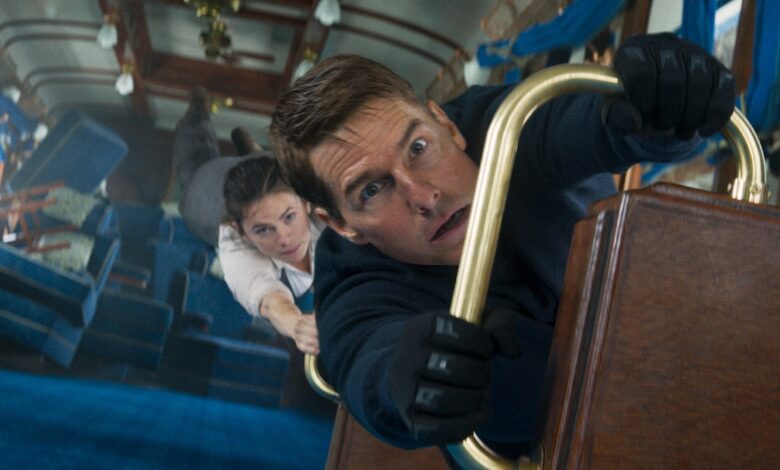 Director: Christopher McQuarrie | Script: Christopher McQuarrie, Erik Jendresen | Cast: Tom Cruise (Ethan Hunt), Hayley Atwell (Grace), Rebecca Ferguson (Ilsa Faust), Simon Pegg (Benji Dunn), Ving Rhames (Luther Stickell), Vanessa Kirby (The White Widow), Pom Klementieff (Paris), Shea Whigham ( Jasper Briggs), Cary Elwes (Denlinger), ea | Time to play: 163 minutes | Year: 2023
It now seems difficult to imagine that the first part of the Mission ImpossibleThe series ended with an action sequence marred by rather primitive CGI. On the one hand because computer animation was still very expensive in 1996, on the other hand because this film series has become known in the last ten years for its predilection for classical methods. Lead actor Tom Cruise has a steady finger in the pie as a producer and in that capacity he has increasingly focused on classic stunts and practical effects, with the result that Mission Impossible it can be distinguished as a series of analog films in a digital blockbuster landscape.
Mission: Impossible – Dead Reckoning Part One, the first part of a closing diptych, contains an opening scene reminiscent of old James Bond movies (including a Russian submarine), while the final part takes place in and on a moving steam train (with what that association with Alfred Hitchcock is never far off). To get on board, Tom Cruise is allowed to blow off some steam on a motorcycle, in a way that repeatedly evokes memories of Steve McQueen's self-performing antics in The big escape. Mission Impossible It does not stop being, therefore, a film cycle that appeals to the nostalgia of his father.
But where before the aversion to modern technology could be seen mainly in the implementation, it is in Dead Reckoning part one occupies a prominent place in the plot. This time, what is at stake is not a nuclear weapon or a deadly virus, but an almost self-aware algorithm that can influence general perception. This part suddenly descends heavily into the sci-fi genre. On the other hand, until a few months ago, artificial intelligence was for the most part something out of science fiction movies, rather than an accessible piece of technology that can help you do your homework.
However, this futuristic menace doesn't really fit into a movie that focuses primarily on unpretentious spectacle. The rest of the plot is also a bit murkier than usual. Predecessor Fall with its simple base, let the action scenes tell the story, but Dead Reckoning part one it juggles too many warring factions and characters, so the many doubles don't impress after a while. And the fact that super-spy Ethan Hunt is up against someone from his past should provide for a very personal battle, but it doesn't throw up anything special just yet.
The tone is also a bit too timid. As usual with the weird parts, Hunt operates for him while the government hunts him down. But rather than simply making the best use of that fact, a dialogue between two characters makes it clear that this happens very often in this film series. He Mission ImpossibleFortunately, movies rarely take themselves very seriously, but previously they were pretty free of such nods.
Another replay of moves is revealed with the introduction of professional thief Grace. This gives Hunt's team another likable character (and performer Hayley Atwell has great chemistry with Cruise), but this new joker is very reminiscent of how MI6 spy Ilsa Faust was played two movies ago. So it's a shame that Grace's presence comes at the expense of Rebecca Ferguson's role, because her Faust is perhaps the most layered character in this film series.
But hey, no one goes to one Mission Impossiblemovie because of the plot or the characters. The show continues to be the main point of sale and in that area it is Dead Reckoning part one Totally worth the ticket price. With the help of Lorne Balfe's soulful music, director Christopher McQuarrie once again manages to deliver extremely entertaining action scenes, which may not seem groundbreaking on paper, but show plenty of creativity in their execution. The absolute highlight is saved for last: a train falling like a deadly obstacle course, for which McQuarrie proves to be indebted to the greatest moments of 1970s disaster movies.
More than two and a half hours quickly pass, after which the long-awaited eighth part, which will be released next year, can begin immediately. Hopefully this will not only make the Mission ImpossibleThe series is worthily completed, but the dangling plots and half-developed themes of this part also get the attention they need. Partly because of this, this seventh part is a qualitative step back from its excellent predecessor, but it cannot be ruled out that the series will end on a high with the eighth part. Everything is still in place for that.
Interested in writing reviews about movies and series? We are looking for
editors
.