TV Shows
Review of season 11 of the Disney+ series 'American Horror Story'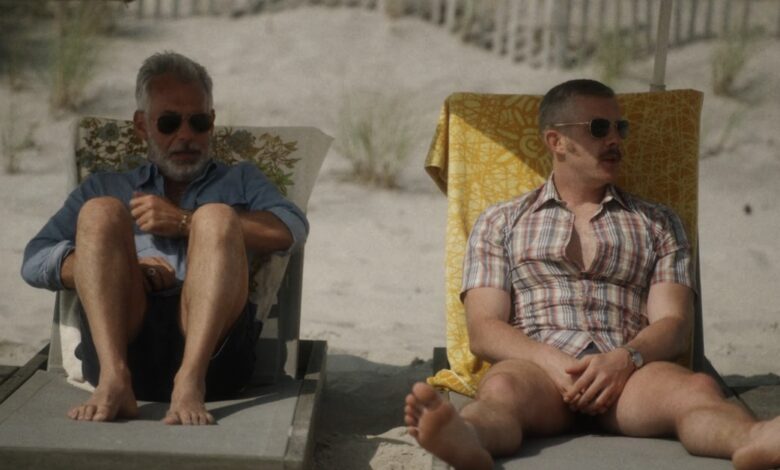 The most sexually explicit season, but the stark parallels to the AIDS epidemic are worth watching alone.
Director:
John J. Gray, Max Winkler, Jennifer Lynch, ea |
Cast:
Russell Tovey (Patrick Read), Joe Mantello (Gino Barelli), Billlie Lourd (Hannah Wells), Dennis O'Hare (Henry), Charlie Carver (Adam Carpenter), Sandra Bernard (Fran), Isaac Powell (Theo Graves), Zachary Quinto (Sam), Pattu LuPone (Kathy Pizazz), ea |
Number of episodes:
10 |
Time to play:
33-45 minutes |
Year:
2022
Director, writer and producer Ryan Murphy and his team seem to have an endless supply of inspiration for everything that scares us. What began in 2011 as a series about an old house harboring sinister secrets has grown into a hit anthology series often featuring a regular cast. After the crime house came witches, vampires, monsters, a reality show, a creepy hotel, and a serial killer in an eighties-style camp.
Good chances that before watching the first episode of a series, you will take a look at the IMDb page. There you will see that the eleventh season of Murphy's horror series is not very popular. In fact, it's the lowest-rated season of all time. american horror story. At least, as long as you consider the previous season, which consisted of two separate stories, as a single season.
However, all this has nothing to do with the quality of NY, as season eleven has been dubbed, but all with the prudish and unworldly look of the mainly American public. This season is visually pretty explicit, but in 2023 there are apparently still people who want to wash their eyes out with hydrochloric acid when they see two men kissing or even making a pass at each other. Apart from the homoerotic charge – the cast is made up almost entirely of actors who have also come out in real life – this is the season with the most piercing social criticism.
It's about the AIDS epidemic in New York in the 1980s. You'll have to wait until the penultimate episode to hear one of the characters utter the term, but even before that it's completely obvious that the mysterious disease the gay characters are suffering from is AIDS. That it remains in limbo is because it is a new and unprecedented phenomenon. In this lecture, the origin is not found in the monkeys of Africa, but in the deer of an island.
In addition, a sinister serial killer also stalks the New York gay scene, kidnapping attractive young men and stealing their lives. All this to serve a higher purpose. Apparently, because it's a plot element that occupies prominent space at the beginning but fades like a candle halfway through. A masked bundle of muscle also appears, eyeing potential victims in a sinister manner. Although this figure seems physically present, it is of course also the incarnated metaphor for the silent killer called AIDS.
Detective Patrick Read jealously hides his sexuality from the thugs on his police force. Of all people, he is accused of murder. He secretly has a relationship with the journalist Gino, who receives clues from the scene about the nature of the sadist. Meanwhile, researcher Hannah Wells tries to make chocolate out of the mysterious virus she discovers in the deer. They are stories that connect very well with each other and the topic is discussed from different angles.
Murphy shows not only the heartbreaking consequences of AIDS, but also the flexible relationship standards and close friendships within the gay scene. Even though monogamy doesn't rule, Murphy still knows how to attach a message of love to it. It's not entirely coincidental that many characters can recognize extant historical figures, including photographer Robert Maplethorne. Music star Patti Lupone plays the owner and singer of an all-male bathhouse, which itself sounds a lot like Bette Midler's early career.
NY it is explicit in its visual language, yet subtle in the many nuances that are introduced into the intertwined lives of the many characters. The fact that the tone gets a bit woolly towards the end is a bit hard to swallow, because it forms too stark a contrast to the harsh reality that preceded it. He is not only a lust killer, but also the virus that wreaks havoc. This melodrama is impossible to label as false sentiment, but its metaphysical charge will raise a few eyebrows.
This vagueness finally finds a place in the final episode, which rises to great emotional heights when we see the lifetime of one of the characters, accompanied by Kraftwerk's Radioactivity. The last two episodes of NY I feel a bit like mustard after a meal, because the final episode falls into unnecessary explanation. Yet this is one of the stronger seasons, which is no doubt also inspired by Murphy's life as he faced the AIDS epidemic in his early twenties and fear gripped his heart.
★★★★☆
american horror story can be seen in Disney+.