TV Shows
The White Tiger Trailer Out: Engrossing Exploration of Class, Poverty & Power
The teaser trailer was released by Priyanka Chopra on Wednesday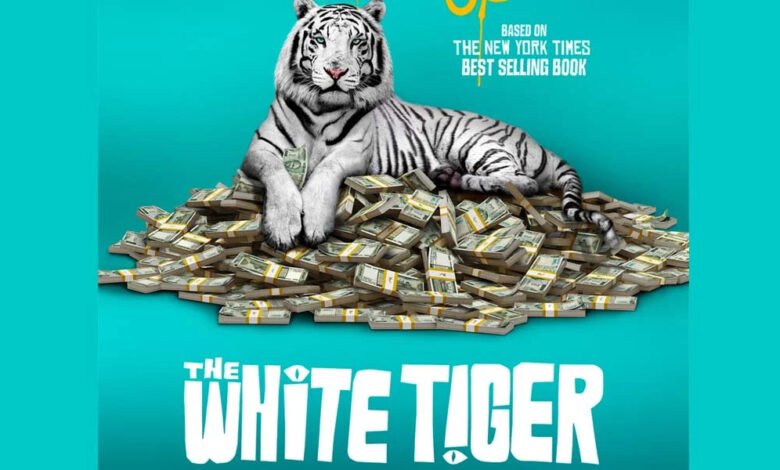 The White Tiger casts Priyanka Chopra, Rajkummar Rao and debutant Adarsh Gourav in lead roles.
The White Tiger
The trailer of the Hindi film The White Tiger was released on Wednesday (28/10/2020) and it promises a nail-biting film. The White Tiger is directed by Ramin Bahrani and is an adaptation of Aravind Adiga's Man Booker Prize-winning debut novel of the same name.
Cast
The film stars Priyanka Chopra and Rajkummar Rao in a couple roles. The film also marks the debut of Adarsh Gourav, in an important role.
Filming & Delay
The filming of The White Tiger began in September 2019. It marks Priyanka Chopra and Rajkummar Rao's first film together. The delay in release could be obvious as the Covid-19 pandemic brought a sudden halt to the film industry.
However, the industry is slowly getting back in motion, as various films are being released through OTT platforms. (do see: Soorarai Pottru Trailer Out: Suriya's Promise of Aviation-Based Action Drama and Nayanthara and RJ Balaji's Mookuthi Amman: Trailer Promises to be a Satire on Godmen)
Release
The film will release in select theatres in December and will premiere on Netflix on January 22, 2021.
Priyanka's Tweet on The White Tiger
The film's heroine Priyanka Chopra was high in hopes as she unveiled the trailer. She revealed the trailer via her social media handles and was available soon on Netflix's YouTube page.
Her Instagram post read:
Presenting the first look trailer of #TheWhiteTiger.
You believe your destiny is what was bred in you… till you find a way to break free.
I'm so proud to be part of this project.
From writer-director Ramin Bahrani, The White Tiger is an adaptation of The New York Times Bestseller & the 2008 Man Booker Prize Winning novel by Aravind Adiga.
WATCH it in select theaters December and on Netflix, January 22, 2021 #TheWhiteTigerNetflix
She had shared the first-look poster of the film earlier, and regarding the same, she wrote:
In #TheWhiteTiger, I play the role of Pinky madam, who is a first generation immigrant in the US. She is in India with her husband, who is travelling for business. And then… life changes! Pinky madam is such a specific character, to play her unravelling in the story was such a joy. This is a story that needs to be told and it comes alive with its characters so compellingly in Ramin's hands.
Suggestive Plot
The White Tiger explores themes of poverty, corruption, class struggle, etc., as a social satire. The film's setting is based on India and peculiarities of India. The trailer presents the film from the point of view of Balram Halwai (Adarsh).
He narrates his story of how, from being a poor villager, he rose to become a successful entrepreneur. For the same, he plotted highly ambitious plans and tried to fulfil them.  
Ashok (Rajkummar) and Pinky (Priyanka) are a couple, whose lives change after their travel to India from the US, as part of their business. Balram gets hired for the job of driver for the couple.
Balram conceives the notion that he is fit to be only a servant throughout his life. His dream of being a successful entrepreneur takes backseat as his class and poverty proved obstructing. Thus, he focused on his duties with utmost discipline and his way of being a responsible servant makes him appreciable to the couple.
However, the couple try to trap him for their wrongs and over a night's time, Balram's destiny changes. He realizes that good and rich may not always go together, unlike what the "class" lessons taught him. As he has a tough time to tackle through, he decides to risk everything he once stood for, in order to reshape his fate.
How rebel Balram's fight against class, caste and power structures in India goes forward, becomes the rest of the story.
Prediction
An obvious social-drama as the trailer suggests, The White Tiger would possibly glue people to their seats from start to stop.
Trailer
Watch it here: https://www.youtube.com/watch?v=e-A-2btgIHM.