TV Shows
Check out the Apple TV+ series 'Schmigadoon!' season 2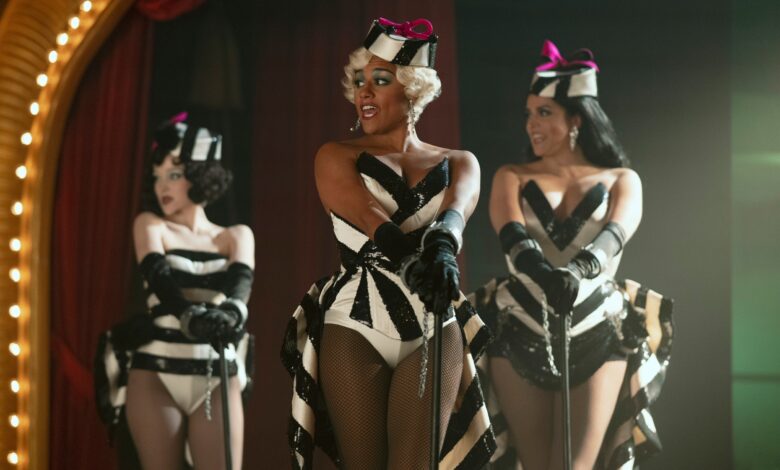 It feels like two episodes too short, but it's still great musical fun.
Director:
Alice Mathias, Robert Luketic |
Cast:
Cecily Strong (Melissa), Keegan-Michael Key (Josh), Kristin Chenoweth (Miss Coldwell), Alan Cumming (Dooley Flint), Jane Krakowski (Bobbie Flanagan), Tituss Burgess (Narrator), ea |
Episodes:
6 |
Time to play:
29-32 minutes |
Year:
2023
The way the main characters in Schmigadoon! ending up in a situation similar to the last time in season two is way over the edge of belief. That matters? Not because Schmigadoon! it is in the musical genre, in which the music starts playing out of nowhere, the characters start singing, and every passerby gets familiar with the choreography. Everything is allowed, including this easy door to a second season. Better that than no new episode.
After their adventure in the magical musical town of Schmigadoon, the couple Melissa and Josh return to the daily routine where their happiness lasts temporarily, but dissatisfaction finally sets in again, partly because they want to have a child but cannot conceive. To recover the magic, they set out again, but this time they end up in Schmicago. There, the atmosphere is much bleaker and Josh turns the bucket because he is the suspect in a murder case. The only way to escape is to deliver a happy ending.
The name of the place where Meliss and Josh end up already reveals one of the sources of inspiration for this season. But aside from Chicago, there are several references to musicals from the era when that genre became less colorful and cheesy: Cabaret, Sweet Charity, Hair, Sweeney Todd, and even a Dreamgirls-esque song. Does that make this comedy series any less funny? Absolutely not!
It doesn't matter if you don't know such musicals, because the plot is self-sufficient enough and upon arrival in Schmicago it immediately becomes clear what kind of meat is in the vat. In fact, the songs will feel even more original, because the songs are mostly based on compositions from those musicals. The lyrics are about what's going on in Schmicago and are always good for a smile.
The cast is largely made up of familiar faces. The Schmigadoon villagers are also the inhabitants of Schmicago, just in a different role (which is confusing to Melissa and Josh at first). In this second season, the 'tour de force' goes to Jane Krakowski, who sings a piece with a lot of lyrics at a fast pace. She takes my hat off, but it doesn't top Kristin Chenoweth's rendition of the song Tribulation in season one, doing the entire song in one camera shot.
A great addition to the cast is Tituss Burgess (The unbreakable Kimmy Schmidt) who acts as narrator (singer). He's funny and he's very talented as a singer, but for some reason looking directly at the camera from him creates an inexplicably uncomfortable feeling. He can't help it, but he does it every episode and often. If there's a next season, he'll hopefully have a role where his eyes are on the other characters.
This second season feels a bit too short. Like the first season, the story is complete, but with multiple lines, it's a bit rushed. In the last episode there are even some things that weren't discussed until then. Probably because more than six episodes wasn't an option. a series like schmigadoon Sounds good in theory, but once done, it turns out to be less public than expected.
Too bad, because it is a very funny series. Nice to watch and there is a visibly positive atmosphere on set. Barry Sonnenfeld (the addams family, men in black) was not involved in this second season, but his colorful feel-good spirit is still there. Not everything has much to do. Just like the first adventure, it's all purely about an idea that Melissa and Josh need to get, nothing more.
The conclusion to this season feels like a definitive bittersweet conclusion, and the post-Seventies wash of musical movies is much thinner, anyway. To take advantage of Bollywood is to target an even smaller audience. So season two is probably goodbye. But a third season is definitely wilkommen, bienvenue, bienvenido.
★★★★☆
Schmigadoon! can be seen in AppleTV+.