Movies
Magic Mike's Last Dance Review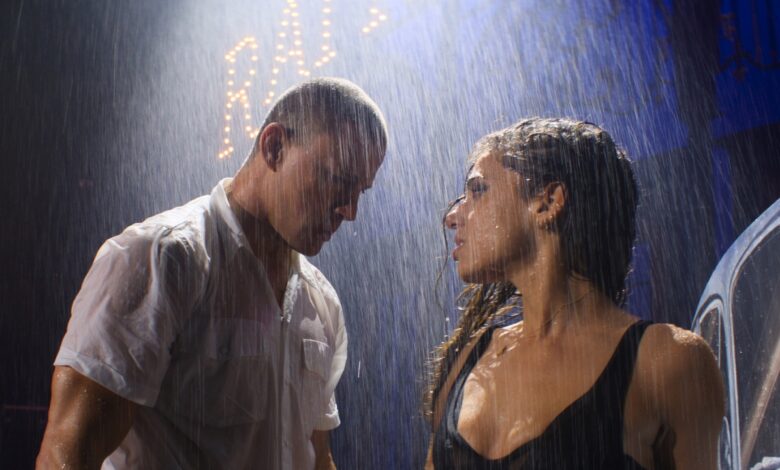 Director: Steven Soderbergh | Script: Reid Caroline | Cast: Channing Tatum (Mike), Salma Hayek Pinault (Maxandra), Ayub Khan-Din (Victor), Jemelia George (Zadie), ea | Time to play: 112 minutes | Year: 2023
Former professional stripper Mike makes a living doing other odd jobs these days, but when a desperate rich lady demands a lap dance from him, he unleashes so much within her that she takes him to London, where he gets the chance to run his own show. . Mike likes her, but the more passion she puts into his project, the more setbacks she faces, including feelings from the rich woman who can't be as aloof as he'd like.
Just a few minutes into the movie, Channing Tatum is already expertly rubbing his crotch against someone. A tango may be making love in the form of a dance, but what he does with Salma Hayek in that scene is much less romantic and much more fiery. Mind you, because such a large part of choreographic sex is no longer served.
Understandably, it shakes up Maxandra, Hayek's character, and inspires a new project in her that ties in nicely with Mike's talents. That's how easy the plot starts in this third part. In her divorce, Maxandra acquires a feature about a London theater where a fictional play has been running for years about a woman who has to choose between a rich but boring gentleman or a poor bum full of passion. Maxandra proposes to give this work a new twist so that it symbolizes the free elections of the strong woman, with Mike as director and choreographer.
It's a surprising plot, simple and funny, but also the big disappointment. A great deal of time is spent showing how Mike and Maxandra are working on the renovation of this play. They put enormous pressure on their own shoulders to make sure it's going to be a show full of quality and substance. And that you still have a link to that work.
Create high expectations in the viewer. How is a performance that is a hybrid between a classical play and a strip show? No idea, because when the curtain finally goes up on opening night, which you know, despite all the obstacles, will come anyway, you get to see a very nice (and reasonably well-behaved) performance that has almost no nothing to do with the original work. .
All that bullshit about innovation and using the set that's already there has been heard for nothing, because it's nowhere to be seen in the show itself. The only thing that is fulfilled is the 'third act', the closing that must have an emotional impact. It's a strong act, but also completely separate from that earlier piece. The promise of the plot is not fulfilled, only the promise that in theaters that host a Ladies Night, a room full of screaming women will get what they want.
Until the beginning of that performance is Magic Mike's Last Dance a lighthearted and fun movie with some substance. Maxandra's character is rock solid: your typical filthy rich, bored, capricious woman who jumps from project to project without ever committing to it. Even her adopted daughter warns Mike about this, so you're afraid she won't go through with it. Fortunately, Mike himself isn't portrayed as more than he is. He's not a big jerk, but he's not smarter than average either.
The good dose of humor does its job, there's even a clever British butler in it. Director Steven Soderbergh has a dry, no-nonsense style that gets the jokes across well. As the creator of the first Magic Mike movie, he understands that you have to let the dancers do their thing without cutting too much to make it more flashy. Ginuwine's Pony song, which was used iconically in the first film, is performed again.
Magic Mike's Last Dance it is a lap dance that can be enjoyed happily until the stripper is called because her son calls that his mother has fallen down the stairs. Great entertainment, but not the ending you were hoping for. Unless your only need is to watch shirtless men dance, you will get your money's worth.