Movies
'Nothing new in the West': Felix Kammerer was 'almost scary'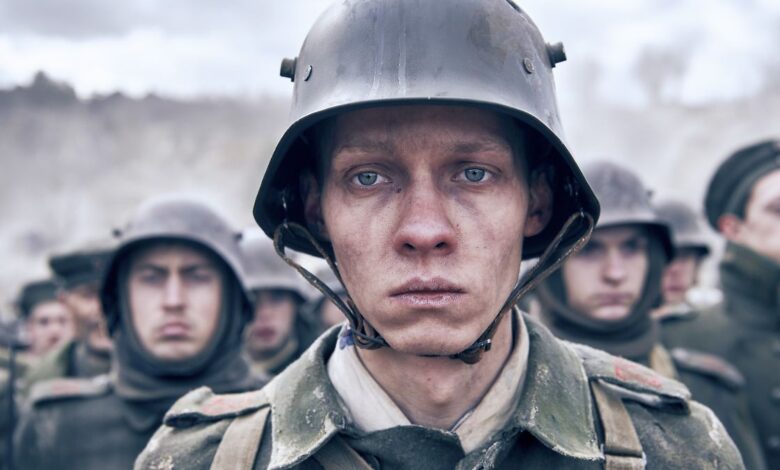 Austrian Felix Kammerer will make his feature film debut in the anti-war film Nothing New in the West. In an interview with ntv.de, he told how he got the role, when he felt chills on the set and whether he really served.t.
ntv.de: Mr. Kammerer, you are an Austrian. Unlike Germany, conscription has not been abolished in Austria. Here, young people must complete at least basic military service. So did you serve?
Felix Kammerer: No! Fortunately, I didn't serve. I went to community service.
So there is an option…
Yes it is. It's crazy that civilian service lasts nine months – as opposed to six months of basic military service in the army. Thus, the decision not to join the army is still punished by having to stay longer. And you have to sign that you're having trouble picking up your weapon. There are probably not many people who do not want to join the army, but want to join the police. But if so, this could be a problem.
In Germany, many conscientious objectors referred to reading Nothing New in the West. Have you already read the book before preparing for your current role as Paul Bäumer?
Many read the book at school. Unfortunately, this was not the case for me. Out of personal interest, I only skimmed through it during my studies. But I didn't really get involved in that until pre-production started. But then, of course, I really got carried away.
In the film, you will make your feature film debut. Until now, you have been an active theater actor, not least in the Burgtheater in Vienna. So how did you get the movie role?
This is a wonderful story: my second work at the Burgtheater was Elfriede Jelinek's Schwarzwasser directed by Robert Borgmann. The then playwright Sabrina Zwach is the wife of Malte Grunert, producer of Nothing New in the West. Because of her, he came to Vienna to see the play. He also attended rehearsals. After the premiere, he came up to me and said: "I really liked it. I think I have something for you. Check your phone soon."
And then at some point the phone rang…
Yes, I was sitting on the couch when casting director Simone Baer called me a few weeks later. This was followed by three video castings and three more live castings in Berlin. Then in September I was having a picnic with some friends in a garden somewhere in Vienna when the next bell rang. This time it was Malte Grünert and (director) Edward Berger, who said: "See you in Prague!" (filming location) At first we celebrated.
Theater actors sometimes struggle a little with the film and television media. Was "Nothing New in the West" more of an exception for you, or have you already got a taste for it?
last. And rightly so. But also because I consider it extremely fortunate that I was able to make my first film with Edward Berger. He instilled in me so much confidence, warmth and support throughout the process that I don't think I could have made the film properly without him. The actors, Malte Grunert and everyone else were incredibly loving. Nevertheless, of course, it is true that the theater is quite a long way from the cinema.
How?
My main concern was continuity. In the theater you go from A to B – done. On the other hand, in movies, you can start with Y. For example, my first day of shooting consisted of one of the last scenes of the movie. That's when I realized that if I don't prepare properly and find a good system to deal with it, it's all over. But I think everything went well enough.
Nothing New in the West is a cult book. And your big screen debut in a war film is probably not something you see every day either. Despite the joy of the role, did you have any doubts?
Of course I respected it. When I heard "See you in Prague"… oops! Of course, everything was great joy, euphoria, excitement and fun. But then very quickly the moment came when I realized: "I should play this too!" Then came tension and excitement. Fortunately, I am relatively pragmatic and rational. Therefore, I first began to structure things: what do I need for this? How to get a role? How can I prepare? Nervousness is fine. You just can't afford to be overwhelmed by it, you have to use it positively to get things done.
There have already been two adaptations of Nothing New in the West. I'm sure you've seen them too…
Yes, done.
However, American directors were responsible for previous films. What's different when a German director like Edvard Berger and a leading Austrian actor like you get down to business?
I think we just carry this legacy with us. Because: This is a German book and German history. This is German disgrace, German mourning and, above all, German responsibility. These things are more or less inherited here in Europe, in Germany and Austria: memories, but also, quite rightly, guilt. This is an incredible chance to tell it again from a German perspective in a German production, with a German cast and in German. So you can not only talk about horror, but also deal with its root together. This is not in a positive sense, but quite real – so to speak, a home game with the aim of making a truly German anti-war film.
Many of the other actors in the film didn't have much screen experience either. On the other hand, well-known stars are David Strizov and Daniel Brühl, with whom you have almost no scenes in common. Did you even meet them on set?
I once dated David Strisow. We were just wandering through these warehouses on the set and suddenly this general walked by. (laughs) On that day, we also sat side by side in a tent during a break. But other than that, we didn't actually meet. I had a little more in common with Daniel Brühl, although we didn't have scenes together and the story diverged even more. Since he was also an executive producer, there was another connection with him. I saw him more often in Prague – and of course also in Zurich at the premiere.
Of course, the film with all the atrocities of the war shown makes a very strong impression on the audience. When you shoot scenes like this, do you really get lost in them as an actor, or do you easily find yourself different from all the film technology on set?
It depends on the specific scenes. Example: there is a scene in a camp in the outback, when the French women drive by with a cart, and the boys are peeling potatoes. It was a relatively calm and extremely technical day because I filmed the entire scene with five markers – like crosses made of sticky tape that tell you where the other characters are sitting. This means: I played the whole scene with only five duct tape crosses! It gets so overtly technical that you find it hard to believe that anything good will come of it in the end.
And another example?
There is a scene where I am lying in a funnel with a Frenchman. It was so realistic it was almost frightening. Pipes were laid underground, from which the blood flowed, which the Frenchman lost. But it was not clear where the blood was flowing from. In this funnel, too, no one from the film crew was visible, no lights, no extras. We shot the whole scene from start to finish seven or eight times in an eleven minute shot. Playing this for eleven minutes and killing someone every time was pretty close. It really takes strength to distance yourself from him again.
Nothing New in the West is about the First World War. Nevertheless, against the backdrop of the war in Ukraine, history suddenly acquired a different explosive character and, to some extent, was also topical. You definitely couldn't have dreamed of this while filming last year…
No, of course it's completely absurd. You make an anti-war film because you want to make a difference and show how terrible war is, and then I open the New York Times and see photos from Ukraine that look like colorized photographs from the First World War. At that moment, I thought I was going crazy. At the same time, I don't think that's what made the film relevant. It has always been relevant. Since the First World War, there have been countless wars. We just didn't notice it in Europe or hid from it, because it's easier, of course. Ukraine is closer to us than Syria or Iraq, and not only geographically. Being German or Austrian makes it easier for you to identify with something that is similar to our landscapes. That is why we are only more aware of its relevance.
The US review of the film notes that it also made it clear that war is not a video game. What do you think is the most important message of the film?
The same as in the book, as well as in the first two films. On the one hand, of course, there is a level dedicated to victims, perpetrators, actions and their consequences – political issues that are important to discuss. But on the other hand, there are just people who then stand at the front and die. There is destruction, suffering, devastation and all that follows from this for future generations. I hope the film gets to the core of these existential aspects and shows how misanthropic, catastrophic, violent and horrifying it is.
Nothing New in the West is Germany's contribution to the upcoming Oscars. What would be your first reaction if he actually received the award?
Let's see where I am now. But I think I'll open a beer first.
Volker Probst spoke with Felix Kammerer
Nothing New in the West is currently showing in German cinemas and will be available on Netflix from October 28th.