TV Shows
Review Disney+-series 'The Muppets Mayhem'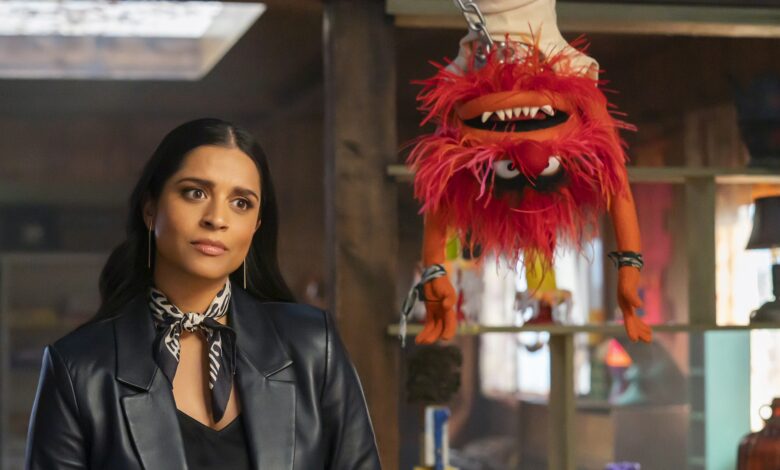 Great fun, but repeating familiar scenes with the Muppets doesn't make it spontaneously original.
Director:
Matt Sohn, Kimmy Gatewood, Robert Cohen |
Cast:
Lilly Singh (Nora Singh), Dave Goelz (Zoot, Jimmy Shoe, Waldorf – stem), Eric Jacobson (Animal – stem), Leslie Carrara-Rudolph (Penny Waxman – stem), Peter Linz (Lips, Statler – stem), Bill Barretta (Dr. Teeth, Davis Cactus, Gerald Teeth Jr. – scion), David Rudman (Janice – scion), Matt Vogel (Sgt. Floyd Pepper – scion), ea |
Episodes:
10 |
Time to play:
26-32 minutes |
Year:
2023
The first season appeared in 1976. The Muppet Show, in which Jim Henson used some of his own Sesame Street puppets to create an adult variety show. The cloth characters became cultural icons, including that of the house band. Every now and then a new Muppets project comes out, and the most recent addition to Disney+ focuses entirely on these musicians. Their personalities are their own, but unfortunately their history is that of many other bands.
Nora learns that the record label she works for is going out of business. She searches for a solution and discovers that Dr. Teeth and the Electric Mayhem, the Muppet band, owes them another album. Nora takes the band to Los Angeles so they can immerse themselves in the recording studio, but that proves an impossible task with these free artistic spirits.
Thanks to the many iterations of The Muppet Show in the 1980s, Kermit and his associates are pure Generation X nostalgia. For this miniseries, Disney handed the reins over to the man who knows everything: Adam F. Goldberg, the creator of the goldbergs. He approaches this series in exactly the same way as the sitcom about his own family.
What does that mean? That the personal drama is superficial and that the cliché moments of the movies are repeated but by the characters of this series. In his own series that was fun until the fun ended, in Muppet mayhem this keeps the standard of the series low. Band members find themselves under pressure, domineering parents pick a member, egos clash – it's all been done before.
The humor makes the series worth watching. As is often the case with successful sitcoms, the Muppet gang members are characters with a unique individual personality, which is used to create the jokes. Take Janice, for example: even though she's 2023, she's still that unadulterated floating hippie girl with a California accent. She and everyone else are characters with characters that have been established for decades and put to good use.
The only new Muppet is the elderly record label owner, Penny Waxman. In the first scene of her it is immediately clear what kind of plush meat you have in the bathtub. She also has her own weird trait of hers: Penny likes spicy food, the spicier the better. For the rest, all the newcomers are human, with Nora as the protagonist.
They are many times flatter and their personal stories don't really fascinate. Older viewers may recognize actor Tahj Mowry, who had a small role in Full house as Michelle's college boyfriend. His groupie character Nora, her sister and JJ are the only four regular cast members who are the human link in the puppet adventure. Unknown and uninteresting.
It's otherwise packed with celebrity cameos, mostly from the music industry, but Morgan Freeman also shows up to prove again that he's a comedic genius by taking his role very seriously. Most of the time it works, but sometimes it's forced. For example, Nora links the rock band to producer Zedd. Music has been Nora's hobby since she was a child, so her idea of ​​musicians working with someone who makes electronic beats doesn't make sense.
The songs the band plays are all covers, mostly of songs from the 1980s and earlier. Thank goodness the budget hasn't been spared on actual musicians playing what the Muppets are supposed to perform. It is true that it was recorded in the studio, but all the performances are extremely tight. Since this series is about a seasoned band, it's a good thing that this aspect has been treated with respect.
Where each introduction of The Muppet Show it ended with Zoot blasting his saxophone after which something crazy happened, the Muppet himself can close each episode here by taking a Polaroid with an unexpected result. Then a childhood photo of Adam F. Goldberg with a Muppet stuffed animal appears briefly as proof that he really grew up with them. It may not be very original, but the characters are fully intact and strongly deployed. What is certain is that if it were a real band, it would certainly attract sold-out venues.
★★★☆☆
Muppet mayhem can be seen in Disney+.