Movies
The Man from Rome review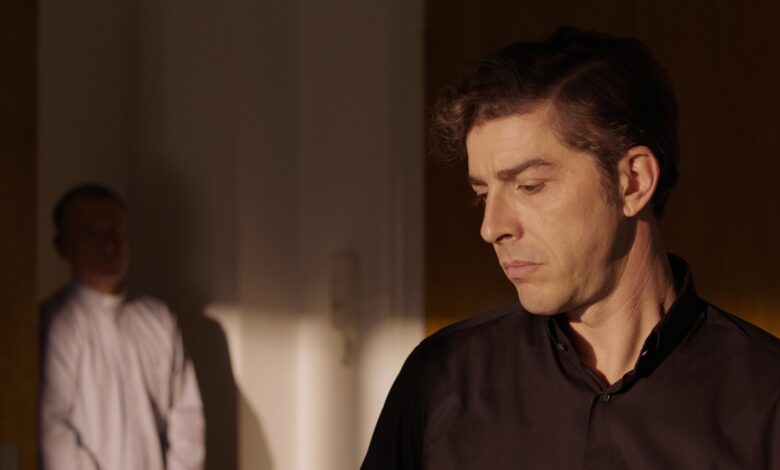 Director: Jaap van Heusden | Script: Rogier de Blok and Jaap van Heusden | Cast: Michele Riondino (Filippo), Raymond Thiry (Pastor Henri), Emma Bading (Térèse), Marie-Louise Stheins (Mrs. van Slochteren) and others | Time to play: 107 minutes | Year: 2023
In times of great spiritual or emotional distress, man likes to cling to the inexplicable. Hope is drawn from the smallest things and is therefore an important pillar of faith. It is precisely what we cannot exactly identify that brings great comfort. It can become so large that an entire community clings to it. A suddenly weeping statue of the Virgin Mary is a sign.
An unnamed Limburg border town is still struggling with an immense trauma from a few years ago. No less than eleven children lost their lives in that drama. The town actually, and understandably, never recovered. In the room of the taciturn Térèse – the nineteen-year-old refuses to speak since the drama – a statue of the weeping Virgin Mary is revealed.
The Vatican isn't too interested in declaring a miracle and certainly not in the mass hysteria the phenomenon evokes after it has gone viral. The Church sends the skeptical Italian priest Filippo to Limburg to investigate the supposed miracle. The priest finds himself with a community that is still in a state of mourning and, moreover, has little interest in the involvement of the Vatican.
the man from rome marks the fourth feature film by director Jaap van Heusden. The filmmaker found inspiration in Lourdes, France, and was amazed by the way the Catholic Church treats alleged miracles. If you have to rely on Van Heusden's experiences and observations, it can almost be called a miracle that the church knows so many beatified and canonized people, because the required miracle seems hardly determined.
For Térèse, the arrival of Filippo is a sign from above, but her neighbors receive the Italian newcomer with more suspicion. It's Filippo's pragmatic, almost cold approach that clashes with the gullible villagers, who could use a little light in dark times. Furthermore, the Catholic Church still has something to make up for, as Filippo discovers when he is verbally attacked by a villager due to the many abuse scandals.
Filippo is and remains not only a stranger, but also a stranger. This provides the drama with the necessary subcutaneous tensions that will never really soften. It is somewhat foreseeable that the events in Limburg will also make Filippo doubt his own faith. If a message comes out the man from rome it can be distilled, so it is not always necessary to demonstrate things in a reliable way to be able to see the great (added) value it has.
Collective delusion is perhaps the remedy against collective trauma and is the connecting factor here. Who then wants a man who claims to proclaim the word of God only to crush all hope in an almost scientific and clinical way? the man from rome is a powerfully acted drama that weaves together unusual plot elements. The development itself follows a standard pattern, but this is largely offset by the elusive characters and depressing atmosphere.