Movies
Fabelmans (2022) – Review, Honest Opinion.
Its Spielberg, DUH!?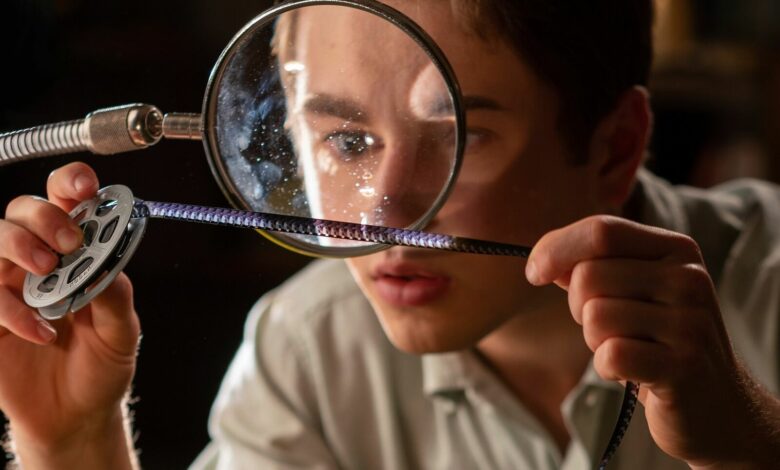 Sammy Fabelman fell in love with movies after seeing The Greatest Show on Earth on the big screen. Shortly thereafter, he himself began making short films with his 8mm camera, and although it was not an easy path, this love has remained with him to this day. Sammy is none other than the film's director, Steven Spielberg.
It is not easy to write a good autobiography (a good biography, anyway). Look at your life from the right point of view, discarding everything boring and irrelevant. You can take the topic seriously like Fellini, Warhol or Allen, or you can bypass the gang and shoot a picture like "Strange: The Al Yankovic Story" (is anyone finally playing it with us?!). The very fact that someone starts making a film about themselves can be taken as a sign of pride by some, although in the case of one of the greatest living directors, this should not be a problem. Given his recent films, this can be slightly forgotten, but let's not be under any illusions, Spielberg's career is more than just a few recent mediocre ones.
Fabelmans (2022) – movie review [Monolith]. The beginning of the movie adventure
When we meet Sam Fabelman, he is barely seven years old (Mateo Zoryan). She stands in front of a movie theater with her parents Bert (Paul Dano) and Mitzi (Michelle Williams). He is going to watch his first film. And not any, as I said. The scene with the car in front of the train made such a strong impression on him that he couldn't stop thinking about it. His parents thought it showed in his fearful nature. However, what fascinated him most was the scene itself, which he later recreated with the help of an electric train and his father's camera. From that moment on, he began to shoot everything – his family, the world around him. He also made short films with his Boy Scout friends. However, everything changed when he recorded what he never wanted to see, and shortly after his family moved to California…
Already this first scene makes great use of time and place, showing the audience who our heroes are. Mom is a fun, feeling-driven artist who is child-centered. Bert begins to explain to his son how movies trick our brains into giving the illusion of movement at twenty-four images per second. And although seven-year-old Sammy probably does not understand even half of what his brilliant dad says to him, he still listens to him with due attention, and the film itself absorbs with wide eyes so as not to miss anything. In just a few minutes, we will get to know the most important components that make up the dynamics of the Fabelman family. However, I was not overly enthusiastic about the game of young Zoryan – I wonder how blind Spielberg was to his shortcomings, because he only saw himself about seventy years ago and everything looked perfect in his eyes, and to what extent this was some kind of deliberate operation which I can't read correctly. Because I don't see the middle. The rest of the cast is a masterpiece.
Fabelmans (2022) – movie review [Monolith]. Excellent acting and dialogue
The undisputed MVP of the entire film is Paul Dano as head of the family Bert Feibelman. Dano plays him somewhere on the border between a misunderstood genius and a guy somewhere on the autism spectrum, moreover, with a specific style of expression. Perhaps both at once. Bert is in a league of his own when it comes to mental strength, but he is also an absolutely devoted, loving father and husband – his wife's first and biggest fan of his talent, a mainstay for all his children. Williams, as usual, is unearthly, maybe a little absent, always thoughtful. Later she will have a whole host of other emotions and things to play with, and they all have an explanation, a common point from which they stem. Seth Rogen as Uncle Benny, Judd Hirsh as another uncle, Boris and David Lynch himself will also play an important, though relatively minor role in the film, but I won't reveal who he plays and I advise you not to check yourself. All three will have a significant impact on the artistic and emotional development of the protagonist, who later in the film is portrayed very effectively and multidimensionally by Gabriel LaBelle. Virtually the entire adult cast did a brilliant job, thanks in part to the excellent dialogue that Spielberg co-wrote with Tony Kushner. The entire film is an emotional rollercoaster ride, repeatedly taking the viewer from the nostalgic warmth and innocence of Sam's youth to downright heartbreaking and heartbreaking dramatic scenes and back again.
Although it's not a perfect production – I know it's shocking. Some scenes pass too quickly, as if the director threw them there to add some, perhaps important detail to his picture, but did not have time to properly integrate it into the rest of the film (and the whole thing has already lasted a good two and a half hours anyway). Young actors do not always come out as naturally as we would like. The threads seem to break, even if they basically completed their task, and the scenography is so painfully consistent with the realities of those years that it seems almost natural, documentary, and as a result a little boring and flat, but this is also a deliberate move on Stephen's part – this is not a visual here plays a major role, and people. At the same time, we will find in Fabelmans several shots that will remain in the memory of the audience for a long time, and perhaps will forever be included in the canon of the most emotionally powerful shots in history, I will note the film playing on folded hands, the scene with choo-choo-choo and dance with us there is.
Fabelmans may not be Spielberg's best film (although this is just a matter of taste – he hates his "Hook" himself, and for me it is one of the most important films of my life), but definitely the most private and characterized by bright, human emotions. We won't see too many explosions or standard special effects. It's just a movie about people. And about creativity. About growing up and the need for self-expression. Simple in concept, but deep, real cinema. I heartily recommend.
The film will be shown in theaters on December 30th.