TV Shows
Review of the Netflix series 'Kung Fu Panda: The Dragon Knight' season 2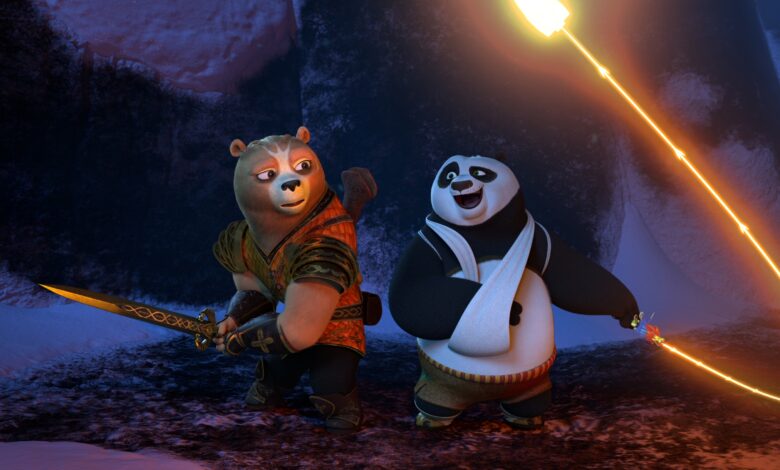 Director:
David Dick, Michael Goguen, James Yang, ea |
Cast:
Jack Black (Po), Rita Ora (Wandering Leaf), Della Saba (Veruca Dumont), James Hong (Mr. Ping), Rahnuma Panthaky (Rukhmini), Tru Valentino (Chuntao), Chris Geere (Klaus Dumont), ea |
Number of episodes:
12 |
Time to play:
23-24 minutes |
Year:
2023
In the second season of Kung Fu Panda: The Dragon Knight Po teams up with the English warrior Wandering Sword in search of various magical and mysterious weapons. They travel the world to get their hands on these weapons and have all kinds of adventures in the meantime. And of course beautiful friendships also emerge, as befits a true DreamWorks series.
Whether the adventures of Po and his friends (or as they say: teammates) are suitable for children from the age of six is ​​debatable. There are regularly quite intense fight scenes. Kung Fu Panda: The Dragon Knight, which are actually too intense and too exciting for the little ones. Also, these fights don't always end well. Pretty racy at times for a children's series.
A lot happens in each episode. So the pace is pretty high and before you know it something new has happened. As a result, the story sometimes seems a bit incoherent and sometimes jumps from one theme to another. Each episode starts with a preview all the way to the end, making it seem like the creators want to show in advance that it's worth continuing to watch. Something that shouldn't be necessary with a strong story.
On the other hand, Po is the always cheerful, friendly and above all hungry giant, who prefers to fight all evil with humor and lots of joy. You can't help but love this cuddly panda bear. He comes up with a plan to defeat an evil monster by dressing up and setting off lots of fireworks. Which, of course, also seems to work better than fighting evil with evil.
the creators of Kung Fu Panda: The Dragon Knight finds a good balance between exciting adventures and light-hearted scenes. History does depend on disbelief, because how do you make a temple float? And how can a goose beget a panda bear? But that's the beauty of animated series: everything is allowed and everything is possible, just like in a child's fantasy.
Kung Fu Panda: The Dragon Knight In addition to entertaining, it is also clearly intended to teach children something. For example, the characters travel the world and visit India and Tikal, among others. These places are fairly faithfully represented, with clear cultural and architectural characteristics typical of these places. But with your own touch. The moral of the story also seems to be intended to teach children something, namely that it's important to support each other and that they can achieve anything if they work well together.
There is something to be said for the quality of the animation. Although the characters and the environments in which they find themselves are fantastically rendered with lots of colorful details, the movements of the characters are not as smooth as what we are used to from Pixar, for example. In addition, the same animal species are often used, especially for secondary roles, which have almost the same external characteristics. This often causes confusion. Two different characters can look more or less the same.
Despite Kung Fu Panda: The Dragon Knight fun to watch Perfect for entertaining the kids on a rainy Wednesday afternoon. Nothing more and nothing less. Don't expect a deep plot or technical highlights, but rather a light-hearted animated series that is suitable for almost the whole family.
★★★☆☆
Kung Fu Panda: The Dragon Knight can be seen in Netflix.