TV Shows
The most important releases of December [Netflix, HBO Max, Prime Video, Disney+]
End of the year in the rhythm of the series.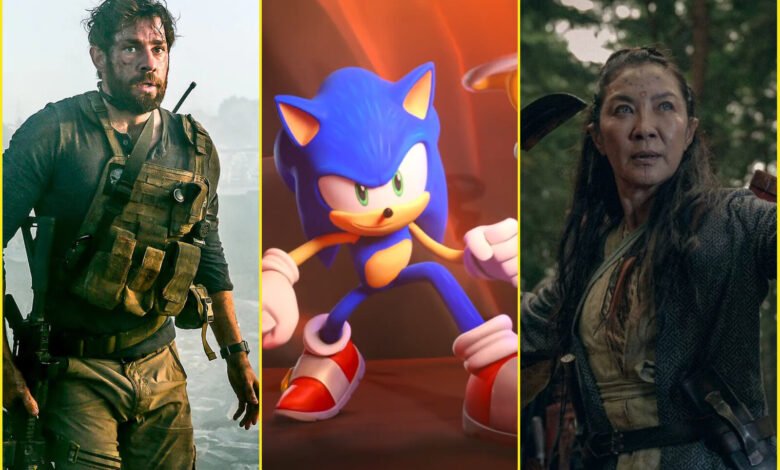 We have it! The last, twelfth announcement of the series this year. Since January, we have been able to watch the most important debuts of specific months in the world of episodic productions together and it's time to finish with a bang (although of course we will be back in 2023 :)). Although we are slowly approaching the period of Christmas and such inner peace, there will be no shortage of series.
However, it is worth mentioning here that this is probably the quietest month (and certainly one of several). However, I mentioned two phrases earlier – in no way means that there will be nothing to watch. More to the point, this is a really great opportunity to get to know some intriguing productions that, under normal circumstances, might have gone unnoticed.
However, before we get to the list, I must apologize for the delay – it's been a long time since the beginning of December, and the list only came out today. However, I hope you will forgive me for this proviso and for the fact that the first episode is already out (maybe even better?). Now, without further ado, let's move on to a list that is definitely worth a look:
JoJo's Bizarre Adventure: Stone Ocean – New Episodes (December 1) – Netflix
On the first day of December, the anime debuted on Netflix, which is what many have probably been waiting for. Of course, we are talking about the next part of the last season of Jojo's Bizzare Adventure. The platform has already acquired the rights to stream the entire series some time ago, so now they are making the best use of it. It's definitely one of a kind anime, and if you haven't had a chance to watch it yet, it's worth it – specific, but interesting.
Gossip Girl – Season 2 (December 1) – HBO Max
The original Gossip Girl was very popular when it debuted a few years ago. A brand new take on the entire series, the first season of which we received last year, has not been as warmly received. You might even get the impression that the creators have completely forgotten about what was the strength of the original. However – the continuation of today's interpretation of the story has debuted and… Check it out for yourself.
Lame Horses – Season 2 (December 2) – Apple TV+
In this case, we have a slightly different situation than with Gossip Girl – the first season in this case was really great and met with a phenomenal reception from critics and ordinary viewers. The hilarious spy story revealed the next plot steps last week, and if you haven't seen them yet, you should definitely catch up – via Apple TV+, of course.
Doom Patrol – Season 4 (December 8) – HBO Max
And we move on to the series that are yet to come. And the first of them is the fourth season of stories based on DC comics. On Thursday, the controversial heroes will return to our home screens and try to rebuild trust after their reputation has recently taken a turn for the worse. Can it work? Surely he can – the trailer promises that the creators have prepared for us a whole bunch of explosive action.
Dragon Age: Absolution (December 9) – Netflix
We'll have to wait a bit for the next installment in the Dragon Age video game series… If you're bored with the latest installment, you should definitely check out the animated series coming to Netflix. Adaptations of works from our beloved industry are always a very resonant topic and, without a doubt, this is the title that just needs to be paid attention to.
Sonic Prime (December 15) – Netflix
And if we're already talking about video game animations, there's only ten days left before we get another Super Fast Hedgehog production. I'm sure there won't be a shortage of applicants, and given who Sonic Prime is intended for, expect a fairly large group of new fans of one of the most popular mascots in the video game world.
Paradise Police Station – Season 4 (December 16) – Netflix
How about staying with animation for a while? Literally the day after Sonic, a cartoon will be released, but designed for a much more adult audience. Of course, we are talking about a series for adults, which, despite the form, will definitely stand out with mature content and black humor. We will return to our beloved police officers again to deal with cases that can disturb the peace of a tiny town.
Jack Ryan of Tom Clancy – Season 3 (December 21) – Prime Video
And on December 21, on the eve of Christmas, we will be able to treat ourselves to sensational cinema on a small screen. It just so happens that Jack Ryan is back on the Amazon streaming platform! The first two seasons were very well received and provided the right dose of action. This time we will probably deal with something similar. And that's why I can't wait.
Emily in Paris – Season 3 (December 21) – Netflix
The fun adventures of Emily, who moved from Chicago to Paris (for work, of course), will return with the third season exactly on the First Day of Winter. And again we will be able to experience unusual adventures together with the main character. For many, the second season has surpassed the level of the debut, so let's hope that the growing trend continues and we can have a great time again.
The Witcher: Lineage of Blood (December 25) – Netflix
At the very end of our list, just before Christmas, the long-awaited series from the Witcher universe will debut on Netflix! Everything must take place 1200 years before the time we know from the stories about Geralt, so it will be a completely unexplored period. Will everyone benefit from such a leap into the unknown? It's hard to say, but it's definitely worth the wait.