Movies
Worst superhero movies of recent years. These productions definitely failed…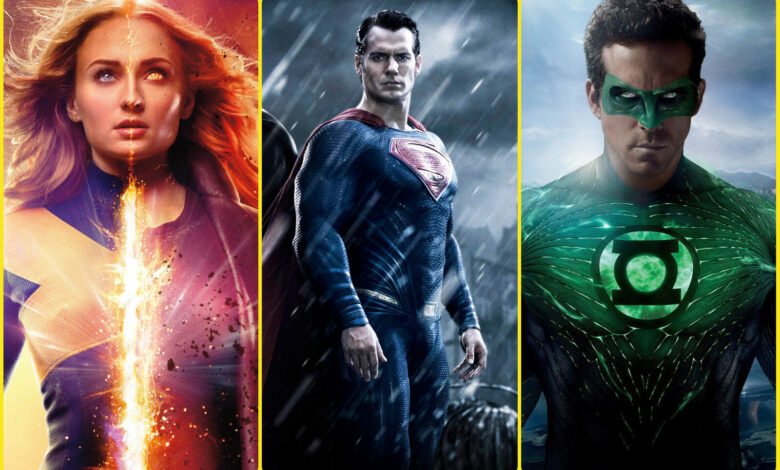 I'm a big fan of superhero movies (what a surprise). I have an indescribable weakness for this genre and even despite some "generalization" I can enjoy watching the heroes raging on the screen and fighting the villains. It doesn't matter if it's Marvel, DC, or a completely different world – I will always get more or less pleasure from the views themselves.
But sometimes it's just the first thing – there are situations when the pleasure is "less". And I will not hide the fact that films have recently appeared that, unfortunately, did not make me leave the cinema satisfied with what I had a chance to see. Importantly, virtually no label mass-producing this genre has managed to get through the last few years without stumbling.
This is what I would like to talk about in today's article. I prepared ten superhero productions, it definitely failed – not only for me, but in many cases for the critics as well. So, without further ado, let me know which superhero movie you think was the worst in recent years and I'll present my list. Let's start with something very familiar!
Bloodshot
I had high hopes for this film, actually… I really hoped it would be a film that, despite the genre's typical formulas, could offer a really solid dose of action. Unfortunately, as you probably guessed, the practice proved my expectations quite effectively. Vin Diesel is Vin Diesel, but that definitely wasn't enough. I don't expect a sequel, and I don't want to.
Green Lantern
I'm a big fan of Ryan Reynolds. I like almost all films with this actor, no matter how stupid they may be. Unfortunately, in the case of DC Comics' 2011 production, it was less colorful. I definitely can't say that I had a good time watching this performance. It was boring, it sucked, and it was just hopeless. I was hoping for much more.
Suicide Squad (2016)
To this day, I still can't understand how you can take such great actors, take such phenomenal themes and ruin everything like that. I don't know who/what to look for the cause of this failure, but I know one thing – a few years later the excellent James Gunn got a similar opportunity and just did what he should have done already in 2016. I didn't have a good time, and on the positive side, I think only the music and Harley Quinn.
New mutants
In this case, the biggest issue was probably how long this movie took to shoot. I don't know how often he was postponed, but, probably, for such an achievement he would have got into the Guinness Book of Records. The actors managed to grow up, improve their skills, but this was not enough to maintain this position. It turns out something like "everything mixed up with nothing", and this is not good.
Fantastic Four (2015)
A terrible and useful lesson on how NOT to shoot a superhero. I like Josh Trank and I appreciate the actors who played part in it, but the only thing I can wish for them is that the production is so forgotten that no one will ever attribute them to it. A complete failure and a waste of the enormous potential that comes from the Fantastic Four brand created by Stan Lee himself.
Justice League
An example similar to the previous ones – a great prototype appears in the form of a comic book and almost comes to desecration on the big screen. I have no idea how you could get to use so many great characters and spend so much of them creating a mess that relied mostly on special effects. It could have been a hit, but unfortunately it was a hit. Perhaps for the sake of changes in the film crew.
Avengers: Age of Ultron
While I have a hard time finding a really weak Marvel Cinematic Universe movie, the worst one for me is Age of Ultron. And that's a shame, because even in the original comics, Ultron himself was a well-written character. Unfortunately, the movie is boring, wordy, and definitely lacks the magic that accompanied the first Avengers crossover.
Morbius
Morbius is as good a hero as he is mysterious – very much so. Unfortunately, the film version did not turn out as well as it could have been. And let it prove the fact that many consider her the biggest profession in the year of her debut. Well, sorry. A great actor, a rather interesting idea, but I have the impression that something in the performance went wrong and somehow turned out … Normal? It's a pity, although I don't rule out a second chance here.
Dark Phoenix
The universe of the X-Men in the cinema for a very long time "carried" the superhero genre on its shoulders. Unfortunately, at some point, everything definitely went wrong, and the quintessence of this was the Dark Phoenix released a few years ago. Anyone who has read Marvel comics knows how strong and unshakable the protagonist is. Was it like that in the movie? Not at all. Was production boring? Completely yes.
Batman v Superman: Dawn of Justice
And finally, the real icing on the cake and perhaps the most famous superhero failure in history. The main thing is that I can sign it. To get such a strong plot, such strong actors and such strong characters, and put on such a disgrace … This is also a kind of art. But at best, an abstraction, and in a negative sense. I left the theater "only" confused, but each subsequent viewing is just a growing sense of embarrassment.