TV Shows
A Simple Murder Review: Mix of Intense Action and Complex Love
The seven-episode web series is out on SonyLIV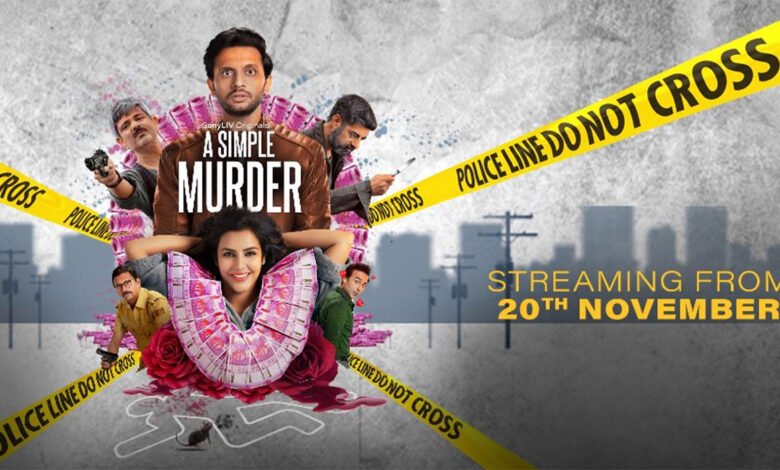 A Simple Murder talks about how fortunes turn high and low within a blink of an eye.
A Simple Murder
The web series A Simple Murder is the latest release on SonyLIV, directed by Sachin Pathak. It is a crime drama that offers multiple plots twined into coincidences that cut across, stitching towards the climax. The series is seven episodes long, with episodes being titled:
Sanyog Ka Tadka

Darte Hai Kya?

Open and Shut Case

Tu Kya Hai?

Sanka Ki Shakal

Bacche Kahan Hai?

Cappuccino Ki Kasam
Cast
A Simple Murder is rich with experienced actors who are capable of turning ordinary to special. The cast include Mohammed Zeeshan Ayyub, Priya Anand, Amit Sial, Yashpal Sharma and Sushant Singh.
Plot Review
To wrap it up in a line, the series is a maze of problems. One after the other, troubles follow on each solution that is found. Total peace remains a concept that is far from reality.The central character duo stuck in the maze is Manish (Mohammed Zeeshan Ayyub) and Richa (Priya Anand).
Manish is a failure in life who is unable to make his wife Richa happy in any way. On the other hand, Richa wants to live a life full of wealth and prosperity. Her gold-digging attitude is to be questioned yet Manish's love makes him blind to Richa's greed.
In another plot, Pandit (Yashpal Sharma), a crime lord in the disguise of a peace-maker, interferes in Manish's life. He confuses Manish for his preferred assassin named Himmat (Sushant Singh) and asks him to kill a runaway couple (a politician's daughter and her Muslim boyfriend). The mistake and its gravity sets tune for what follows.
Screenplay Review
The screenplay of the series was done by Akhilesh Jaiswal and Prateek Payodhi. Complex and intertwining plots pose challenges to create graspable scenes. The duo have succeeded in overcoming challenges as the series never gets too much out of tune.
The storyline consists of a web weaved around characters. Manish has his wife Richa who is in love with another person named Rahul. Rahul has another lover other than Richa, whose lover is Santosh. Santosh is part of Pundit's gang, which includes Himmat. Himmat connects the plot to the runaway lovers which inturn connects Pundit's gang to Manish.
Thus, the web demands accurate and challenging screenplay, which is taken care of to a great extent in the series. Among actors, Ayyub, Priya and Sushant have worked magic with their skills to make A Simple Murder more than just simple.