Movies
Review Aqua Teen Forever: Plantsm [HBO Max]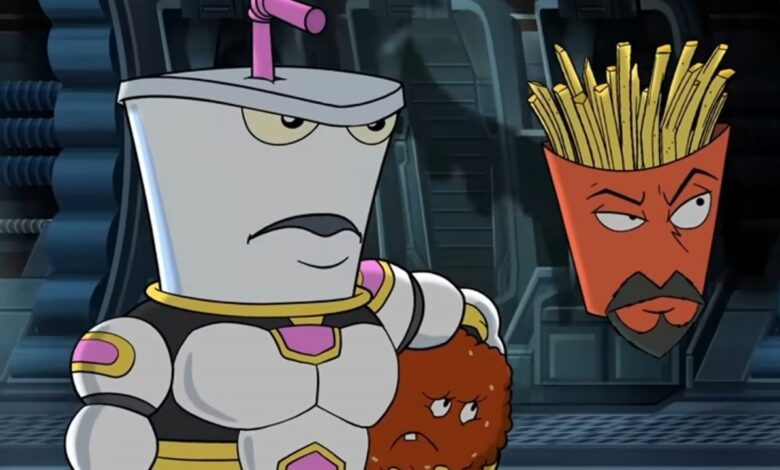 Director: Matt Maiellaro, Dave Willis | Script: Dave Willis, Matt Maiellaro | Cast (voices): Carey Means (Frylock), Dana Snyder (Master Shake), Dave Willis (Meatwad/Carl), Peter Serafinowicz (Neill), Robert Smigel (Fraptaculan Robert), Lauren Holt (Liz)), ea | Time to play: 79 minutes | Year: 2022
In the US, Cartoon Network becomes Adult Swim in the evenings. It shows cartoon series for adults, with humor not suitable for children. As Aqua Teen Hunger Force, in which a milkshake, a meatball and a box of chips are just three roommates who get up to wacky antics. Crazy, but often brilliant. the tv movie Aqua Teen Forever: Plantasmus unfortunately it does not reach that level, but it does have social criticism for a change.
The three 'heroes' have left their home and each other. Master Shake is homeless because life is hard when you're shy about work, Meatwad works at a dog shelter where he lives in secret, and Frylock is in the IT department at a company called Amazin' (change one letter and you'll understand what it's about). it's about going). Its owner befriends Frylock, but the jealous scientist who's been kicked out gets his revenge with a nefarious plan. He would help if the team gets back together to save the day.
That doesn't exactly sound average, but compared to how utterly surreal the series could be at times, the plot of this new Aqua Teen movie makes perfect sense. And that's actually a small disappointment. Especially for the faithful followers of the series, who come for the bizarre of the absurd.
The film immediately begins with a robbery: the opening is stolen from space balls. Then follows the same scene as in the previous Aqua Teen movie (Aqua Teen Hunger Force Colon Cinema Cinema for theaters), in which one moment of action turns out to be a story made up by Master Shake afterwards. It seems from the start that the creators are lacking in inspiration this time around.
Thankfully, the parade of all the series' known supporting characters isn't repeated. They're hilarious characters, but the last movie involved a lot of them, and if they did that again here, it would feel like a must-have. There's only a small role for Markula as the owner and the ever-hilarious pixelated Mooninites who continually interrupt the movie to berate you while supposedly removing entire scenes to butt in. And Carl, of course, wouldn't be an Aqua Teen Party without him. After all, his voice is already done by the same actor as Frylock.
A small production like this doesn't have money for a star cast. Pedro Serafinowicz (the tick) a Roberto Smigel (Saturday night live) are perhaps the best-known names. But that doesn't matter, because you're looking for the milkshake, the fries, and the meatball, and their votes have been cast by the people who have always done that. Dana Snyder, in particular, as Master Shake has a tone that would even be funny if he read a grocery list.
Speaking of messages: where an Aqua Teen story is normally brilliantly wacky but devoid of fun, the writers now comment on society in their own way. He criticizes Amazon's tyrannical abuse of its employees, how certain companies try to make a product out of essential foods, and even a bit of how we treat the planet. They don't do it subtly, but they don't do it pedantry either.
Aqua Teen Forever: Plantasmus therefore it has a sharp edge, but it is not as crooked as expected. That doesn't mean there isn't enough to laugh about. It's already a miracle that the movie even got made, as there's only a small audience for this kind of humor. However, the movie isn't just for loyal fans of the series: if you're not already familiar with these animated heroes, you'll be surprised at just how clever the world of Aqua Teen Hunger Force is.
Aqua Teen Forever: Plantasmus can be seen in hbo max.